'Convert a 1,000 metre squared empty shell into a multi-functional dynamic business lounge that appeals to the aspirational young entrepreneur as well as the established'; that's the brief given to, and answered with great aplomb by, Tristan Du Plessis Studio A for Johannesburg's MESH Club.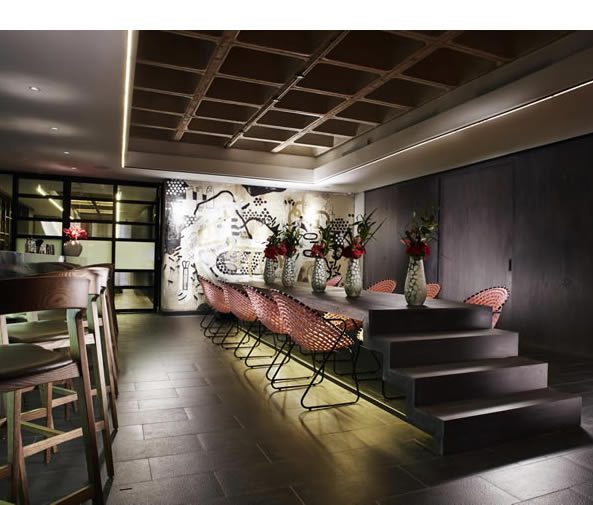 A member's only coworking and lifestyle space, MESH is an inspirational space where art and creativity play a key role. Located in Keyes Art Mile — Rosebank, Johannesburg — members are able to hot-desk, book meeting rooms, and mingle in an environment with like-minded folk before raising a glass to another productive day at its in-house wine and cocktail bar. Also open to the public, the bar is limited to 100 guests at any one time, and boasts fine views over western Johannesburg.
MESH's dark and brooding interiors bring together industrial aesthetics with smatterings of luxury touches and a miscellany of art; contemporary and classic. South African expressionist Maggie Laubser bumps up against a concrete mural by street artist Skullboy; Florence street artist Clet Abraham counterpoints landscapes by old South African master Jacobus Hendrik Pierneef; and forward-thinking pieces by Diesel with Moroso share space with high-grade leather couches in an interior littered with fascinating juxtapositions.