The next port of call on our recent South Africa trip was Johannesburg, or the City of Gold as it was once known; the design tour entered the vast, built up city with all eyes open. Miles apart from Cape Town in many ways, exciting pangs ran through us as we drove around taking it all in – you could describe Jo'burg as Cape Town's cooler younger brother in terms of creativity, it's much rawer; and Jozi folk take themselves much less seriously than their waterside cousins. There's a sense of gritty play, colour and sound everywhere you turn, especially in the Braamfontein and Moboneng precincts, where we spent the weekend exploring.
Both private city improvement districts aim to change the locale through creativity within the community; buying out derelict and uninhabitable warehouses – often en masse – to redevelop, regenerate and rent. The idea is to reconstruct parts of Jo'burg and to create mixed-use, fully-integrated communities of mixed incomes. Work, stay and play as you like.
As the sun beats down upon the metropolis, we sampled some fine hot-dogs at the Great Dane bar – accompanied by an array of strong cocktails. With a live DJ pumping out African beats (mid-afternoon), we were soon settled in with the local cool crowd. Absolutely shattered we dawdled along the vibrant Juta Street, window-shopping, although we'd missed the independent Neighbourgoods Market, which on Saturdays is a vibrant mix of food, stalls and crowds come rain or shine. Inspired by the Old Biscuit Mill in Woodstock, Cape Town; it's essentially a meeting and shopping mecca for an eclectic mix of people-watching and bargaining.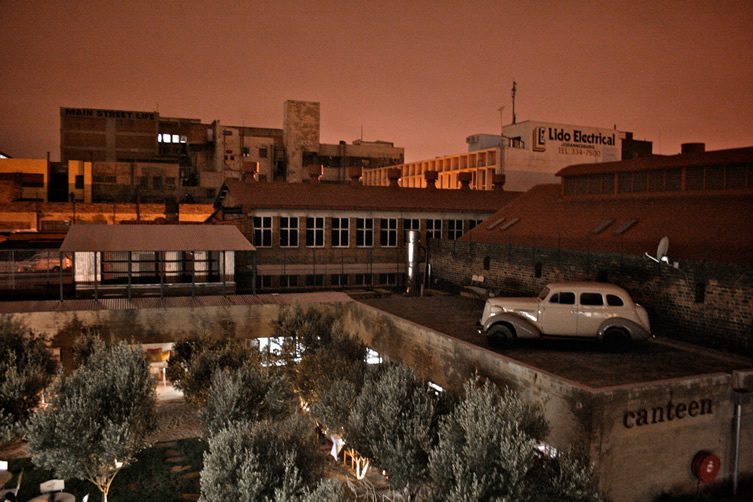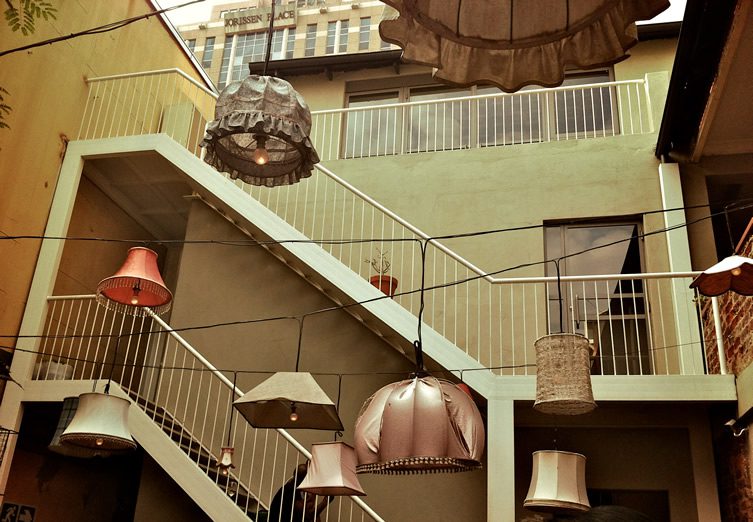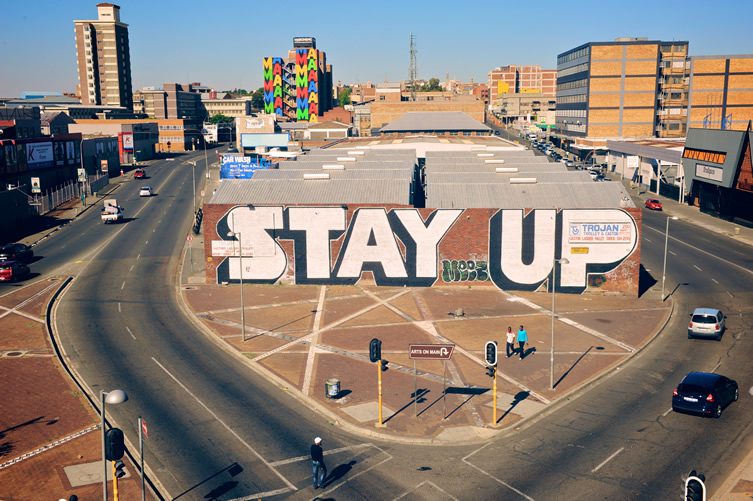 Refreshed after an incredibly comfortable nights sleep at the suburban 54 on Bath Hotel, Sunday was all about 'the place of lights' – Maboneng Precinct. In the eastern part of town, Main Street was abuzz with activity: music, food and designer types hang out in its various studios and warehouses. The gentrification of Maboneng has no doubt affected the type of person that now resides and works in the area, which alarmed me somewhat, however it is to owner Jonathan Liebmann's credit that so many positive things have happened since 2009. The once abandoned area was a no-go-zone when he first acquired Arts on Main, many thought him crazy to think people would want to invest, let alone live there. Yet just a few years on, he and his partners and investors are rapidly buying up every building for miles around.
Arts on Main is a great urban space that houses many creative studios including the Canteen café which is set under African olive trees, a book/print shop called David Krut Projects, the wonderful food Market on Main and Love Jozi concept store. Artist Georgina Gratrix set up her temporary studio here while she painted portraits of her friends in front of a live audience. 12Decades Art Hotel resides above, and each of its 12 rooms chronicle Johannesburg's history since 1886. Individually designed by local artists and designers, the rooms play a significant tribute to past events in the hope of a better future.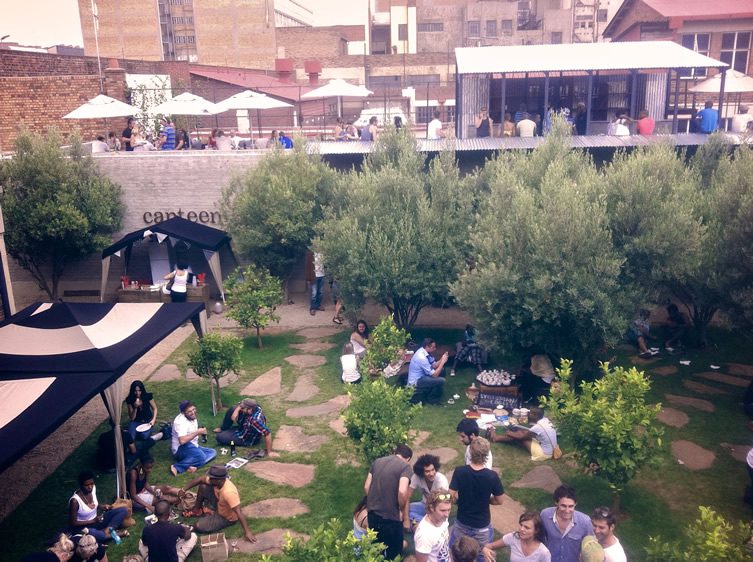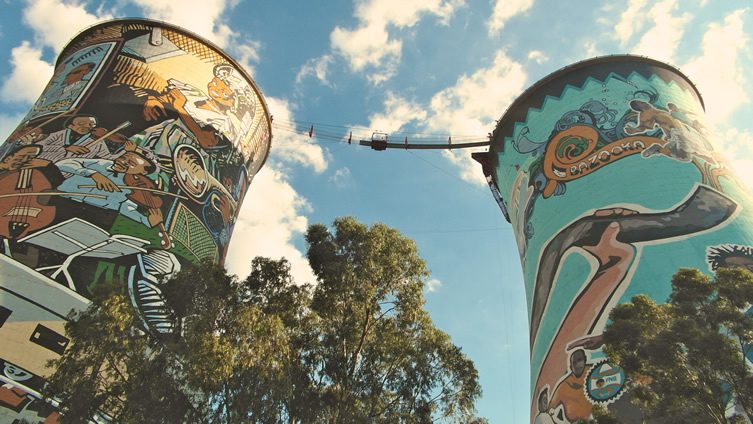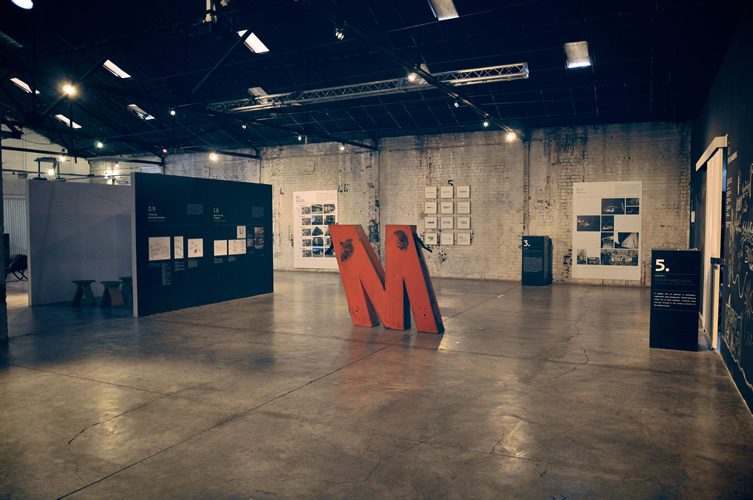 As the afternoon was drawing to a delightfully warm end we drove to one of the biggest townships in the city of Johannesburg. Once a separate municipality, it houses a whopping 1.6 million people, and it is huge! We drove and drove, and I actually couldn't quite compute its vastness as we stopped off at the famous Orlando Towers, not to bungee jump, but to sample Jo'burg's famous Braai. You can't visit the area without trying, so we ordered buckets of freshly grilled meat and salads. It was incredible, eaten traditionally with our hands, we bopped along to some proper loud beats while the sun went down. The sunset was spectacular, rich and burning as we sat underneath the painted towers. Bellies full and somewhat tipsy on Savanna Dry, not wanting to drive back to the suburbs.
Perhaps not as charming as its older non-so-cool brother, Jo'burg is full of life and opportunities. It's thriving creatively, yet the very visible barriers of both fear and ignorance remain. Class rather than race seem to affect day-to-day life so much more than I expected. It's changing rapidly though, for the better – and a weekend here as part of a South African tour is an absolute must… there's plenty of hassle-free internal flights with South African Airways, making a multi-city trip a great introduction to the country.
I'd recommend reading JoburgPlaces 2.0 by local city expert Gerald Garner, the book will 'empower you to venture out confidently in order to experience the incredible pulse, people and places of the city'. It's much more that a just a guidebook too, it really gets to the heart of the city. Having read a few guide books before my visit, I found them a little scaremongering in parts, not naming any names of course.
***