When I first came across Dalston brewery 40FT, PJ Harvey's 50ft Queenie popped into my head. It is 2:26 of rollicking, unrestrained tempestuousness that has rarely been bettered in over twenty years. But I haven't got a fucking clue what it's all about (Google the lyrics if you're unfamiliar). Luckily, 40FT Brewery is an easier concept to grasp. Four pals — master brewer Ben Ott, Steve Ryan and Fredrik and Andreas Pettersson — started the operation earlier this year with two 20ft shipping containers. You needn't be Carol Vorderman to work that one out.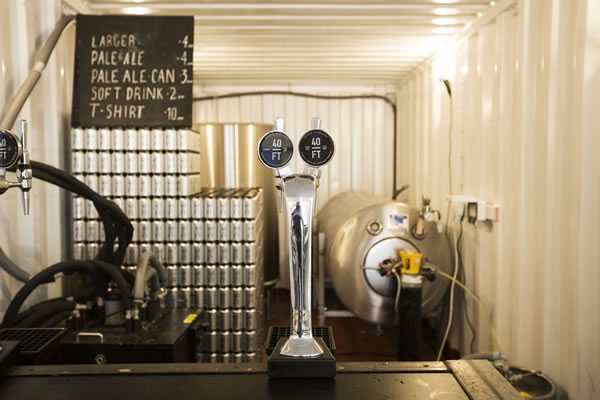 "Since the beginning in May/June we've expanded with another 40ft container", begins Andreas (revealing that they should now, strictly speaking, be called 80FT Brewery), "so we now have two 20ft containers stacked on top of each other, and one 40ft container in front. The top 20ft is the full brew-house, where the whole brewing process takes place, whilst the bottom container is our condition room with five condition tanks. The 40ft container is our workspace, and now tap room. We're serving straight from our condition tanks." Which means Dalston gets a new brewpub, in the middle of a disused carpark. But east London being east London, things don't stay disused for long — which is where being based in a shipping container comes into its own: "Opening the brewery in shipping containers gives us a chance to place it in the area where we live and work. The car park will no doubt be redeveloped sooner rather then later, owning our 'structure' means we can move it to a new location if/when needed."
Pettersson maintains that there have been no pitfalls in operating a brewery from shipping containers, but concedes that space limitations keep the young brewery on their toes, "it keeps us trying to optimise space as much as possible; kegs becoming chairs or tables". But, as with location, its the container's flexibility that outweighs any space constraints: "architecturally the containers are brilliant to build with, expansion is just a matter of adding another container."
Open every Friday and Saturday up until Christmas ('most' weekends at other times), 40FT's new tap room looks set to heighten the brewery's cult following among London's craft beer connoisseurs. Shipshape.