Erwin Wurm likes to fuck with things. Houses, cars, and people; a yacht melting over the roof of a hotel … the 61 year-old Austrian has a lengthy history of subverting everyday perceptions. All that we are familiar with buckles in the mind of Wurm.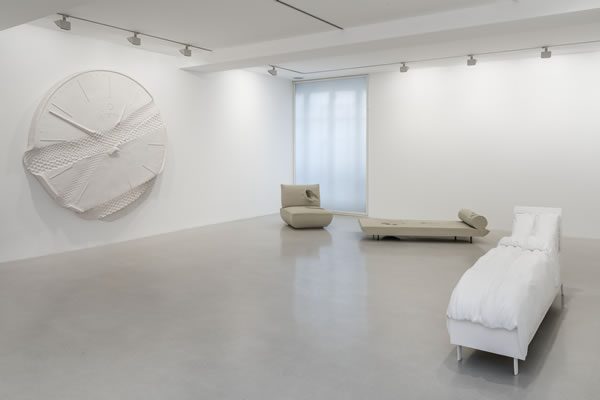 In his latest show, at Galerie Thaddaeus Ropac's Paris Marais space, the artist focuses distortive efforts on more mundane realities; where cars have been flattened, houses turned cuddly and chubby, Wurm now turns his attention to the objects we wake up alongside. Body lotion dispensers, toilets, clocks — little is safe from an application of surreal. Tampered and tinkered with, warped and malformed, the everyday objects in Lost are resized, reshaped, reformed.
A chaise longue becomes a snow drift, complete with deep footprints, a wall clock is over-exaggerated in size, run over by tyres. Wurm weaves a narrative in this series of objects, of human's interaction with them, the stories trapped in the things that surround our daily lives — we're left to reappraise the essence of substance. Lost continues at Galerie Thaddaeus Ropac, Paris Marais, until 5 March.