Four pints of hot cider deep, I'm stood in the main square of a small but perfectly formed ancient cathedral city in the north east of England. Dozens of people gaze into a classic red telephone box full of exotic fish. Its dreamy aquatic glow transfixes exactly the sort of Joe Public that'd typically be seen nowhere near an art installation. Just around the corner, Glasgow-based artist Nathan Coley's A Place Beyond Belief (that recalls the post-9/11 testimony of a young woman) presides with grace over a walkway leading to Durham cathedral, a majestic UNESCO World Heritage Site that joins its fellow UNESCO-approved castle, an impressive 11th century monument that is still home to a select set of astonishingly fortunate students from the city's famous university.
Durham may well be the last place you'd expect to see internationally-renowned contemporary art but – as those regular folk marvelling at Benedetto Bufalino & Benoit Deseille's enchanting Aquarium will contest – the third instalment of its biannual Lumiere Festival is a riotous hit, the cornea-cracking celebration of light – all installations, projections and innovations – sees the city's small centre literally swarmed over the course of a few cold evenings in November.
Spanish artists Luzinterruptus (who we last saw in the Swiss city of Winterthur) question consumerism on its very own doorstep, shopping streets littered with faceless retailers beautified with illuminated discarded plastic bags – the anonymous Madrid-based collective's pièce de résistance a giant Christmas tree, highlighting the real cost of consumption and throw-away culture, somewhat ironically lost on hoards of shoppers each laden with dozens of plastic bags…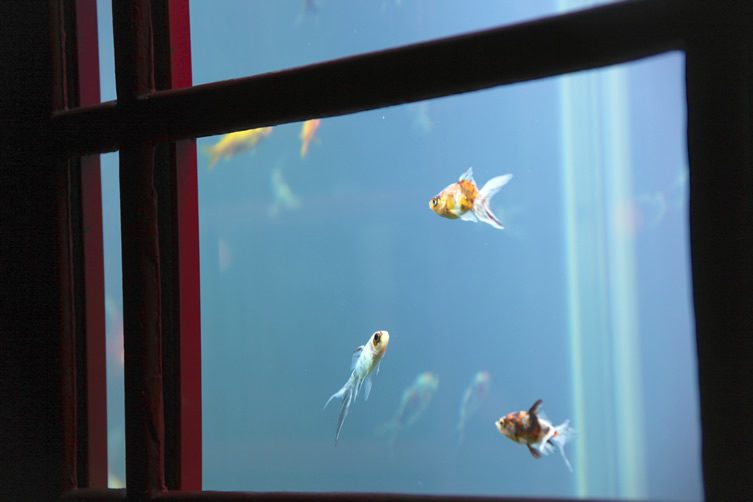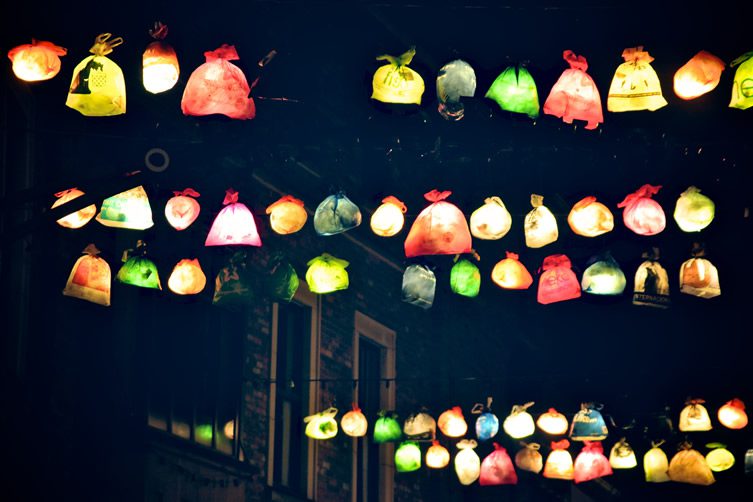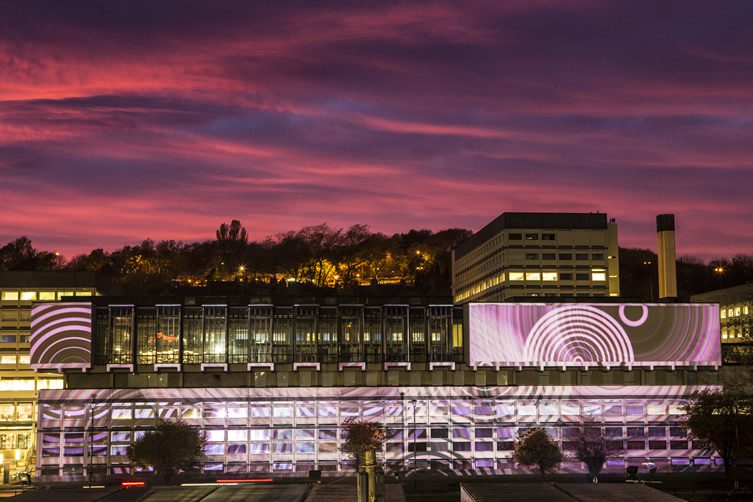 In the extravagant installation Keyframes, French urban interventionists Groupe LAPS draw on Durham's mining heritage, 80 LED stickmen jive along the façade of the former Durham Miners' Hall to a version of Working in the Coal Mine – it's fitting, as Saturday night draws in, that the now nightclub is dominated by the festival's most lively work. Crowds gather, punters mimic the dancing stickmen, it's a nice work, and a fine example of the democratisation of art, culture. It's a key theme that rings true around the plentiful sites that the festival occupies, headline works of a more commercial nature – Top'là Design's giant 3D elephant projection, The Media Workshop's interactive visual jukebox, Volume Unit, and Lumiere staple Crown of Light, a projection-mapping colossus bestriding the cathedral – may draw the crowds, but it's their interaction and appreciation of smaller, quirkier, more evocative pieces that confirms the festival's success to us.
Taegon Kim's otherworldly Dresses, that occupy the cathedral's cloisters, are one such work of emotion; ethereal illuminated dresses filling the dark space with intrigue, beauty. Ethereal is a theme at the cathedral, inside [M]ondes' Atsara is one of the most powerful works on display – impossible to convey in photography, it's a work that needs to be seen, that needs its space. Firefly-like lights crackle above the pews of the dark, cavernous space, sound playing as important a part as light. It's immersive, impressive, brilliant. Also within the hallowed walls, The Other Side of the Wall sees inmates from County Durham prisons and young offenders institutions collaborating with artists on a thought-provoking installation. Elsewhere, Sarah Blood's Sanctuary inhabits a cemetery, with beautiful neon birdhouses – the sounds of birdsong completing another impressive interactive work.
Rafael Lozano Hemmer's giant solar installation, Het Pakt's El Sol, Gina Czarnecki's I… around every corner Lumiere offers surprise and magnetism. A welcome celebration of contemporary creatives in a surprising city, this is one for all fed up with the confines of white walls and convention. A triumph.
***