Artist Charlotte Edey has been demanding our attention with her ethereal and dreamy works for some time. Capturing our collective imaginations with work that depicts the natural world through water, deserts, and mountains alongside human-made structures, modernist architecture, and personal sanctuaries, the Brit artist challenges her viewers with singular juxtapositions.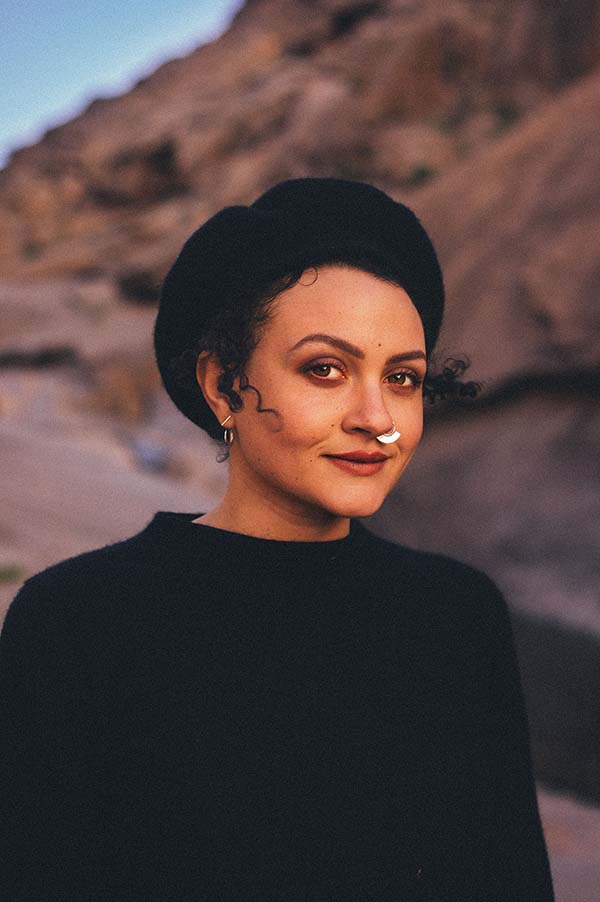 There is a natural, sensual tactility to her work too—and one wants to mischievously disturb the sleepy waters she often depicts, feel the smoothness of the modernist stairwell, or smell her delicate flowers. Perhaps this is why a transition from print and canvas to textiles and ceramics came about; a sort of natural progression toward physical tactility and reality, where tapestry and clay became a part of the Charlotte Edey repertoire.
With a narrative that features symbolism and illusions, Edey's distinctive use of tone represents not only spirituality, but also modernism and feminism. Interested in the idea of space, tone and the beyond, here is an artist also giving visibility to women of colour and mixed heritage. She paints, draws, or weaves these women or what symbolises them into her works, conveying them as deities and beings of great beauty and power.
We Heart caught up with Charlotte to find out a little more about her visual take on femininity and spirituality as a means of self-determination in the modern age …
Where did you hone your artistic talents, did you go to art school?
I did a foundation year at Chelsea School of Art & Design, but didn't continue for a degree. The majority of my artistic education has been evenings spent drawing around part-time work.
Can you tell us about your studio?
My studio is my living room, which feels like a massive privilege having been a bedroom artist for so long. I'm based in north London and was raised in south London suburbs. Being north of the river is a novelty, but I can't stand the endless grey.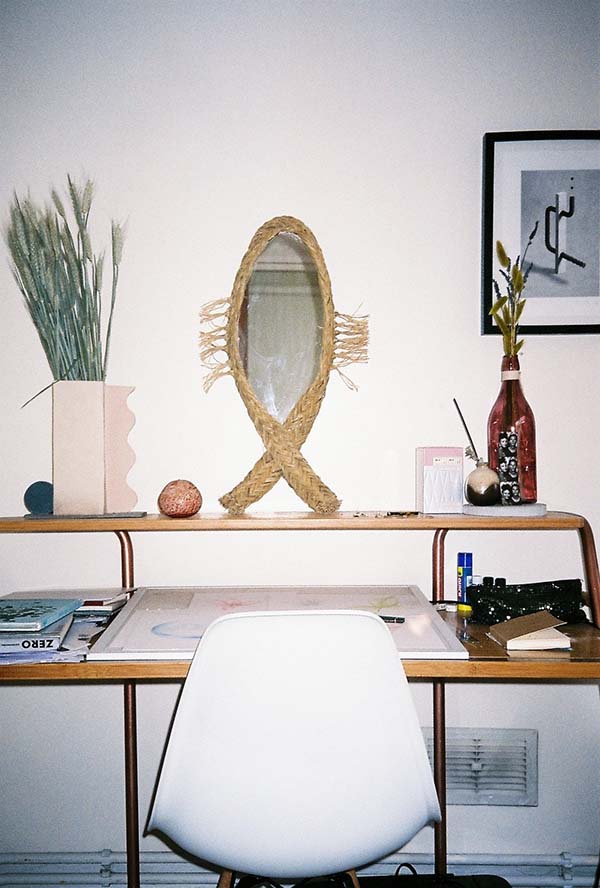 While the natural world—water, deserts, mountains—feature in your work, so do architectural structures. Colour, sense, and feeling also emanate …
A lot of my work is ultimately an exploration of the idea of space. I have a keen interest in modernist architecture and inhabited spaces, how characters interact with their private spaces to create a sanctuary or home is very intimate and revealing. I'm inspired by spiritualism, optimism and identity.
A familiar figure appears in your work, is what you create in any way biographical?
I see my female subjects as a female plural. They are deliberately anonymous, identified only by body language and the texture of their hair, from loosely curly to kinky. I definitely draw on my own relationship with my hair and my mixed heritage, but they're not autobiographical.
You say the spaces you depict are "punctuated with organic symbolism and miniature women of colour"—can you elaborate on this? What is it that you are trying to convey?
Representation of women of colour holds real significance to me. There is a power to the visibility and elevation of marginalised voices. The hands, eyes, flora, liquids, and pearls embody a feminine sensuality and tactility; symbolism and the significance of objects really interest me.
How do you visualise your work? Do you start with sketches? Talk us through your process …
I would usually start with one image or theme in mind and build around it. Whether it's a particular structure or organic object, it usually begins with one clear idea and the rest is pretty fluid. I sketch placements very messily and then start to work, but I usually end up with a different outcome to the mock-up.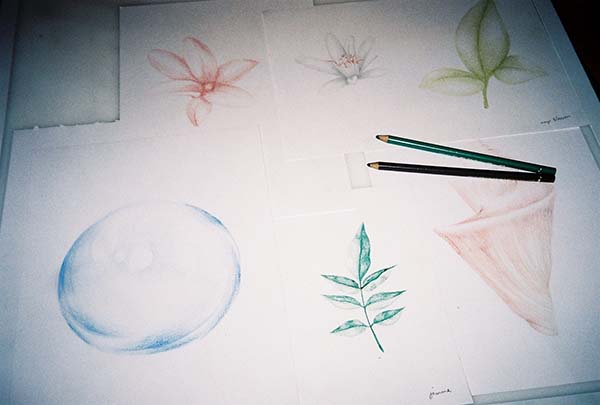 What does spirituality signify to you in private, but also in your work?
I practice spirituality as a means of self-determination. Seeking meaning or reassurance through ritual is very revealing in highlighting what you need or feel you lack at that time. In my work, the symmetry of the compositions and symbolism of the objects often draw from my own personal altars. I like exploring the meet of mystical and uncanny as a means of storytelling.
As a young artist, have you experienced any challenges in getting your work seen, commissioned, or sold?
I think putting your work out there a lot of the time feels like throwing something into a void and waiting to hear an echo. There is a lot of silence and (silent) rejection. It takes time to find your audience and yet finding that audience can also feel sort of terrifying. Art arguably doesn't exist without an audience, but creating for validation is also unsettling. I think there can be a conflict too between developing a defined style quickly as it appeals to commissioners and followers, versus wanting to play and explore your own visual language. It's a balancing act.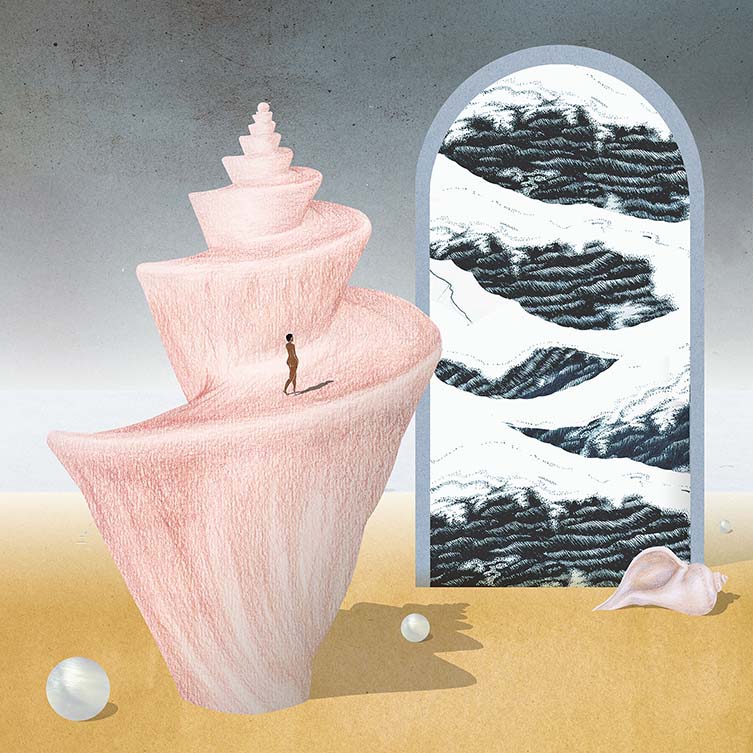 Do you have a particular favourite commercial commission?
The Penguin Random House book, The Spirit Almanac is really special to me. It was the most time I've ever been given to devote to one project, and I found the process really peaceful; both reading and then responding to the book.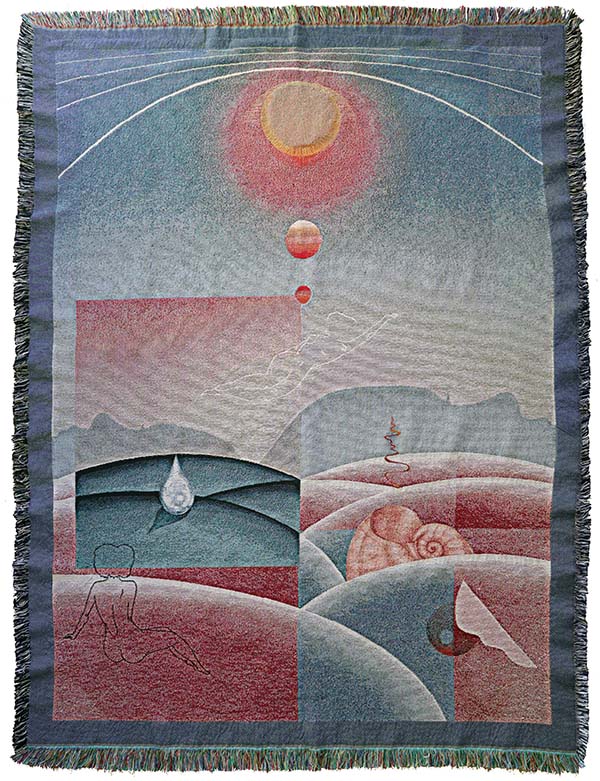 The book traces the history of ritual and ancient spiritual practices through the ages to modern day applications. I spent a lot of time researching seasonal flora and fauna and discovering the power of organic symbolism and found the process very dreamlike and introspective.
Likewise, what is your most loved personal project?
I really enjoyed working on my latest tapestry, Open. It started as a drawing, conscious of both the weaving grid and thread swatches, before being woven into the 140cm x 170cm tapestry. In essence, there are two separate pieces created for it. It's the first full-scale tapestry I have embroidered into with cotton and soft metallic gradients, and something I'm looking to continue.
When did you embark on textile/tapestry work? Do you have a loom? And how did this progression, or development, come about?
I started working with tapestry two years ago with a weaver. I've always been drawn to fabric works and started researching how to create them. I work now between woven tapestry and hand-embroidery mostly. They're a lot more fragile, and the flexibility of textile lends itself to various viewpoints during the making and as the finished product. It can be folded, hung, wrapped and reversed which changes the entire experience of interacting with it. I find them more intimate than print works.
Finally, can you name some creatives who have informed your practice?
Kay Sage; Lubaina Himid; Loie Hollowell; Judy Chicago; Sun Ra; Toyin Ojih Odutola; Ursula K Le Guin; Octavia Butler; Joan Didion; and Audre Lorde.