The petite Koya Bar sits just yards away from big sis' Koya on Soho's foodie Frith Street. With Japanese linen hanging in the doorway, you can spot the big wooden bar that dominates the teeny joint from the street – but Koya Bar is not a boozy cocktail joint for Sake-infused cocktails, it's an all-day all-night noodle bar inspired by traditional Udon-Ya houses.
Koya's head chef Shuko Oda, who used to run things down the road with fellow chef Junya Yamasaki, really wanted to do breakfast and nowhere else in London was offering authentic Japanese morning fare; thus owner John Devitt said "why the heck not", in a dreamy Irish accent (I imagine). The original Koya has been left under the careful eye of Yamasaki, allowing him to create a more experimental blackboard menu.
Even at 8:30am Koya Bar has eager customers. I watch a chef boil, then wash the 'made on the premises' (following the traditional method of kneading by foot), thick white delicious Sanuki Udon noodles. Her technique is incredible, up to her elbows in running water – none too dissimilar to old-fashioned laundry practice. She is vigorous, precise yet conscientious. Arranging an array of sides on lovely glazed brown earthenware, the smells of dashi becoming intoxicating in the relaxed setting.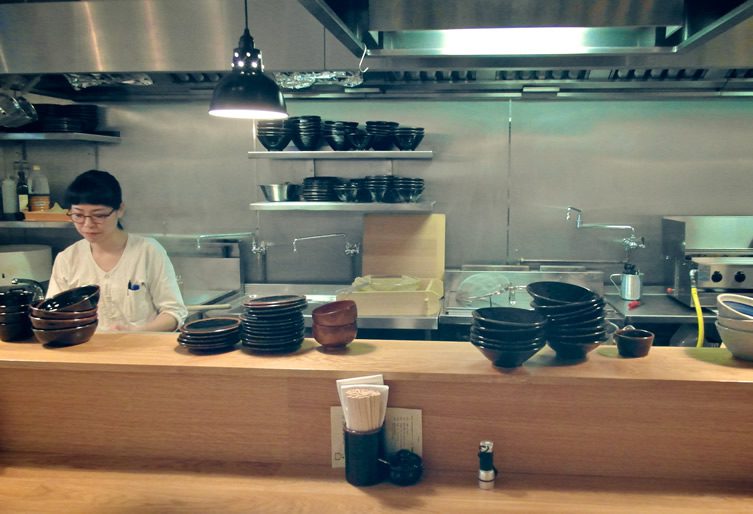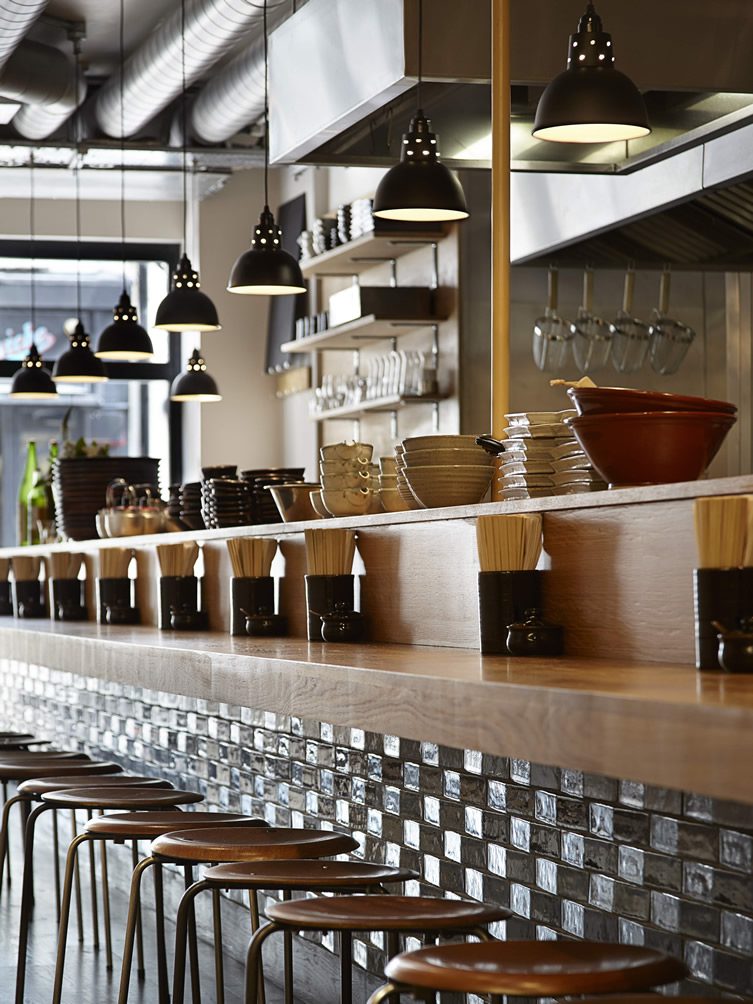 For breakfast you have two main breakfast options – udon or rice – plus specials. Having seen pictures of the English eggs and bacon udon in hot broth, I went for that and my cohort sampled the Japanese kedgeree. The latter – porridge with smoked haddock, poached egg and 'curry' – was delightful. Similar to congee; delicate, inviting and superbly teamed with flakes of smokey haddock; warm and satisfying, with a poached egg in the middle – balancing the dish with some satisfying protein. I loved the taste of the eggs and bacon udon but the streaky bacon was a little too floppy and fatty for my taste, it looks fabulously bonkers however, and still makes me smile. As an extra little treat (and there are various breakfast sides) we shared the marinated mushrooms. Glossy and rich, the delicate fungi were bathed in soy sauce, mirin and kombu (dried kelp) giving it a beefy twang. I kind of wish they would jar these up and sell them.
I'll always love Koya for its honesty and uncomplicated goodness. There really is little like a bowl of udon, and Koya Bar will offer much of the same with an all day/night menu. Expect seasonal and inventive dishes that can change daily. The breakfast offering is definitely a good idea with not a hint of gimmick in sight. Lucky for you, there are plenty of great coffee spots in Soho as you won't find a single bean on the premises. They don't plan on serving it either, for those exact reasons.
***