Imagine arriving in London in the latter half of the 1990s from another planet. What would you report back to those waiting behind the control desks in a civilisation far, far away? Liam Gallagher falling out of the Met Bar; Geri's Union Jack dress; the drugs working, and then not. Tony Blair. Is this what I've travelled a million light-years for? Two years living off dehydrated milk and all I get is Country House and Jarvis Cocker slapping his arse in front of Michael Jackson.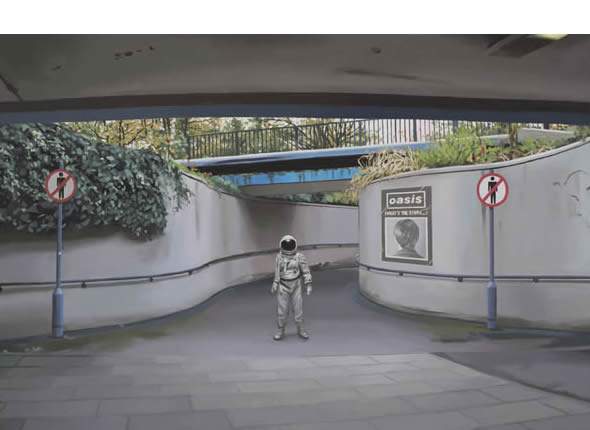 The lone astronaut is an recurring theme in the work of Boston artist Scott Listfield, and I can't help but imagine the little man in An American Astronaut in London wishes he'd been beamed back half a decade earlier so he could have gone to Spike Island.
Born in 1976, Listfield ponders whether his parent's generation would've regarded 2001 a failure; did they really think we'd be living in space when they first watched 2001: A Space Odyssey in 1968? It's that anticlimax that pervades throughout Scott's melancholic paintings; his lone astronaut cutting a desolate figure as he inhabits the present day — perhaps harbouring the same disillusionment a child of the '60s would have had fast forwarded to the today we're so familiar with, its saturation of corporate iconography and pop culture.
A teen of the 1990s, Listfield grew up under the heady influence of Brit Pop, and his latest series sees his protagonist wander the desolate urban landscape of this pivotal moment in British popular culture. Underworld; Pulp; The Verve; the fucking Spice Girls … sure, we had fun, but let's pray no higher beings were watching.
Scott Listfield, An American Astronaut in London, runs between 6—29 May at StolenSpace Gallery, London.
@StolenSpaceLDN
@scottlistfield