With 762 rental apartments throughout a whopping 69-storey tower, Jersey City Urby offers compact apartments, communal facilities and sub-premium rates; all wrapped up in an impressive feat of design.
The second building for the Urby brand — following on from Staten Island — the concept is simple: to provide value for money and a connected living experience in densely populated areas. Rising high above the city's skyline, and with unrivalled views of Manhattan's, the first phase of the Jersey City project has just been completed by Amsterdam-based architecture firm concrete; along with Ironstate Development and Roseland Residential Trust.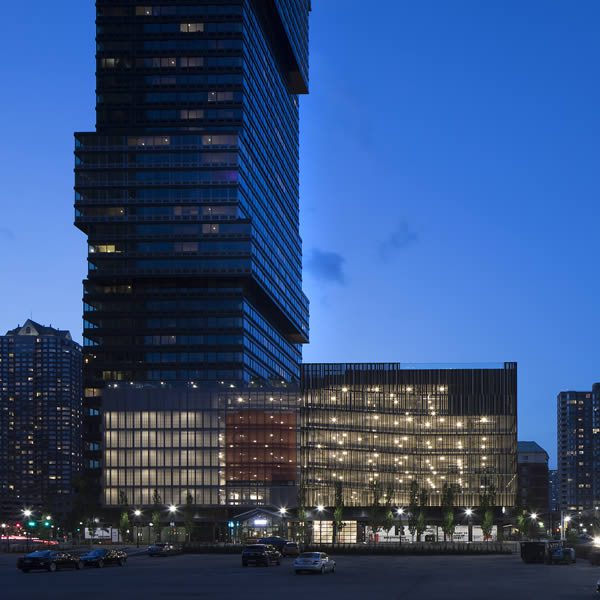 Occupying an elegant skyscraper, made up of stacked blocks and housing a vertical neighbourhood, the design-conscious apartments are available in three sizes: S, M and L. Thanks to concrete's clever use of space, all manage to feel spacious; large windows, bright lights, and sliding doors allowing the owner to fully open up their pad. Setting a new standard in ready-to-move-in rental housing, all boast ample built-in storage space, fully-equipped kitchens and bathrooms, and the prerequisite that every modern urban dweller demands: pre-installed WiFi.
Located in the heart of Jersey City, just off the Hudson River waterfront, the building (as will be the case with all Urbys) has been designed to create natural opportunities for neighbours to meet and interact. Entrance is via a stylish café — a collaboration between Urby and 9BAR — which serves up coffees, pastries and small dishes; up on the 9th floor, residents can socialise in the communal gym, yoga studio, landscaped deck, swimming pool and garden overlooking the Hudson River. A kitchen provides professional equipment, and a large communal table with a terrace connects to the garden and pool deck. Here, residents can stoke the BBQ, crack open a tinny (new wave craft beer, obvs) and escape the hustle and bustle of the city below.
With 180,000 people around the world moving to cities every day, Urby not just provides an affordable place for people like these to live, it provides a modern, connected community; an entirely new concept in contemporary living. Who would live in a house like this? We would.