With 90 suites, a wellness area, two outdoor swimming pools, and a commanding slogan that "everyday's Saturday," Sabàtic is a place to kick back and relax in the seriously suave Mediterranean coastal town of Sitges.
Conveniently situated on both the doorsteps of Barcelona and the renowned wine region of Penedès, the hotel is a Marriott Autograph Collection property, and conveys a sense of tranquility through a considered palette of natural colours and materials, original artwork and considered design, as well as those all-important sea views.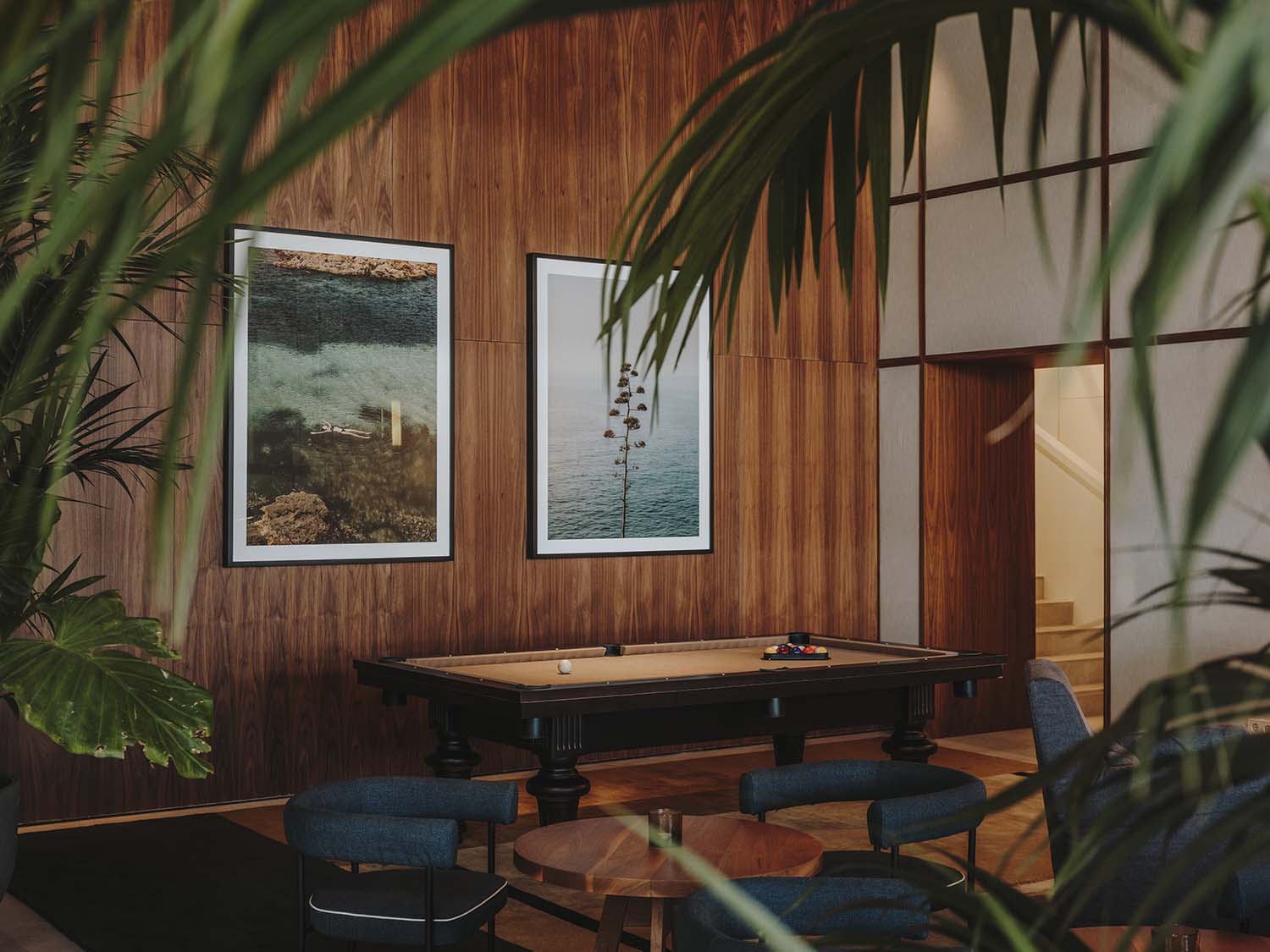 Designed by local interior design studio and We Heart favourites, Sandra Tarruella Interioristas, Hotel Sabàtic exudes charm, sophistication and class from the moment you enter its lobby, with Mediterranean-style lounge and shop, to the winter sitting room and adults-only library that features a selection of board games, books and vinyls together with a fireplace; perfect for those who seek a getaway in colder months. In that sitting room, the images of Barcelona-based photographer Salva López adorn the walls, complementing Tarruella's subtle decoration and colourful artisanal pieces by local ceramicist Adolfo Morgan, who runs brilliant workshops at his studio in the centre of town.
A suite-only property, accommodation is set over five floors, and accommodations range from the 45 square metre Garraf suite (named after the hotel's location at the foot of the rocky massif of Garraf), up to the 65 square metre two-bedroom suite, which is ideal for friends or families travelling together. Boasting partial or full sea views and a terrace or balcony with Balinese bed and tables and chairs to savour the views, guests can benefit from the 300+ sunny days that Sitges enjoys — alongside a jaw dropping sunrise — from their very own room.
As well as a large bedroom and separate living room with dining area, rooms are equipped with a sports kit that includes a yoga mat, massage balls, mini foam rollers and elastic bands; a Marshall speaker and music menu with curated playlists, meanwhile, cater for those seeking a more decadent stay. Guests minded toward health, decadence, or who straddle the line between can enjoy a unique mini bar that comes complete with a mix of nourishing Mediterranean drinks and snacks, together with a Sitges staple: vermouth. In fact, so important is the fortified wine gulped down across Catalonia, that guests are invited to partake in 'La Hora del Vermut,' during their stay, learning about the tradition and ritual that Catalans and honorary locals adore so much.
A place for those locals as much as savvy visitors, Sabàtic is fast becoming a Sitges destination thanks to its many and varied amenities, such as the fitness and wellness studio; its summer pop-up cinema; pool club with afterwork sunset and DJ sessions; and its highly recommendable gastronomic offering, Pasatempo.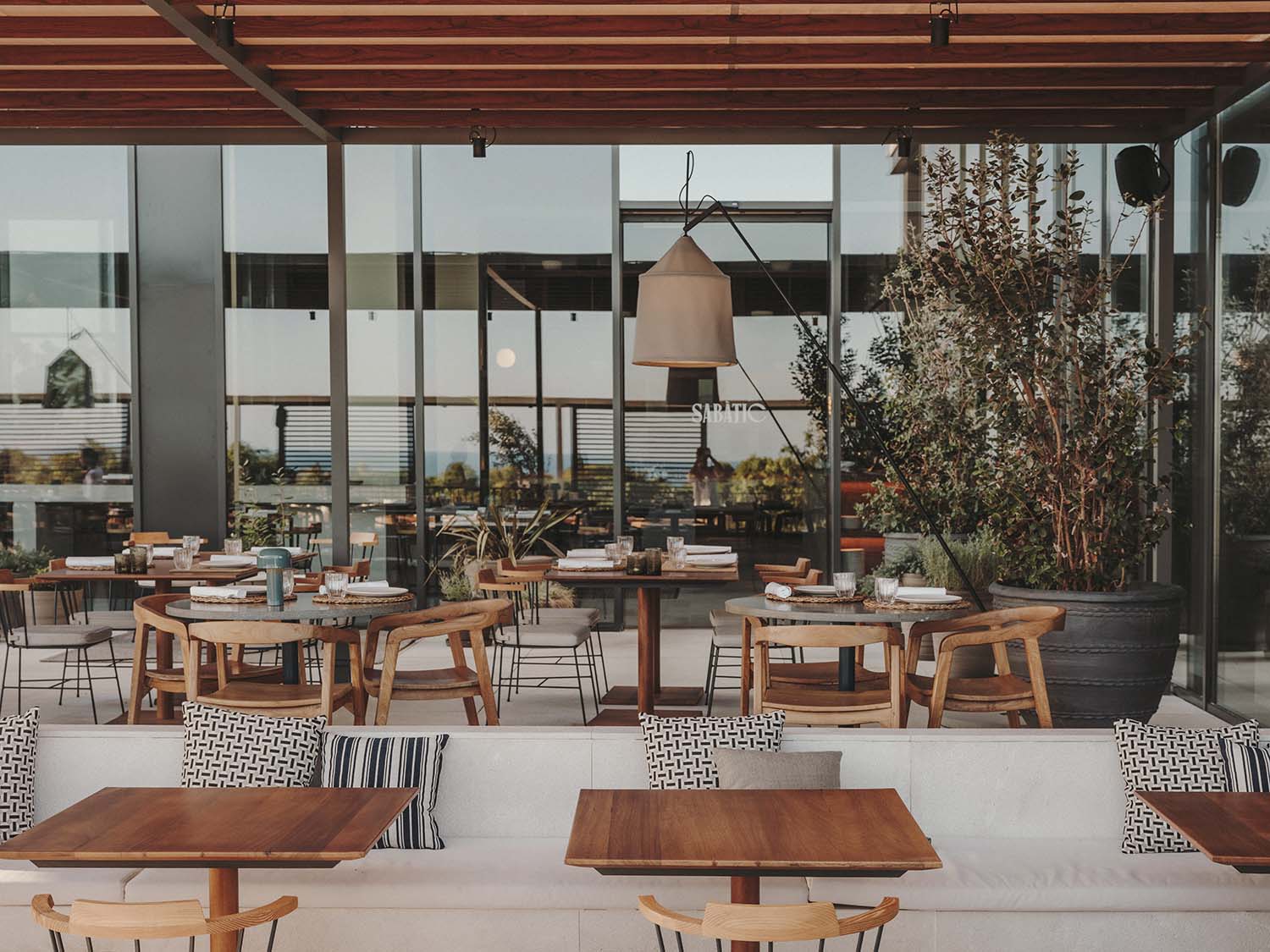 A restaurant, bar and lounge with ample space both indoors and outdoors, the latter with views of the sea, Pasatempo serves up high-end Mediterranean fare from breakfast to dinner on the ground floor of the hotel between the lobby and winter lounge. Tarruella's interiors come to life here, with a large communal table presided over by a large bronze mirror with a beveled quartering, the graphic application of semicircular elements made of shiny stainless steel, and material coating such as the lime mortar.
Pasatempo is indoor-outdoor living at its best, with the two spaces blending seamlessly into one. Friendly and knowledgeable staff serve inspiring plates made using high-quality products based on proximity, sustainability and local gastronomy heritage; diners invited to relish in a mix of local dishes such as the popular Xató de Sitges with anchovies and romescada, the Vilanova prawns and the Sitgetá rice with seasonal vegetables, alongside typical national dishes including rostit croquettes, Iberian ham, and freshly-caught grilled fish. It is a remarkable restaurant, and one worth the trip to Sitges alone for neighbouring locals.
For those wanting to immerse themselves in the surrounding area, a visit to Finca Viladellops — less than 20 minutes in car — is a superb way to spend a few hours learning about the local wine region, as well as tasting more of the wines you may have already tried in the hotel; with documents dating from the year 981 to 1983, expect to learn about more than simply vines, the estate rich in eye-opening Catalan history.
Set back from the plush promenade of Sitges, yet an easy ten minute stroll to the beautiful beaches, bars, restaurants and nightlife that keep discerning travellers coming back, Sabàtic is a place to switch off and reflect, whilst being close enough to everything to ensure that disconnecting doesn't become tedious. An impressive addition to this sincerely seductive part of the Catalan coastline, this is one of those hotels that truly have it all.
@sabaticsitgeshotel
@sandratarruellainterioristas
@adolfomorgan_ceramica
@salvalopez