We are increasingly living our lives through filters. Through social networks, through smartphones, through the mortal coil of fibre and unseen airborne nexus. We're closer, yet further, than ever. In the communication age, it is so often through a digital mode that we speak to the ones closest to us.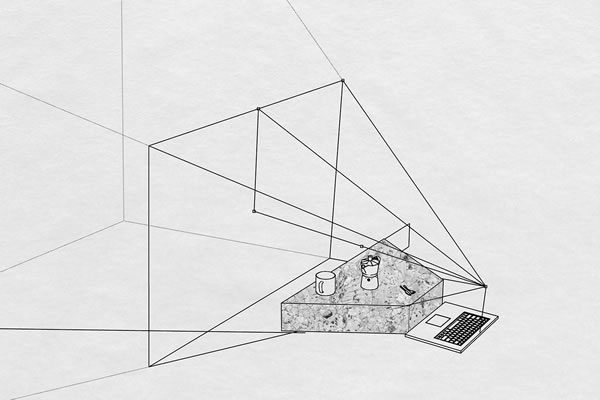 A graduate of Design Academy Eindhoven, Louisa Zahareas has explored the medium through which she now primarily communicates with her family: Skype, FaceTime, her computer screen. Attempting to filter a real-world ritual through this digital skew, Zahareas has created Screen Mutations; a family of tableware that only appears real through the eyes of a webcam.
Collaborating with computer geometry expert Dianne Hansford, calculating perspective with plenty of arduous number-crunching, the Greek designer has crafted a series of objects that question the fabric of our modern day existence. "'What seems' becomes more important than 'what is'" proffers Louisa; as the visual identity we put out there — in avatars, Instagrams, and so forth — grows increasingly disparate from who we are in reality. Screen Mutations has been described as "like a reversal of a Salvador Dalí painting", but what Zahareas has created is much closer to reality than anything the Catalan painter did; it's just that now, our reality is so much more surreal than he could have ever imagined.