Riding high on the back of commissions for clients like Nike, Guardian, and Uniqlo, illustrator Jess Wilson has designed a set of limited edition lens cloths and pouches — in her signature chaotic, colour-packed approach — for London eyewear and eye-care brand KITE.
The 28th optometrist in his family, Asad Hamir launched KITE in 2014 along with his two brothers (and Dishoom co-founders) Amar and Adarsh Radia, with "uncompromising commitment to quality and craftsmanship" at the core.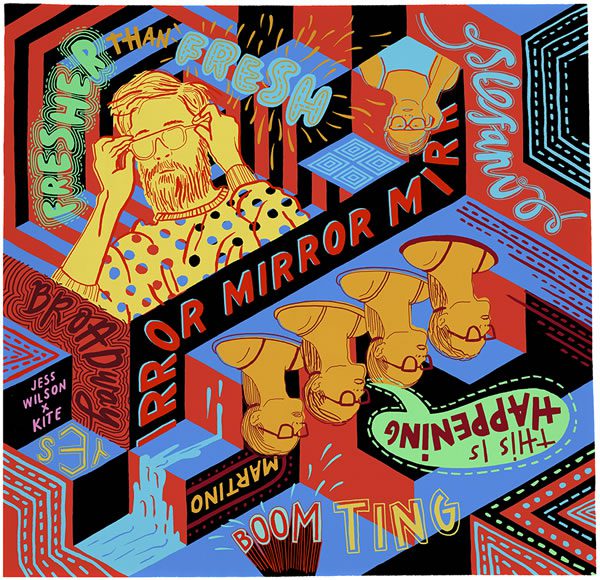 The London-based premium eyewear brand's largely unisex range of optical glasses and sunglasses are streamlined, dapper numbers — meticulously crafted using lens technology by Zeiss, bespoke acetate by Mazzucchelli and Italian artistry; and may well be named after you (Charlotte, James, Rocco, Bowie).
With an impressive back catalogue of projects for high profile clients and unmistakable personal work, Wilson has an 'eye' for the imaginative and playful. Hardly surprising, then, that she was given 100% artistic control in this collaboration … which results in eight experimental, unabashed designs that clients can personally customise; mixing and matching a lens cloth and pouch to complement their online or in-store specs purchase.
Launching 1 December — just in time for Christmas — KITE will be celebrating the spec-tacular collaboration at their handsome Westfield Stratford City store, with an installation of murals by the artist who will also be in residency; illustrating live to give shoppers the opportunity to see her creative process up close.