Technology surrounds us. Literally. Born from "an artistic exploration of the influence technology has in our everyday life," Rotterdam-based Romanian-born designer and artist Oana Clitan has created Pulse; a limited-edition collection of luxurious silk scarves that she hopes will raise awareness about the effects of always being surrounded by technology in both the material and virtual sense.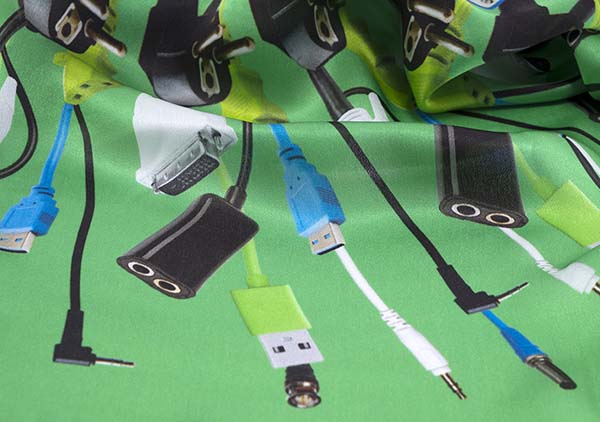 Available in six colourways and individual designs, each of Clitan's finely-printed Pulse scarves feature intricate patterns made up of often outdated electrical cables and plugs (think clunky VGA cables or good old Ethernet); an ode to progression via objects that are likely to disappear as technology continues its ceaselessly rapid evolution.
From Channel Rose—a soft pink silk scarf sporting a pattern inspired by the Big Bang—to bright sunny yellow Golden Bolt, featuring a mandala-inspired pattern made of electric plugs, and the elegant Ivory Connection scarf with a geometric floral pattern made from classic USB cables, Clitan omits the devices themselves in her statement pieces; rendering an abstract interpretation of the grip technology and consumerism has on modern society.
Designed and printed in The Netherlands, give your style a satirical makeover with this playful and hypnotising collection, the first fashion outing from a designer who promises it won't be her last.