Jonah Freeman and Justin Lowe have been at it again. I'll opt not to speculate what IT may be. I don't want to get the immersive art specialists into trouble — but, if they haven't taken IT, they've certainly been thinking about it. Roping in one half of experimental rock outfit Royal Trux, Jennifer Herrema, their latest counterculture odyssey — currently showing at Red Bull Studios New York — is surely there most expansive yet; Herrema soundtracking the installation with a little help from her friends (some not entirely straight-laced) … Primal Scream, MGMT, Devendra Banhart, Kurt Vile.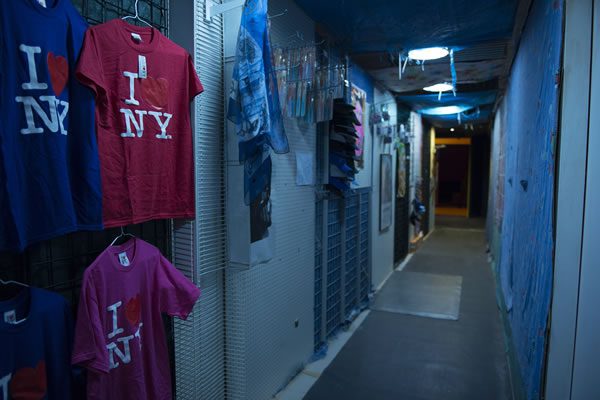 Following a thread that goes back some years — encompassing installations like Hello Meth Lab in the Sun, Black Acid Co-op and Stray Light Grey — Scenario in the Shade imagines a dystopian near-future where the hedonism of 1960s Cali-counterculture is eaten by a kind of lolcat embodiment of internet subcultures. Where previous exhibitions have been informed by meth labs or imaginary psychonauts, Scenario in the Shade takes inspiration from the fictitious writings of Elizabeth Stone — an unsubstantiated author who has dubiously documented 150 years of South California's subcultures … headfuck alert.
Portaloo tunnels; '70s rockstar smoking dens; shady laboratories; post-internet art gift stores — Freeman and Lowe's latest sprawling otherworld is an LSD-spiked theme park for mind explorers, convention-defiers; another fearless plunge into the depths of art-world provocation. It makes no sense. But what does?
Scenario in the Shade continues until 6 December.