A little bit of this, a little bit of that, and a little bit of the other. Dersou (rue Saint-Nicolas in the Bastille neighbourhood) is all things to all customers. It opens at 9am, does a turn as the classic Paris café at lunchtime, takes a quick break in the late afternoon before reopening as a hip fine dining restaurant with a five or seven course tasting menu paired with cocktails and electronic music.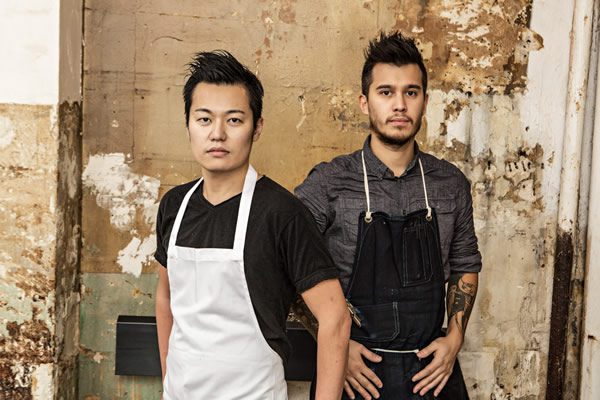 A quick heads up though: the tasting menu is only available for the first service and you must book ahead — after that it's a choice of small plates à la carte while stocks last. Japanese Chef Taku Sekine has picked up plenty of influences from stints in Paris restaurants as well as extensive travels, and he hops about from region to region with enthusiasm.
Amaury Guyot is running the bar, which is a reflection of the venue as a whole: unfussy, and undeniably solid. The plain wood counter, floorboards and seating made from reclaimed Belgian timber are right at home against the distressed back wall. The glasses are mismatched flea market chic and your food, depending on what you order, may arrive on rustic ceramics, decorative china plates or metal dishes straight from the mess hall. Dersou is reputedly popular with fellow chefs who've completed their own service and need a late night repast, which is usually a good sign.