Things aren't what they were in King's Cross, and we mean that in the best possible way. The area is a far cry from its 1980s nadir thanks to a major — and still progressing — regeneration project around the King's Cross and St Pancras railway stations. No longer a place to merely pass through on the way to work or simply an arrival point from the North of England, King's Cross is now a buzzing nexus of retail and hospitality that's worth a visit on its own merits. Pancras Square is at the heart of the action, and Drake & Morgan, a new drinking and dining destination, has enhanced the neighbourhood's appeal even further.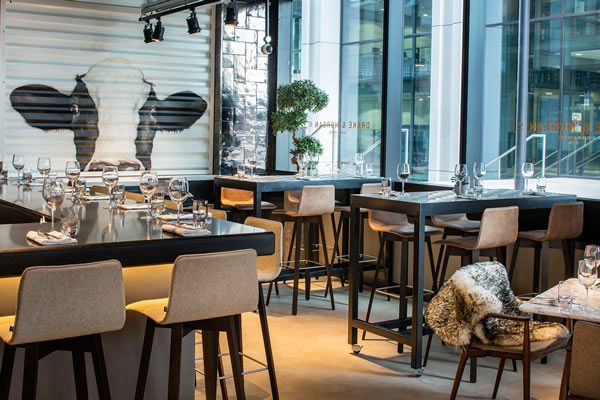 The venue is a mixture of contemporary and classic opulence on an impressive scale. The lower section provides a choice of two bars; the light, bistro-style street level option, complete with outdoor terrace, is joined to the edgier evening spot below by a striking emerald green staircase.
It's always cocktail hour down here, and there are DJs on deck until late from Thursdays to Saturdays. On the dining front, Chef David Green's menu has all appetites covered, from a small plates selection, grill options and full-on comfort food. The open kitchen has two bookable "pods" attached, where groups of foodies can get closer to the action, and there's a more traditional private dining room available too. This space can be configured for a conventional 14-seat table, but its nifty party tick is to switch to theatre-style seating, arranging 35 guests facing a 75" television.