Sushi Planet certainly lives up to its name on the design front; Adam Johnson and his Xtra Shiny studio has sourced materials including American white oak, Spanish black marble and the feature pendant lights from Danish designers Muuto for the well textured interior at the Adelaide restaurant.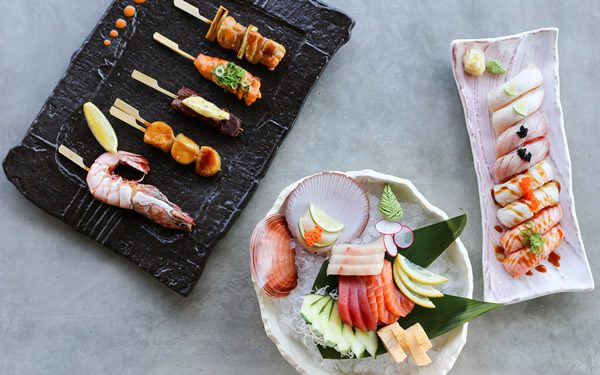 What isn't imported is the fish; only the freshest Australian catch makes it to the table at Sushi Planet. The speciality here is yakitori — that's charcoal grilled fish skewers — cooked to order by a team of chefs skilled in the ways of Japanese cuisine.
There's an attractive outdoor eating area at Sushi Planet (something of a novelty at Japanese restaurants) but the interior has more in common with traditional Japanese restaurants in terms of design. The premises is a minimalist concrete and glass number, brought to life by Xtra Shiny with natural materials. The use of light wood in the slatted wall outside extends into the interior in the form of a frame insertion that binds the interior together within the concrete shell. Darker wood clads the walls on the way to the bathrooms, and the leather atop the dining chairs help add a tactile warmth to the space.