Ah Monaco; home of tax-dodging F1 stars, the international glitterati, the world's most famous casino, and lots of tunnels, through some of which cars have been driven rather speedily since 1929. I tried this very feat myself, some week or so ago, but found the traffic somewhat busier than during that most prestigious of car races – God loves a trier though, however my co-pilot may have disagreed. I've got a dual-clutch S tronic transmission at my disposal though, and as it powers through the new Audi S3 saloon's 300 hp, I feel every bit the mannerly racing driver with sharp reactions and equally sharp poise. It's amazing what a great car can do for the inner self.
And this is a great car. Lightning quick gear changes pin us to our seats and there's an irresistible grumble from the twin double exhausts, it rasps through those tunnels with a gratifying aural delight – I'm channelling Senna, and it feels good. But this is not the 1980s, and Audi firmly reminds us that it's 2013 with boasts of almost 41 miles per gallon – not bad for a motor that jets from 0 to 100 km/h in just 4.9 seconds. The S3 is not the only spangly new Audi that we're putting through its paces in Monaco and the principality's surrounding mountains, the new A3 Cabriolet is doing a good job keeping up too, demonstrating some nice handling on the famously tight hairpin bends of mountain pass Col de Braus. Employing a fancy new active rollover protection system (spring-loaded plates are magnetically activated in the event of a collision), the convertible's sleek lines look better than ever – it's a handsome pair of vehicles that we're trialling on a fabulous Autumn afternoon…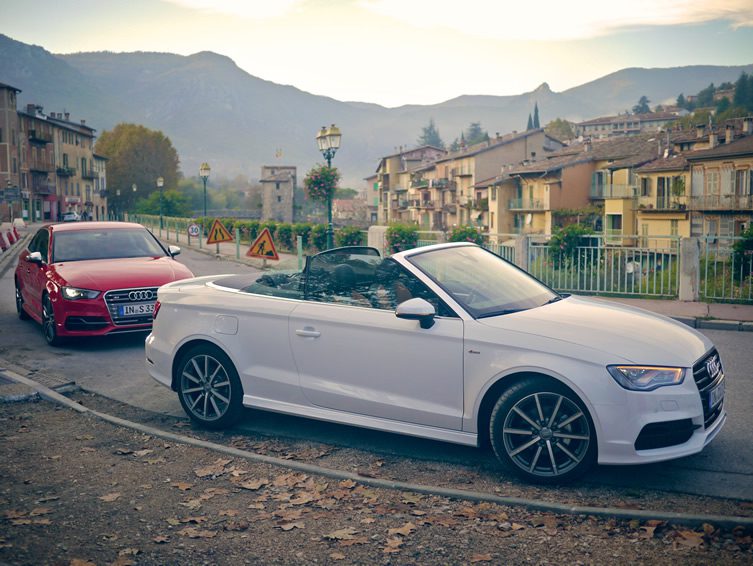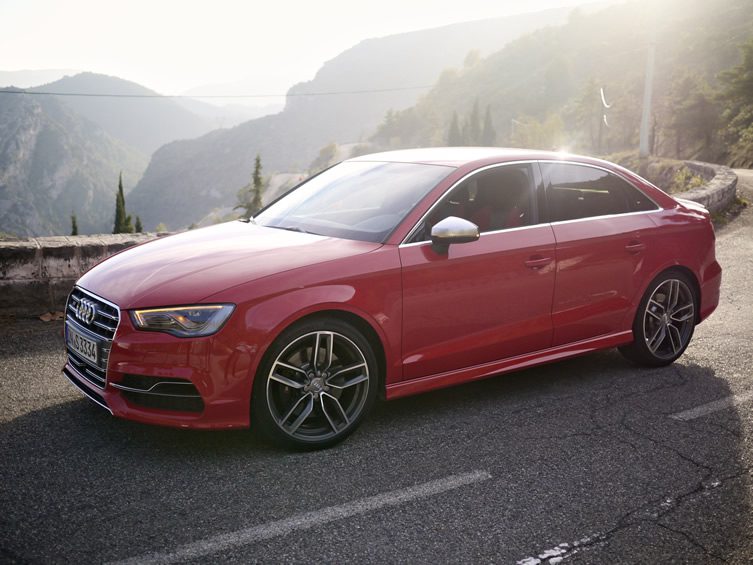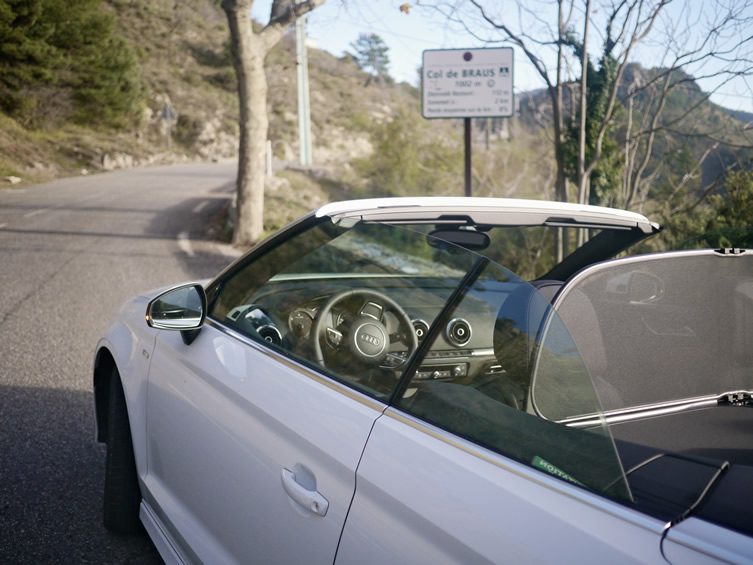 Inside, the comfort and technology on offer is probably more akin to the mega-yachts that reside in Monaco's harbour than the cars that your Sennas and Prosts would've been tooling around the roads above – the S3 particularly lavish, with its black, black and more black approach to monochrome aesthetics. Swanky leathers, diamond quilting and embossed logos… Abramovich would be proud. Audi's 'MMI navigation plus' is suitably Bruce Wayne-esque, unfurling from the dashboard with its high resolution satellite images from Google maps, 10gb Jukebox and dual memory card readers – whilst Audi's drive select dynamics system switches between driving modes; I keep it in 'dynamic' and imagine myself flexing those F1 drivers' gloves.
Things are pretty advanced in the Cabriolet too, perhaps the most impressive is the lightweight roof doing its business in just 18 seconds, at speeds of up to 50 km/h – not as vital in the south of France, but a coup for convertible fans back home. Here, though, the weather is treating us well and as attention-seekingly unruly as the S3 may be, the soft-top proves most desirable for the postcard-perfect jaunt through French countryside; hamlets and vistas around each twist and turn.
The sun sets and we cruise back into Monte-Carlo, just time to switch back into the naughty sibling for a quick lap around the Grand Prix circuit – rush-hour traffic may trample all over my dreams of hanging on to the tight corners, but it probably saves mine and my passenger's lives. For the best then. A few harbour-side snaps and we end the day at the opulent Hôtel Hermitage Monte-Carlo, everything Vegas wants to be and more, the hotel your nan would design given a carte blanche and endless budget. We wind up in a bar/club just off Place du Casino, where bankers are out-spending each other for shits and giggles – Monaco is as bewildering a place as you'll see, but there's little frivolous or fatuous about Audi's latest arrivals.
***