Design and boutique hotels in Poland's capital Warsaw are somewhat of a rarity. Odd, considering the recent upsurge in creativity, exposure and tourism, although there's one particular little gem to be had. Let us introduce you to Hotel Rialto, in Warsaw's seemingly quiet, yet secretly buzzing, arty downtown. Away from the pretty but touristy Stare Miasto (Old Town), the 20th Century building stands proud and majestic. Unlike much of Warsaw, this building was left standing after World War II, and in later years has transformed into Poland's first boutique hotel – designed by Jan Kacper Grochowski at Dom Architektury.
As you first step through the hand-cut glass doors, you enter a true Art Deco space. The incredible Futurism-inspired stained glass ceiling panel by Jerzy Owsiak immediately astounds with its rich orange, yellow and bronze hues. It's difficult to check-in, distracted by the distinguished solid wood reception desk, the marble floor and an onset of wooden patterns. With an exceptionally warm welcome we're handed our solid metal room key, heavy with the distinctively embossed Rialto logo and, strangely, we're assured it's digital. Waiting for the lift, more stained glass and an actual dial with an arrow pointing to the floor numbers, gently moving in a semi-circle. Once in, we're told the lift is a replica from Poland's last trans-Atlantic ship, it even has a seat. Okay, it's a lift, but it is a very impressive one, it even has pearl buttons…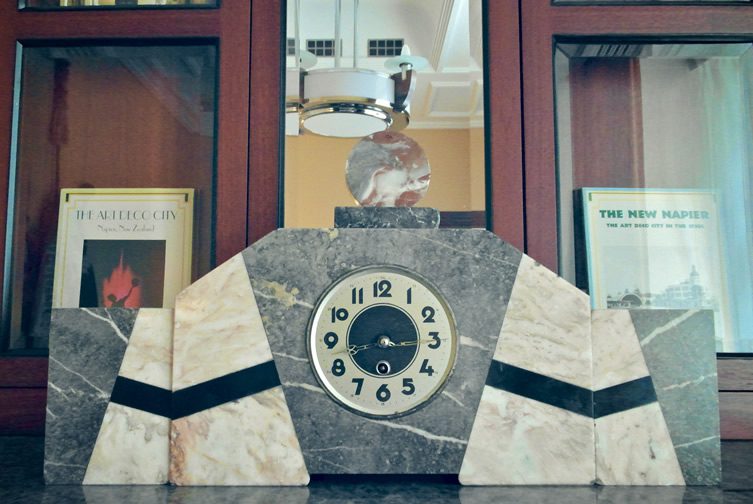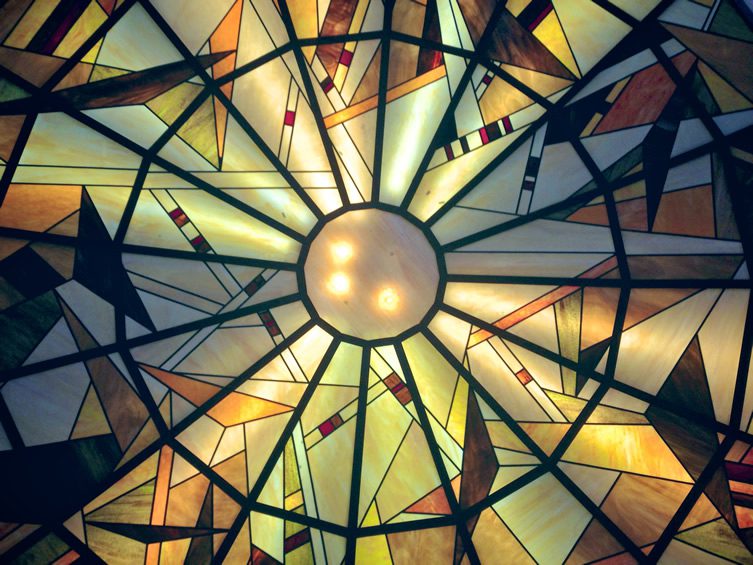 As we enter the suite, our bags drop and the investigation begins. My thoughts are filled with the romantic notions of an Agatha Christie novel. I half expect Poirot to be sitting at the bureau solving a wicked murder. I'm impressed with the lighting, natural and man made. Windows circulate the living room with great views of rooftops and the controversial neo-classical skyscraper – the Palace of Culture and Science. A 1920s Art Deco chrome lamp here, Metropolis-inspired lighting panel there, even the light switches are novel faux-Bakelite. Where do they find this stuff? Later discovering that the owners love visiting auctions from as far as Japan, Africa and Europe, it all starts to make sense. Some of the pieces – for example the mirrored shoe and hat stand – are recent, and made by Polish artisans in the '20s style. The Rialto embraces the 'free-period' in Warsaw's history and you'll find a mixture of found or re-made artefacts. Old chrome and wood, oak-and-maple parquet floors and a Tamara de Lempicka painting – the attention to detail is astounding. Luckily, this is a hotel and not a museum; you can touch, and relax whilst the radio plays old jazz.
Celebrating its 10th birthday this month, expect a lot of happenings at The Rialto. I had to try the restaurant and on special request, while they finalise their 'pre-war menu', the chef made me game pierogis. If you've never had pierogis I'd urge you to eat as many as you can find. Similar to Chinese dumplings or Italian ravioli, The Rialto's game pierogis were fantastically delicate, hand-made – just as good as Babcia's (sorry grandma!). We also tried the trout tartare with crispy fennel, which was light to the extreme – peppered and with good texture. Beautifully presented was the tenderloin of beef and the sea bream, both delicious and plentiful. Sadly I wished the traditional menu had been fully available, more fitting somehow to the elegance and nostalgia of the restaurant. I also found the wine menu a little challenging, rather expensive with questionable choices. Luckily we were here for the Wisniowka (cherry vodka), who wants wine anyway?
Nearby are a few great bars, galleries and markets. We tried Koszyki Market, which is an all day and night venue. Here you'll find a grand old tiled bar serving tapas style small dishes, plenty of booze, DJs and even an out-door rum bar. The cool, arty, hip Warsawians congregate here en masse flitting from the Raster Gallery next door. The mixture of new and old, of innovation and creativity, resilience and pride are the things I love about Warsaw. For old time nostalgia and history with contemporary and cool nightlife close by, Rialto is devoid of the arrogance oft-befitting a high-end hotel. It is stylish, interesting and close to pretty much all Warsaw has to offer.
***