In the burgeoning Praga district, within the confines of the once-defunct Koneser Vodka Distillery—now a booming campus home to houses, the Vodka Museum, offices and a hotel—Thisispaper Studio have designed their first liveable space, a place where visitors to the city can unwind among some serious design objects and furniture; all hand-picked by the Warsaw-based multidisciplinary studio.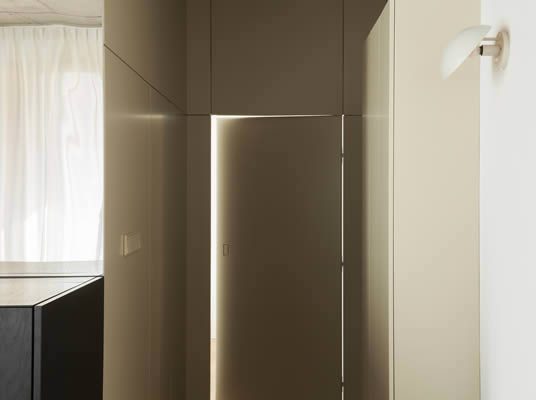 Guided by a love for honest, natural materials, A—PLACE combines wood, steel, ceramics, and linen with a neutral colour palette and vintage pieces by some of designs most respected names—including a Dieter Rams 1969 designed Braun SK5 Record Player; 9090 Coffee Maker by Richard Sapper (to prepare freshly roasted coffee from Warsaw); a Senator Sofa designed by Ole Wanscher; and New Tendency's signature META side table.
The design apartment comes off the back of the online magazine entering the physical world with its minimal design products and flagship store—also in Warsaw—and once again sees the team's aesthetic leaning toward the meticulous minimalism they've become known for; A—PLACE a knockout dose of clean lines and considered simplicity.
Upon arrival, guests are treated to a serving of Japanese organic tea to aid the disconnection process. Shelves are filled with art, design, and architecture books and magazines; whilst the more hands-on will appreciate a spot of Origami or Kirigami. The full list of artists and designers featured in A—PLACE includes Dieter Rams, Ronan & Erwan Bouro- ullec, Naoto Fukasawa, Ole Wanscher, Nao Tamura, Arne Jacobsen, Kenya Hara, Louis Poulsen, Shigeichiro Takeuchi, Kay Bojasen, Eike König HORT, Scholten & Baijings, Tsuji Kanaami, New Tendency, Ryosuke Uehara & Yoshie Watanabe, Richard Sapper, and more.