It's a Wednesday afternoon, late, late August, and the autumnal Swedish sun shines an ethereal light through floor to ceiling windows at an events space in Volvo's Torslanda headquarters, just outside the country's second city, Gothenburg. The trees outside epitomise the rugged Swedish beauty that evokes hundreds of sublime fantasyland mental images, it's a daydreamer's paradise and a reminder that Scandinavian aesthetic is far from just clean lines and expensive materials. Seems that one of country's most famous exports has recently been reminded of the importance of Swedish heritage and its famed association with internationally-renowned design.
Recent appointments of a new Senior Vice President Design – Thomas Ingenlath, formerly of VW and Audi – and former Bentley and Bugatti designer Robin Page as Director of Interior Design, have resulted in a forward-thinking design push from the Swedish brand so oft-described as safe, sturdy… dull. And that aforementioned duo are here, along with numerous other Volvo bigwigs, to introduce the world's media to a bold new concept, and design direction. Sure, the safety that Volvo will forever be synonymous with will never be overshadowed, but as the world's car brands continue in their quest to be seen as a 'cool brand' – the Swedish manufacturer is going toe to toe with its German cousins in terms of aesthetic appeal.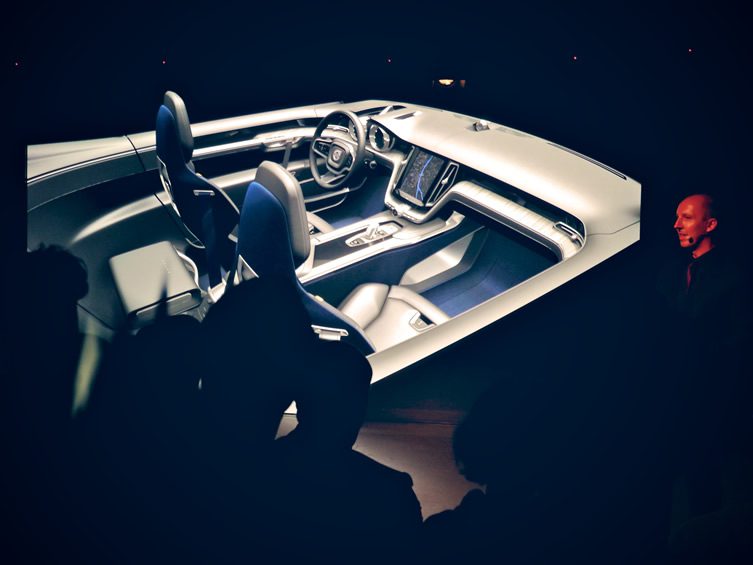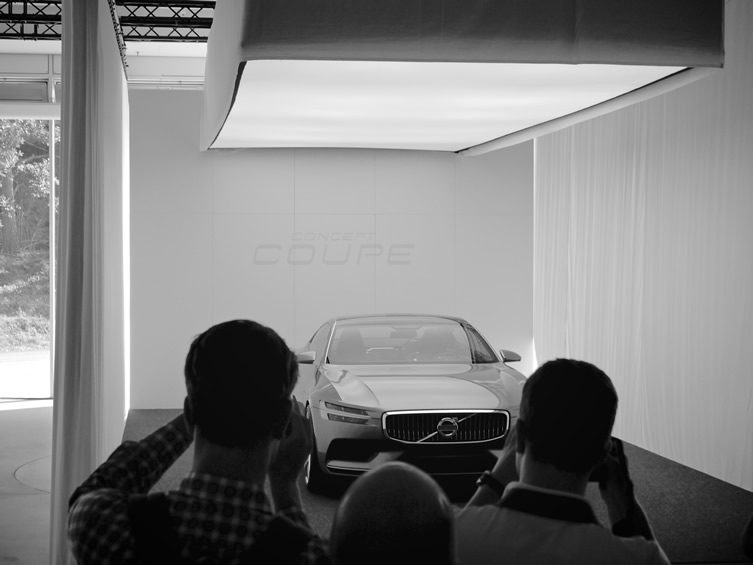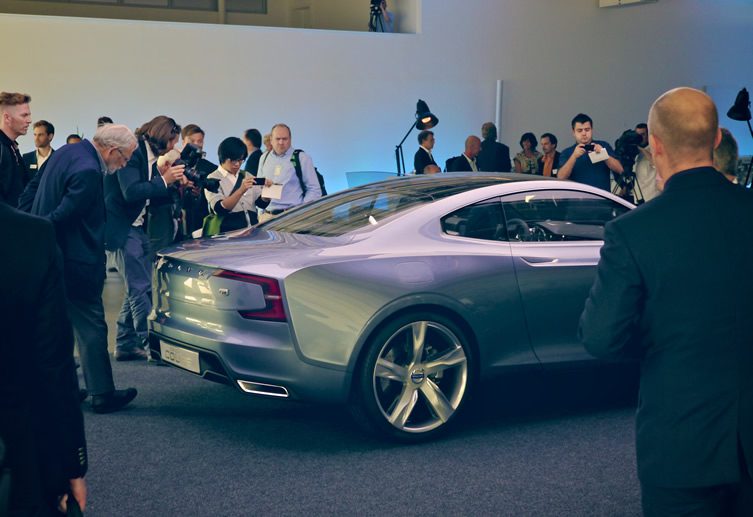 A brief presentation inside a dark theatre talks much of Volvo 'owning' their core values; its "human-centric brand" and "strong heritage". Safety and stability they of course already own, but what of design, daring and ability to stir emotion? Ingenlath and Page are keen to ensure their new design direction ensures they can begin to 'own' these values too, and the Volvo Concept Coupé – the first of three concept cars to showcase their new Scalable Product Architecture (SPA) modular production platform – is a fine starting point.
Taking its lead from a mid-century classic, the Volvo P1800 (formerly driven by Roger Moore in iconic TV spy thriller The Saint), this new-breed coupé's brief is clear: a) restore the emotion that Sixties classic brought to the brand, b) give those German giants a slap around the chops. It delivers on both accounts. A brawny muscular beast but with delicate refinement and emotive presence. Informed by the spirit of the P1800, but very much of the near future, the Concept Coupé is a breath of fresh Swedish air for the brand, a statement of intent for a manufacturer determined to broaden its international appeal. "It's the only beautiful Volvo I've seen" bawls a prominent American car journalist, perhaps the P1800 wasn't muscle car enough for him, but I can certainly follow his train of thought.
Inside, the designer responsible for the Bentley Continental's interiors has fulfilled his brief of achieving a high-end 'premiumness' for the future of the 86 year-old brand. Page, the Coventry-born Director of Interior Design, speaks to us about the inspiration that locality and heritage has played on the concept – that ethereal light shining through the design team's studio, that rugged outdoor life, that long-standing association with premium materials and minimalist lines, functionalism and Nordic integrity. It's all here, inside and out; a calmness, a presence, an intent.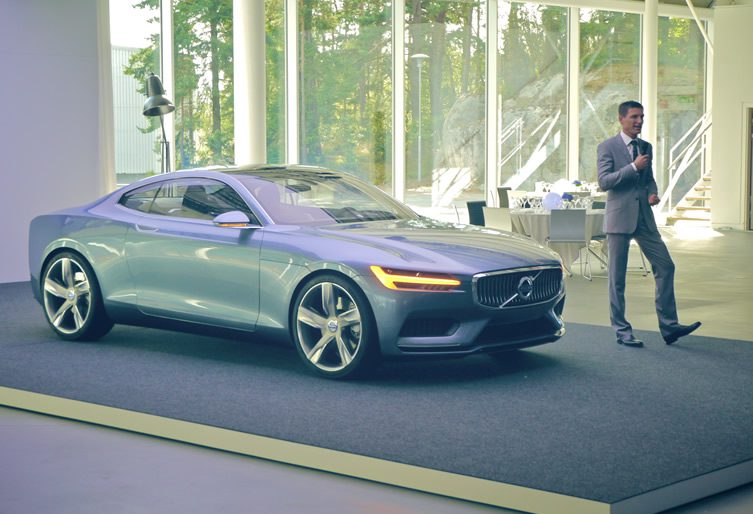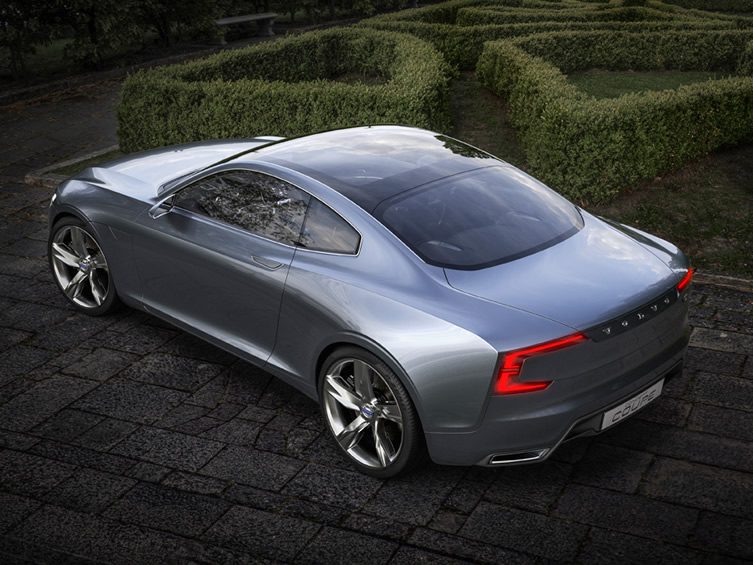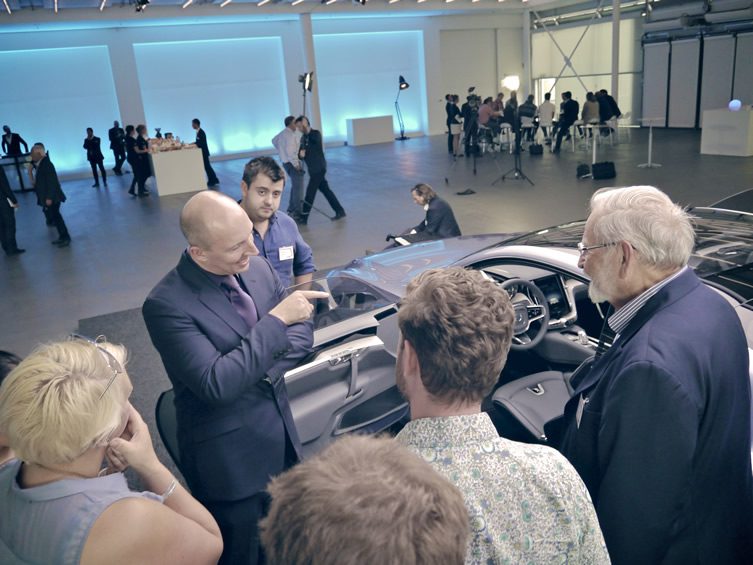 The driver's experience inside Volvo's Concept Coupé centres around an iPad-sized central control device, all the car's advanced technologies will run through here and, as Page tells us, it was the starting point for his team's interiors. From that centre-point, Nordic hues and a traditional association with quality pervades; handcrafted leathers, wood panelling that recalls sun-bleached driftwood, dials inspired by high-end camera makers Hasselblad (also residents of Gothenburg, a further nod to locality) and a delicate, sparkling crystal gear lever. "Handcrafted crystal is one of the finest examples of high-quality Scandinavian design" says Page. Details are out in force too, military-inspired lapels adorn the Arne Jacobsen-esque chairs, a Swedish flag is stitched into the dashboard, and a simple 'Since 1959' reminds its driver that Volvo themselves introduced the three point seat belt international standard over half a century ago.
The autumnal Swedish sun subsides and we dine with various members of the Volvo team who are all, quite-rightly, proud of their concept. We're assured that certain design cues will be transferred to production models as soon as 2014's XC90, and that the two remaining concepts will increase the weight of their ongoing design direction. But this is a seriously good looking automobile, surely a real statement of intent here would be to put something very similar into production? I ask someone later in the evening why 'iconic cars' are seemingly a thing of the past, "legislations" comes his reply. Could it be that with millions upon millions of pounds at risk, manufacturers are simply a little afraid of pushing to achieve the 'cool brand' goal they so aspire to? Would you like to get behind the wheel of the Concept Coupé? Concepts have an infuriating knack for opening up more questions than they answer, but one thing's for sure: the design world are talking about Volvo, at last.
***