I think I found my new favourite lunch spot, housed in an old pie 'n' mash shop on Broadway Market. The gastronomic fare was provided by the family and friends collective Sabel, it was something quite extraordinary – which is why I shed a small tear when I learnt it was a pop-up and we were dining on the last day. Fear not, Lianna 'Mrs Sabel' assured me, there are plans to host future events and I for one will be on top of that mailing list. I do hope they find a bigger venue that is a little bit more permanent. London needs Sabel and here is why…
For a few months only Sabel hosted lunch and dinner at the old East London treasure F. Cooke. Left as it was in its hey-day – bar some elbow grease, fresh flowers and typographical lighting – the small tiled shop became the venue for fresh ingredients, a buzzy atmosphere and strong distinct flavours.
On recommendation we started with a Bloody Mary. Presented in the property of Dairy Crest pint bottles with a glass of celery, lemon and ice, I was instantly impressed. Did I want it spicier perhaps? What about some fresh minty water? Yes please to both! The bacon popcorn made for some divine pre-lunch snacking, we even got two rounds of the sweet and crunchy corn. Served in an old well-used metal pie dish, I soon became aware of all the finer details that separate Sabel from many foodie pop-up attempts bombarding the capital.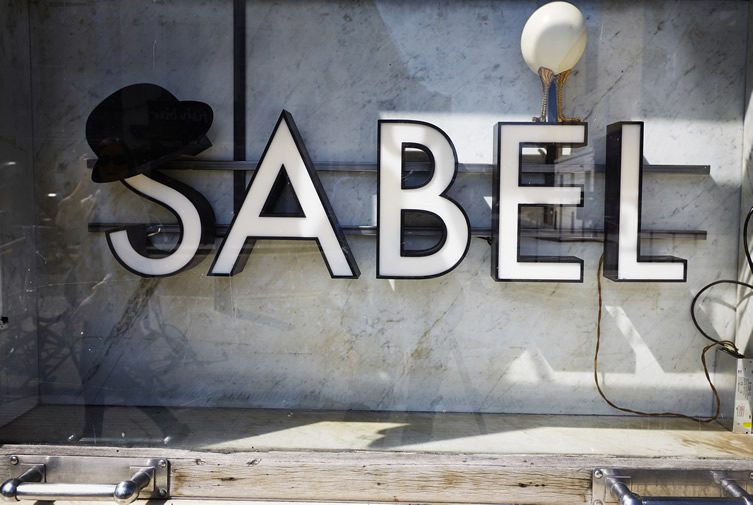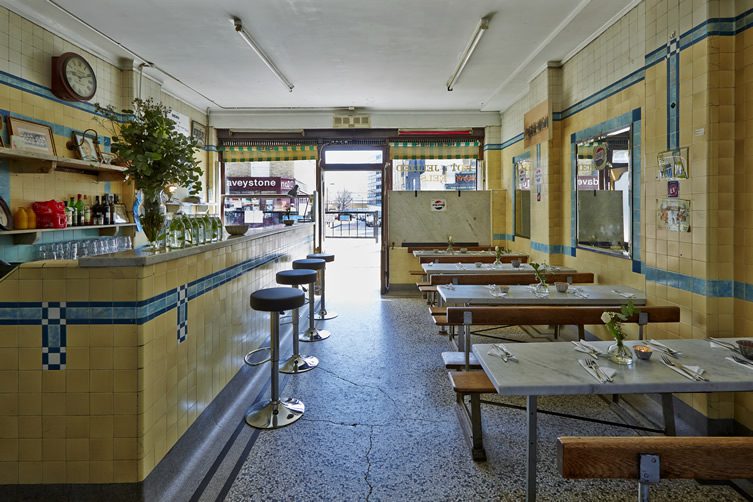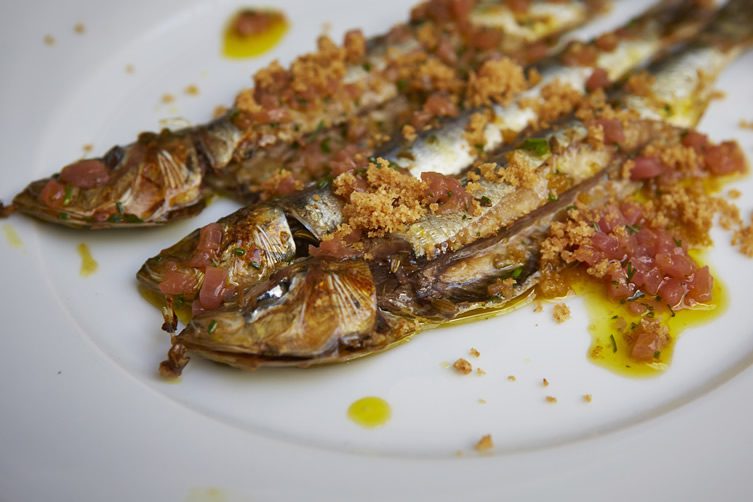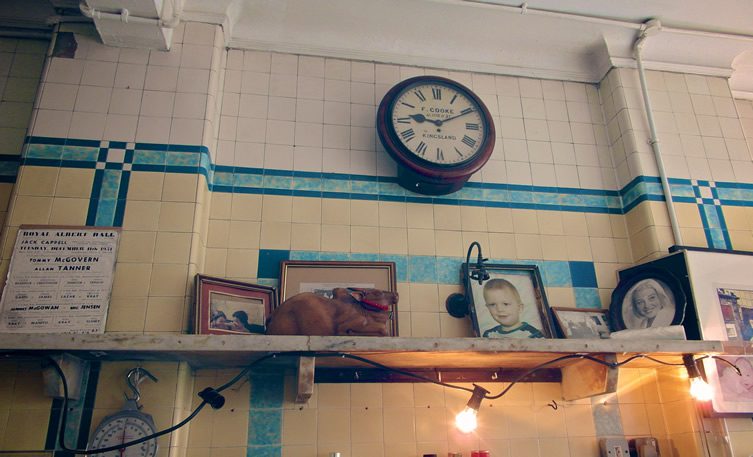 We opted for the only two starters and mains, another good sign. The roast Cornish sardines with fennel, blood orange and bottarga (fish roe) looked stunning on the plate. Colours of gold and melba made for serious Instagramming. The sizeable fish was fresh and flavoursome with a hint of bitter orange and dill, which balanced everything nicely. The salad of green vegetable, lovage and curds was one of the freshest, crunchiest and most colourful salads I have ever had the pleasure of trying. I really liked seeing the radish with leaves left on, with a scattering roasted hazelnuts: a beautiful spring day on a plate.
The slow-cooked beef cheek with morels and garlic greens were served on a bed of buttery smoked mash. It was creamy yet bold, and the cheek fell apart with just a glance. The roast and braised hogget with barley, berkswell and savoury was rather distinctive and what felt like 'proper' food. The hogget was brilliantly cooked in two ways, one rare the other slow roasted which I found most inventive.
Even at 12:30pm the atmosphere was abuzz and happy. With all tables full, I felt rather blessed to have had the chance to sample Sabel's 'Sociable British Eating'. I even grabbed a moment with Head Chef Toby Williams, to find out how all this came about, when we could re-book and who in the food world should we be keeping an eye on.
So how did Sabel come about? Who why when etc.
10 years of internal, external and every other conversation about the mythical restaurant I wanted to open. Then deciding to just do something about it rather than keep talking about it. 
 
I wanted to do something British that was as comfortable incorporating influences from elsewhere as capably as London does. At the same time I've always wanted to call a food business Sabel. It's my mum's maiden name and is the anglicised version of my grandparent's Russian name, Sablinski, which mirrors happily with our Anglicisation of our food and influences. It's one of those irritating restaurant philosophies that people make up, but luckily isn't bullshit from us.
 
It's all about family and friends in the truest sense. My brother Olly made the light signs and designed the menus for us, his partner Kate helped with the lighting and flowers, my other brother Sam ran the bar and his partner Hannah was our waitress; friends helped on busy nights, brought people down and told everyone about us. Lianna, my partner, made it all function and added plenty of smiles and general loveliness. Thinking about how much people helped and gave up their free time makes me rather emotional.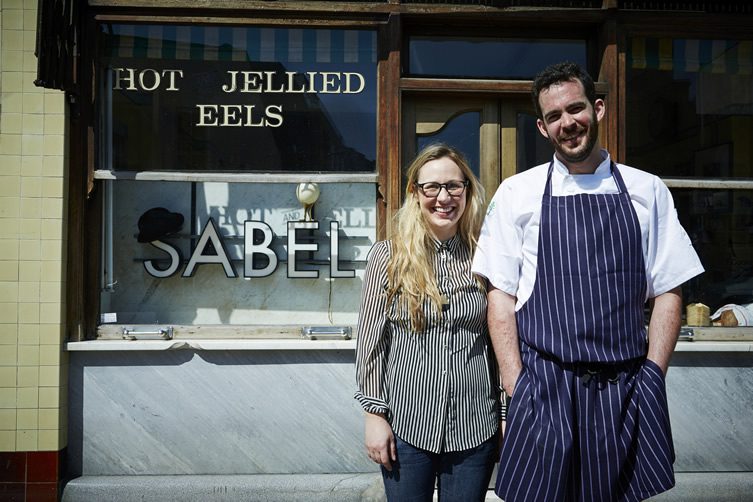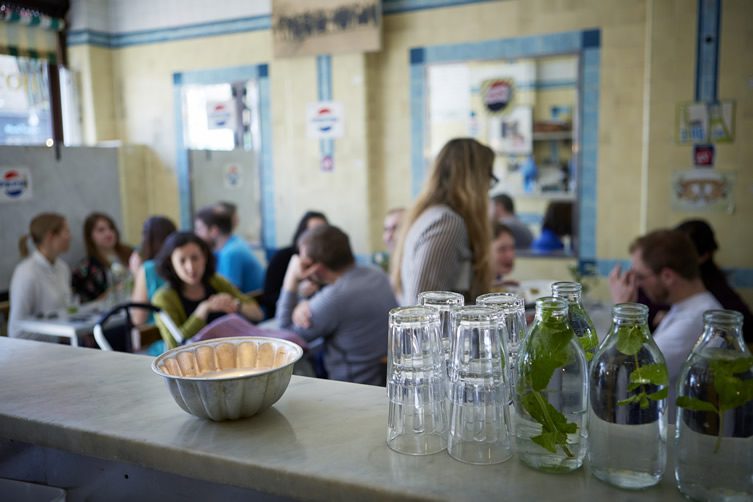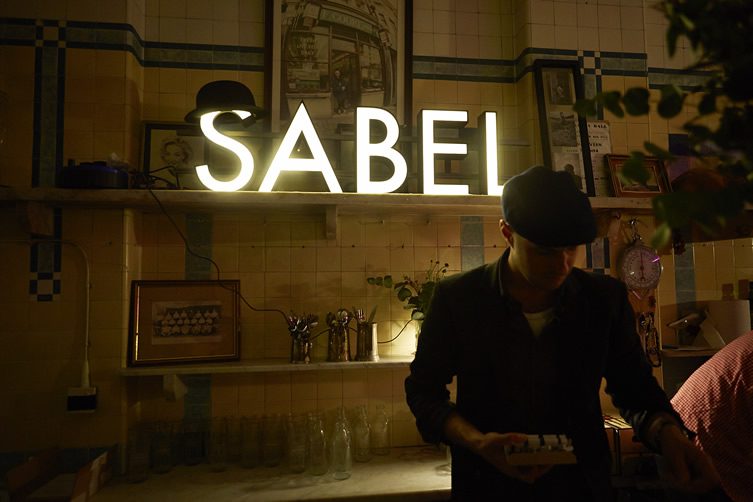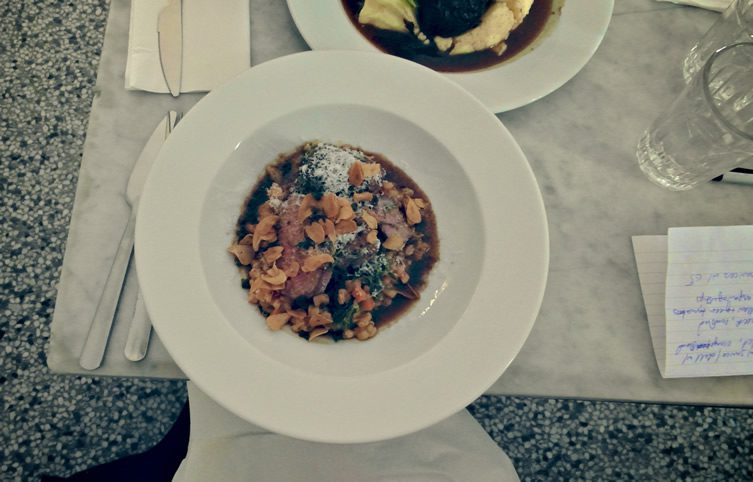 Your menus are rather inventive, where do you get your inspiration from?
From eating, reading and thinking about food all of the time. We did a tasting for Sabel at home and my dear friend Matthew gave me some great feedback, which turned into our yardstick; everything had to have bold flavours, using big flavoured herbs and vegetables, smoked, dried and salted foods and mustard- always lots of mustard.
Favourite suppliers we should know about?
 
London's network of suppliers is amazing. Phil at Le Cave Pyrenees was a notable help. We love our wine but wouldn't ever claim we have any kind of real knowledge. Phil listened to us, understood what we wanted and showed us some excellent wines. He also showed us that boxed wine much like screw top wine isn't something to overlook. It allowed us to sell better wine for cheaper. Which meant we had to come up with a idea for carafes, hence the milk bottles and pints of wine.
 

What should we all be eating?
Lovage is my new favourite herb, it's so refreshing and different. Also everything's better with mustard.

What is next in store for team Sabel?
Nothing concrete yet but we're having a few conversations, we love F. Cooke- it's a stunning site but would love somewhere with some outdoor space if we were to do something in the summer. We'll see, I guess this is when you say watch this space?

Your favourite place for coffee?
In bed at home on a Sunday 

Favourite dining spot?
Clove Club was great when we went recently, and Beagle's martini is worth going for on its own. A scotch egg and a bowl of whitebait at the Hemingway pub across the road from us is always a treat. 
***