If a brand wants to try and capture my attention when flogging their latest product, filming its advert in a sunny Valencia – and within an architectural icon at that – certainly helps.
That's where I was en route, at a disgustingly early hour, to discover what advancements had been made in the ten months that'd passed since attending the European unveiling of the new Ford Kuga at Milan's Salone del Mobile last April, and as the car was now on the road; I'd have the chance to try out its capabilities first hand.
Arriving to blue skies and warm weather, I was reacquainted with my Ginger Ale (this being the subtle green global launch colour) friend, and my driving partner and I promptly set off to a press conference being held a twenty minute or so ride away.
The Kuga – a mid-size SUV, Ford's attempt to expand in this fast-growing European market, is spacious with a surprisingly high-quality interior. Initial impressions were that it'd be best suited as a family car or to those requiring adequate space for equipment, although at this point, there were still a few hidden surprises yet to be revealed. The car felt sturdy, and thankfully was imposing enough for us to be left alone by fellow road users as we weaved amongst the hectic mid-afternoon Valencian traffic and, later on in the day, rush hour traffic whilst completing a shopping challenge around the Barrion El Carmen and Colón districts.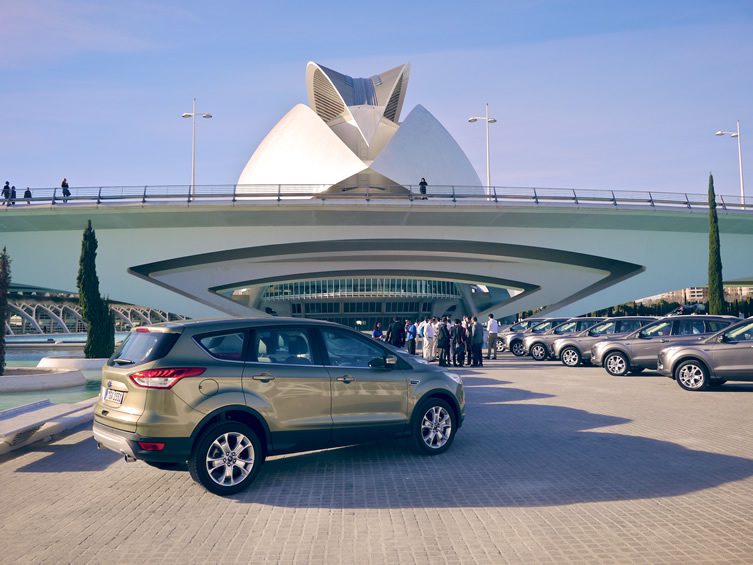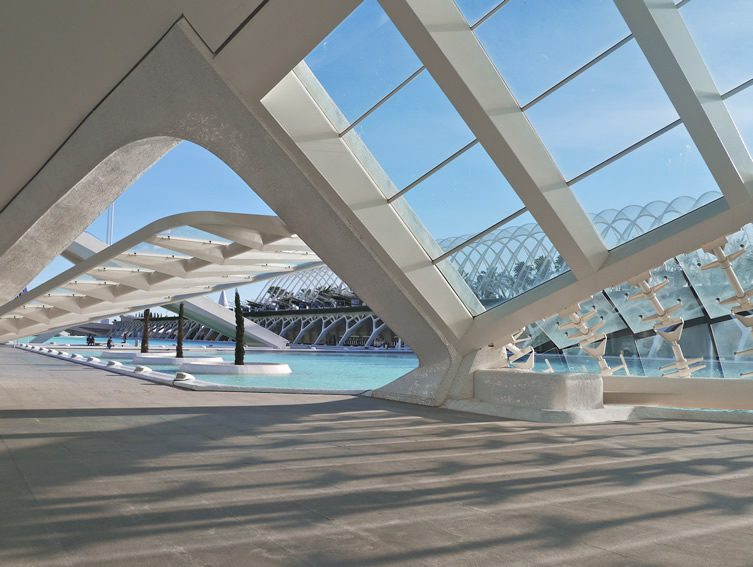 Arriving at the Ciutat de les Arts i les Ciències, a stunning cultural and architectural complex at the end of the former riverbed of the river Turia, I was intrigued at Ford's choice of location. Designed by Santiago Calatrava and Félix Candela, I remembered from last year's presentation that Calatrava's designs were a major influence in the kinetic design and fluidity of the car's aesthetics, and it felt very fitting that an assemblage of cars that echo the starchitect's famed curves should be sitting here.
Attention back to the car, it was time to learn more and I needed to listen up, as – believe me – it was nigh on impossible navigating the roads whilst having a proper play around the vehicle's technology and gadgets. The words "precise execution" and "higher quality feel" were banded around and the extra features introduced. The hands-free tailgate which can be opened and closed by a kicking motion beneath the rear bumper – one of my favourites from last year – was demonstrated, talk of the Active Park Assist made my 'girly' ears prick up – the car basically reserve parks itself – and we were told that the minimal road nose experienced on our drive over, was thanks to the initiation of acoustic mirrors.
What really impresses however was the SYNC system; developed with Microsoft. Allowing the usual voice-activated hands-free calling, ability to browse and play music from your library by simple voice commands, it can read out your text messages and is fluent in English, French and Spanish. But SYNC is also much more. Highly advanced, it pairs automatically with your phone when you enter the vehicle and, should an airbag-deploy, will place a 999 call informing the operator of your latitude and longitude, heavy stuff, but this is potentially a life saving system which Ford and Microsoft will continue to develop and use.
I'm inevitably asked when I go on press trips with car companies "would I buy one"? And, although it's not quite for me (I prefer a smaller, faster, more eye-catching car), for those wanting a foray into the affordable mid-size 4×4 market, where fuel efficiency, comfort, space and safety is paramount – or if you find yourself driving around a foreign city and want to be left alone whilst causing traffic mayhem – I don't think you'd go far wrong opting for the all new Ford Kuga.
***