We've been introduced to the heritage of Ford Motor Company, the forward-thinking present and future of the motoring giant, and as our time visiting the brand on its home soil came to an end – it was time to step out from the shadows, and into the spotlight. And what a spotlight; one of the United State's largest motor shows – and particularly significant due to its location – the North American International Auto Show means a lot to the company founded just down the road some 110 years ago.
Named after one of the world's greatest heavyweights, the Joe Louis Arena – which sits adjacent to the motor show's Cobo Center venue – is our first stop, for the mother of all press conferences. Our familiar world of design and culture is not used to such hard-hitting showmanship, and it's unlikely Louis himself could've dealt a right hook as powerful as this; an assemblage of session musicians chug through a FM Rock soundtrack like the house band from an American talk show, the company's most important figures arrive one-by-one to tell us about the brand's success in varying sectors, and a gargantuan video screen plays clips of trucks, design teams and a white van man from Basingstoke.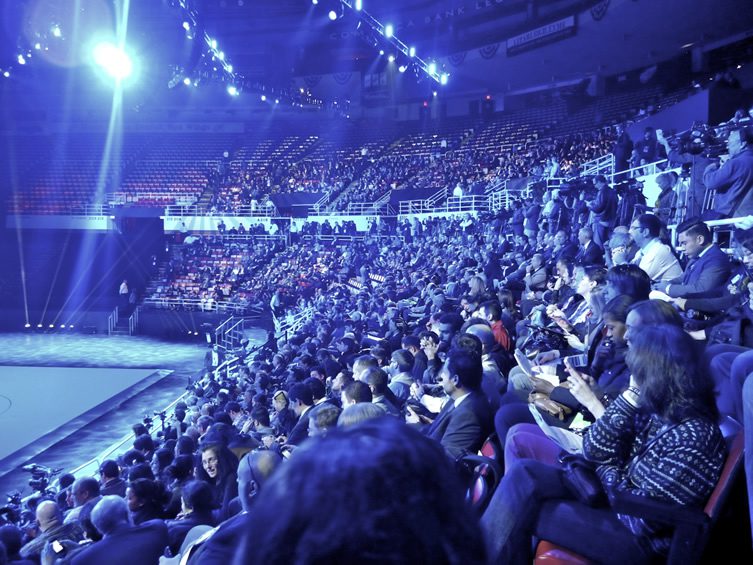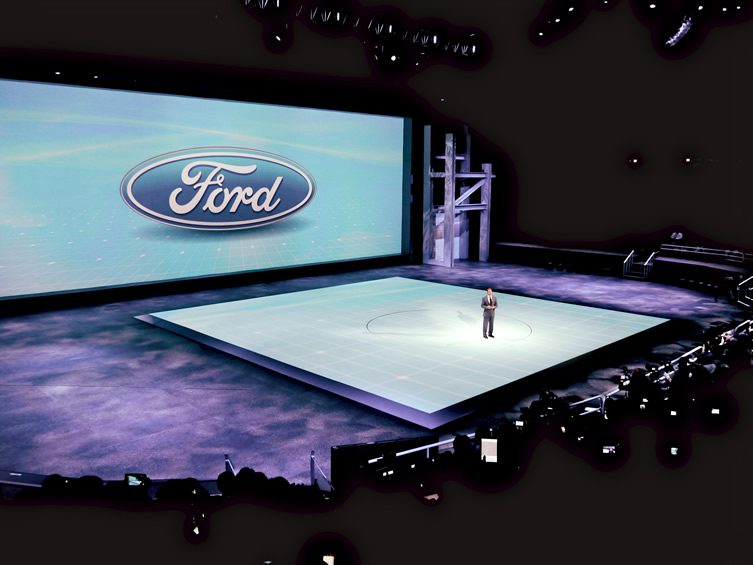 The international flavour doesn't last long though, this is American heartland and, along with their backing band, Ford are reaching for the hits – the assembled press are going to get what they want. Muscle. Girders descend from the heavens, sparks fly, the group's radio friendly rock groove tightens and a new concept car appears from above our heads. It's hard to keep a straight face, this is serious culture shock – but fascinating nonetheless. The concept? A truck, of course. The Atlas is a meaty affair, Ford's new design language is ramped up to 11, Joe Louis wouldn't stand a chance.
Beyond the extravagance of their press conference, Ford dominate the motor show itself. Their stand is easily three times the size of the next largest, and it illustrates the brand's dominance in the US; police cars, fire engines, racing cars, family vehicles… no other brand come close here, and the media clearly agree. Making his way to the stand after the Atlas' big announcement, Bill Ford – great-grandson of Henry himself – is swamped by cameras, microphones and questions; it's an intriguing insight into the importance of this eldest of motor companies and another reminder of Ford's family spirit.
Outside I find a quiet moment for reflection, not hard given that Detroit itself is largely a ghost town these days. Even amidst the pomp and pyrotechnics inside, there's a charming familiarity to all that Ford do, the fact that the Ford family themselves are still largely hands on clearly drives this mindset – and it's that culture, deep-rooted in heritage, that has left a mark on me during my time in the Motor City. Something about all that they do just kind of feels… right.
***