He may be one of the most celebrated fashion designers of the 21st century, current creative director of the Chanel and Fendi fashion houses, alongside overseeing creative direction of his own brand, but this hasn't stopped Karl Lagerfeld from designing his own functional art collection, currently on show at the Carpenters Workshop Gallery, Paris.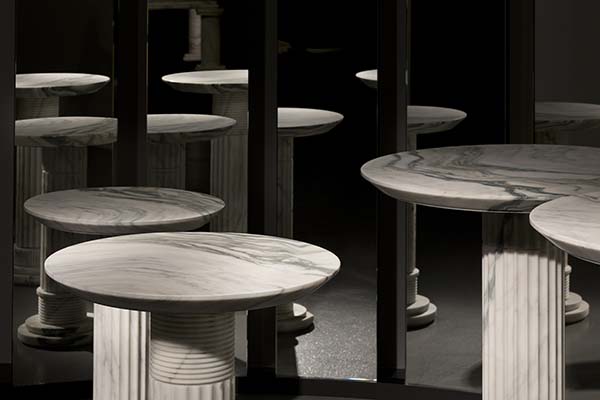 You might not agree with all of his opinions, but there's little denying the Kaiser's creative genius. A restless mind with an inimitable eye for visual aesthetic; a sponge of creative influence and master of trends (take his early-'80s obsession with the Memphis design movement, for example). Accompanying his ventures into art and photography, Lagerfeld now steps into the world of sculpture for the first time. Entitled Architectures, the polymath's collection of functional sculptures are inspired by Antiquity; an era Lagerfeld is a long-time admirer of, having reinterpreted the ancient Greek silhouette for his Chanel 2017 Cruise collection.
Comprising an assemblage of guéridons, tables, lamps, consoles, fountains, and mirrors—each carved from 'Arabescato Fantastico', a rare vibrant white marble block with dark grey veins, or black 'Nero Marquina' which, extracted from the region of Markina in the Basque Country in the North of Spain, is fine and compact with brush stroke-like, milky white veins—the collection is available as a limited edition of eight pieces in each, alongside four artist proofs. With the architect Aline Asmar d'Amman having carried out studies and development of Lagerfeld's works, each sculpture has been made with the marble before being cut, sculpted, faceted, and polished in Italy by the best craftsmen to achieve the vibrant exactness of each element.
Combining the antique and the contemporary, whilst blurring the boundaries between art and design, the collection perfectly embodies the timeless monochromatic style of the German icon. Karl Lagerfeld's Architectures continues at Carpenters Workshop Gallery, Paris, until 22 December.