An eight-room design hotel awaits those who travel to Tinos, Under The Sun (a member of The Aficionados) a raw and natural addition to the island's already astonishing landscape; blending sky and sea with rugged architecture to create the perfect escape in the Aegean Sea.
With the views taking centre stage, the design is subtle at Under The Sun, which is tucked into a hillside between the traditional villages of Kardiani and Isternia on the northwest of the island, and provides guests with everything they need and nothing they don't.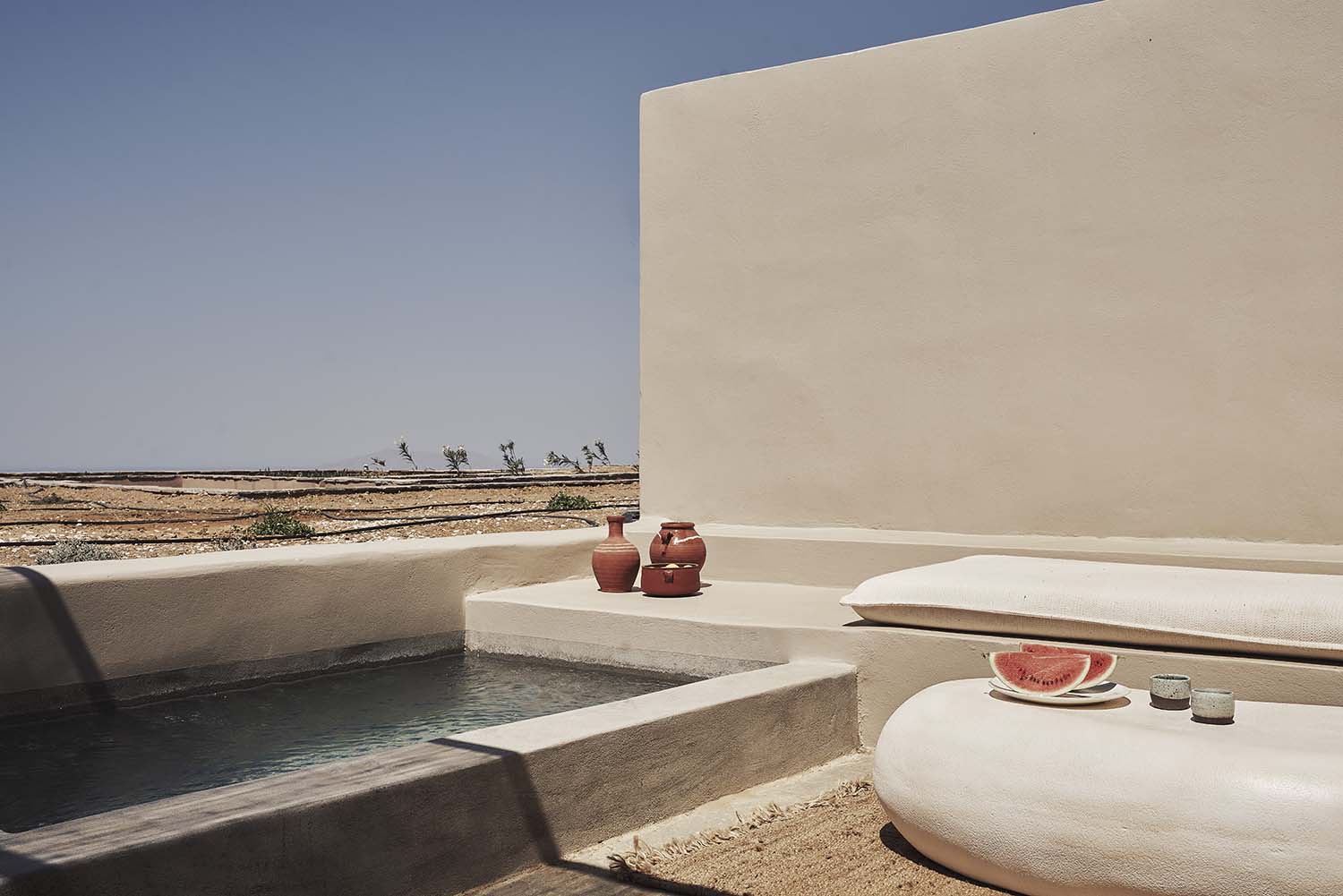 Made up of a collection of suites, the design blends indoors and outdoors with unobstructed views set to mesmerise guests morning to night with spectacular sunrises, movement of cloud, sunsets, and stunning night skies. Interior design includes brightly hued modern artwork set against a muted colour palette, and design touches such as simple ceramic pottery. Bathrooms are chic spaces in polished lime plaster.
With large sliding doors and cool, shaded spots that benefit from jaw-dropping Aegean views, Under The Sun offers a private and tranquil ambience for guests to fully disconnect; with the addition of cushioned outdoor seating, restful beanbags, deckchairs and azure-blue plunge pools which prove difficult to drag oneself from.
The vision of brothers Dionysios and Angelos Georgakopoulos, who fell in love with the spot and the uninterrupted views cascading down the hillside into the infinity of the Aegean, it was imperative to them that the final result reflected this — hence their considerate approach to the architecture which uses local crafted stone without being your average white cube build. With a deep sense of love for the island of Tinos, the brothers sought to foster good practices in hospitality, and be a protector of this beautiful landscape; which leads us to this unassuming residence which has absolute respect for the wild beauty of the island.
From sleek chambers laden with natural charm to local character, Under The Sun is high on natural drama. Close enough to the action (Mykonos is only a 20 minutes fast cat ride away) yet located in the most perfect setting for a soulful escape, beat the blues and connect with raw Greek nature in its most alluring form. A real slice of paradise.