Energetic, youthful, and fun, the work of photography duo Ilka & Franz makes one smile instantly. Mostly self-taught, they use a vivacious palette and block backgrounds to depict people and objects using their unique narrative. Blurring the lines between portraiture and still life, viewers can find hairy dustpans, cucumber willies, and flaming roller skates within their cheerful compositions—and anything is possible with these two.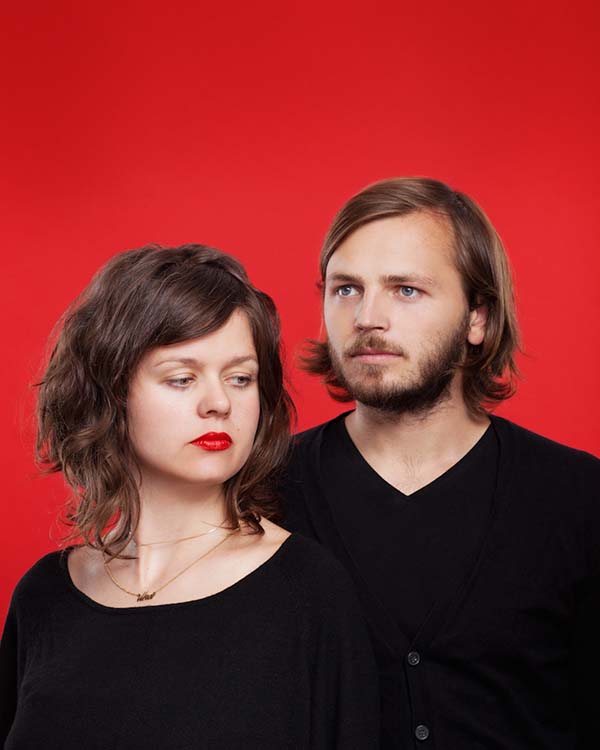 As art directors, set-designers, and photographers, the award-winning twosome create photographic images akin to illustration—pop culture, surrealism, and the aesthetics of the 1980s inspiring their hyper-real artwork. Oft-humorous and playful, their sugar-coated yet super-neat visual language has seen the London-based German/ Austrian duo transform the ordinary into something extraordinary.
We chatted with Ilka & Franz to find out more about the people behind the bold aesthetic, and because—quite frankly—we live in a time when we could all use a little more of their visual cheer in our lives.
Who is Ilka, and who is Franz? Tell us about how you met, where did you study and why did you decide to collaborate …
Both Franz and I had a 'life before photography'. I had a career in digital media working for a women's charity, and Franz used to work as a gardener back in Austria. Franz came to London to do some assisting, and that's when we met and started working on projects together. We both wanted to be photographers but didn't know how, so we thought maybe we could work it out together. Although I have an unrelated degree, neither of us did formal studies of photography. We both did some courses to begin with, but are largely self-taught.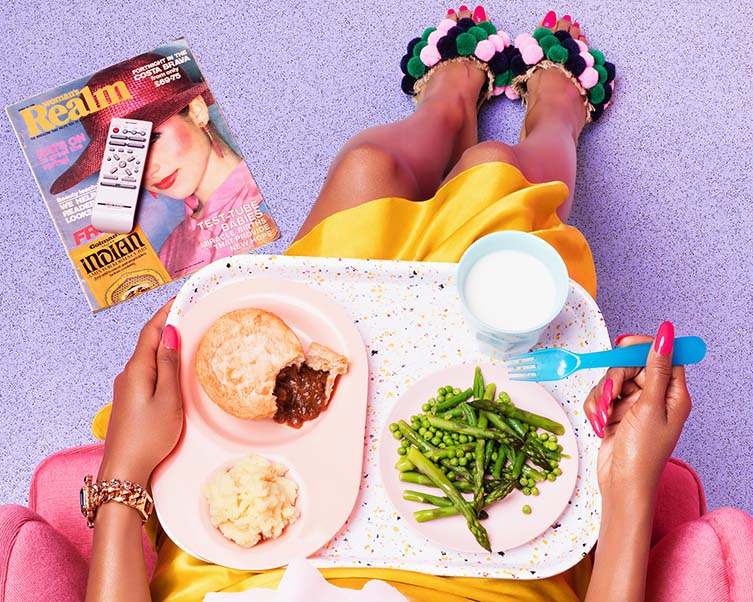 Tell us about your London studio. What's it like, where are you based and what do you love about it?
We live and work in Clapton, Hackney, and we have really come to love the area. We have so much green space around us and lots of places to drink and party (not that we party much, but it's reassuring to know we could).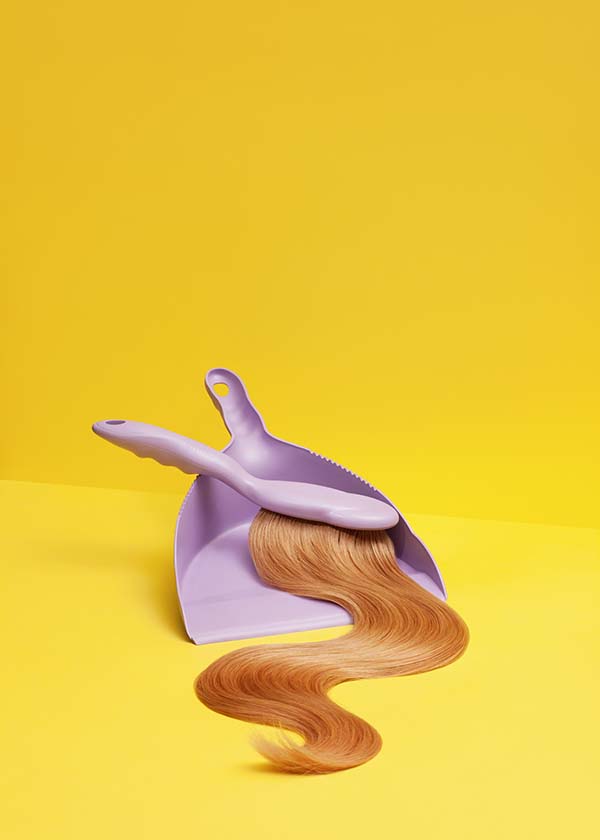 We actually work very unglamorously out of a small office and room where we keep our vast collection of cardboard boxes: our second passion [grins]. (It's really tons of props, backdrops, equipment, etc.) For shooting, we rent different studios around East London depending on how much space is required.
Humour features a lot in your work. Is putting a smile on the faces of viewers the intention?
I think it's mainly about putting a smile on our own faces. We never know if people find things as funny as we do, but we like coming up with ideas that make us chuckle a little.
You work as a duo, but what skills does each of you bring to the party? Do you ever work individually?
We learnt a lot about what we do together, so we are pretty interchangeable. Franz is very inventive with lighting, and he is great at building and rigging things. I tend to take more of a lead with colours, styling, and retouching.
I recently did a solo personal project (Bottomless Brunch) which was fun, but I do value the collaborative aspect of our work. Commercially we always work together. It doesn't mean we are necessarily in the same room or doing the same thing, but our joint efforts go into each of our projects.
Tell us about some of your favourite projects to date …
We recently shot in New York with Publicis NA for OAAA (Outdoor Advertising Association of America). It was exciting firstly because it was a big out-of-home campaign that could be seen across the U.S. including in Times Square. Secondly, we really loved the creative process, which was very open and collaborative. The agency creatives and ourselves were very much on the same wavelength, and our vision was valued at every stage of the project.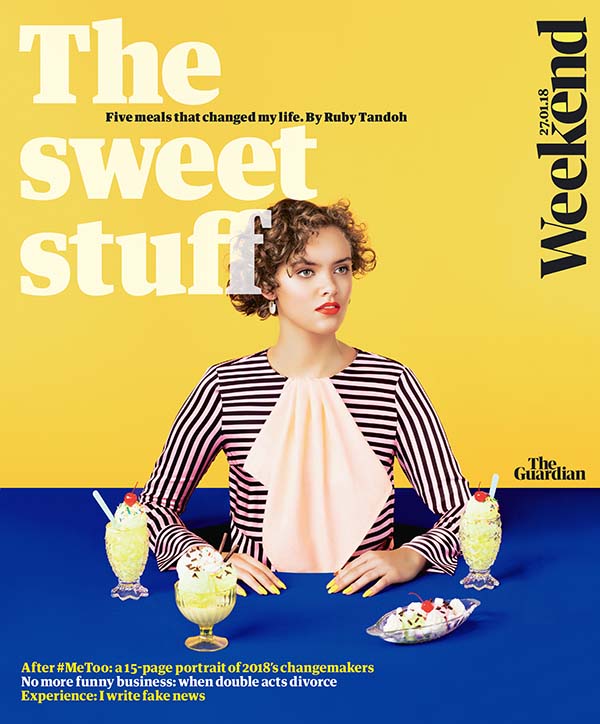 Saying all that, we've done so many exciting shoots and often how we remember them depends on how fond we grow of the pictures we made. Sometimes a pretty difficult shoot turns into something we love, like our recent veg penis project for Guardian Weekend.
You're blurring the lines between portraiture and still life, what's the difference between the two in relation to your style?
Still life and portraiture are fundamentally different, and I tend to think that still life is a lot harder. But we blur the lines between the two in the way that often our people photography has set design in it, so there is a still life element to it. Also with people we are as detail-oriented as with objects, so although we are dealing with a living person, we like getting everything straight and neat. It's a lot about body positions and styling.
Talk us through your process. How do you approach a commission or project? How do you visualise your compositions? Do you create sketches or mood boards?
We like being prepared, and there is a lot of work that goes into a shoot that happens before we even get into the studio. We tend to work out in a lot of detail what exactly we are going to shoot, including what props, sets, and colours to use—and we do often sketch our shots. Things can change to some degree, of course; our inner eyes don't always see things as the camera does.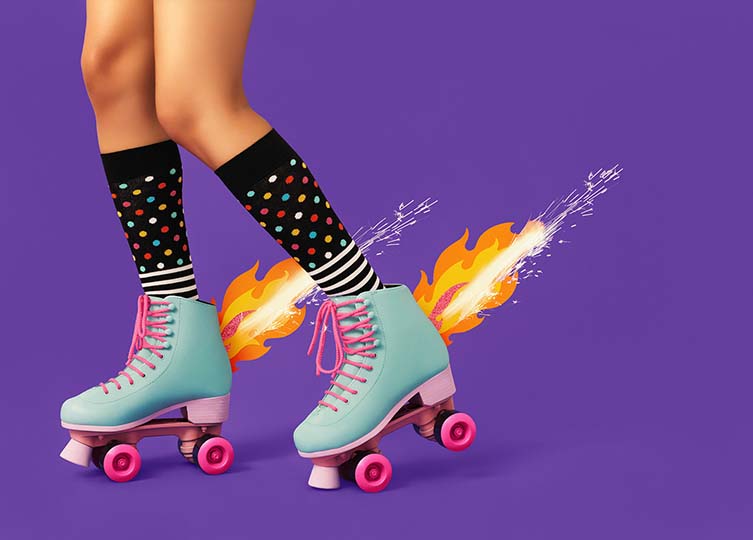 Set design features in your photography, do you physically create the props/sets or are they created post-production or by someone else?
Everything you see in our work has actually existed in the real world. For more involved shoots we collaborate with set designers, prop stylists, and paper artists—but we also make a lot ourselves, especially for editorial commissions. What happens in post-production is that we make everything a lot cleaner and neater than it could ever be in real life. I think this is what gives our work its hyper-real look.
There are some clear influences that run through your work, can you tell us about them?
Our influences come from many directions, from art movements—surrealism and pop art—to popular culture, but also things like '80s fashion and interiors, illustration, and set design. I might, for example, find inspiration in an installation or shopping window display. I also enjoy looking at advertising, and try to go to exhibitions as often as possible.
What's next for Ilka & Franz?
Onwards and upwards. We are going to continue creating work that we like and push the boundaries of what we do. We want to create bigger sets and also do more film.