Located within the former Grade II-listed ticket office that made up Peckham Rye's train station in the 1930s, Coal​ ​Rooms is a new eatery from the guys behind Old Spike Roastery, Spike + Earl, Aside, and the coffee-based charity Change​ ​Please.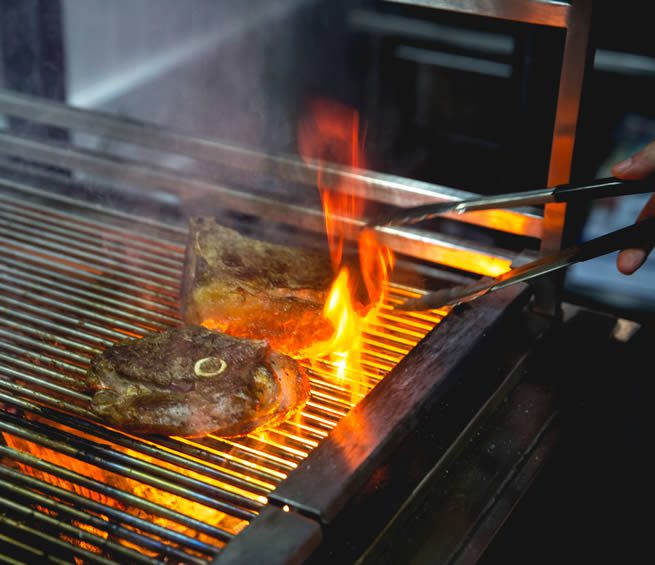 The on-site butchery is housed in a section of the building that was uncovered during the restoration process, and the restaurant is centred around the open kitchen's robata grill and smoker. Here, the chefs prepare and cook cuts of sirloin, Cabrito goat, Welsh lamb from celebrated farmer Daphne Tilley, and varieties of fish for diners who patiently wait to be fed either in the bright restaurant space or around the counter area; complete with one of the most incredible smells you could imagine.
A place of sharp contrasts, the transition from coffee shop to show-stopping restaurant is a curious one — a tight café-styled space giving way to a clandestine den of tasty treats. Starting the day serving bacon sandwiches and coffee (diners can choose their preferred cut and amount of fat), come night fall Coal​ ​Rooms transforms into a carnivore's paradise; meat the decadent hero dancing under the spotlight. Served up with a selection of sides that you might need Google to help decipher, full diners leave feeling smug and satisfied; a riot of flavours simmering on the pleased as punch palate.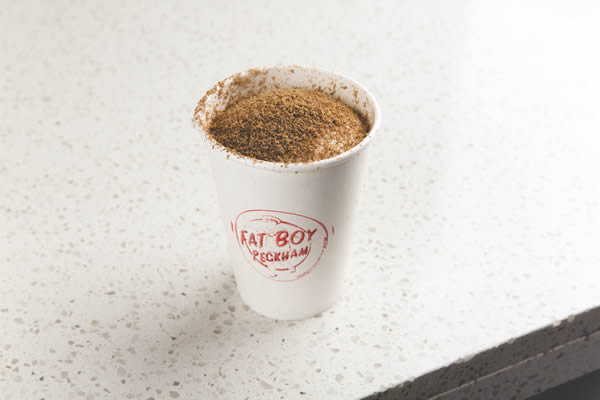 Perusing the menu with a well-crafted old fashioned and margarita, fat pants at the ready, we start proceedings with the smoked pig's head blood pudding with apple and mead ketchup, and the delightful coal-roasted cauliflower with miso bagna càuda and furikake, before moving onto Cabrito goat and slow-roasted shoulder of Daphne's lamb — the former melt-in-your-mouth meat perfection, the latter oozing with rich flavour and unctuous texture. Side dishes consist of burnt hispi with jerk spices (that ignite a gratifying wild fire across your tongue) and crackling; umami salad with crispy salad and hippie dust; and the delightfully depraved 'Peckham Fatboy' roast potatoes.
Honest and hearty, capable of weaving a merry dance through exotic flavour combinations, knowingly stylish yet cosy and welcoming — under the tracks in a diverse part of town, Coal Rooms is everything you desire and more. (Don't leave without a trip to the bathrooms.)