Renowned former ballet dancer Alexander Kølpin has turned hotelier—gracing Copenhagen with what is claimed to be the sophisticated Danish capital's first truly luxury boutique hotel; applying the exacting demands of his classical dance to a project aimed squarely at discerning travellers.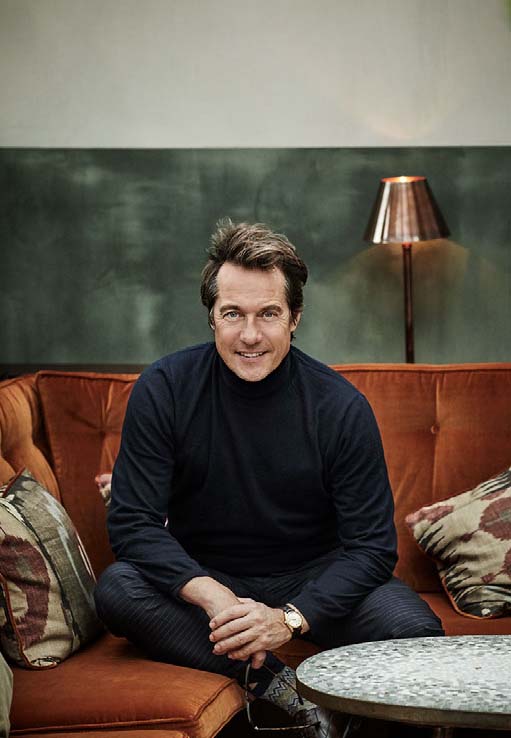 Nodding to his many life experiences and endless personal travels, Sanders is located behind the Royal Danish Theatre in a serene neighbourhood close to the Nyhavn, and features 54 guest rooms, each singular in style and design with an understated colour palette, earthy tones, and natural materials. With room categories ranging from Coupé, inspired by a bygone era of luxury train cabins, to the Sanders Apartments, large spaces that boast open fireplaces and complete privacy, guests are made to feel as though they're part of a theatrical production in which they're centre-stage. "From the first note to the closing of the curtains, it is all about the journey you take a spectator on," explains Kølpin. "I think about the guest experience at Sanders in a similar way."
The 19th-century spot—a favourite of Kølpin's from his time spent dancing in the Royal Ballet—was the favoured hangout of city's cultural cognoscenti in the 1970s and '80s, a legacy he hopes to continue today. Collaborating with London-based studio LIND + ALMOND, Parisian sophistication and English eccentricity come together in creating a hotel that captures the essence of travel's yesteryear elegance whilst adding a daubing of simplistic Danish design; each disparate design reference joining in an adagio of authenticity and atypical grace. Rattan cane-couches; weighty bookshelves; considered materiality; and a courtyard (covered in colder months) combine in a lush green sanctuary to escape the hustle of city life.
All-day dining at Sanders Kitchen; decamping to the hotel's imposing Living Room; sipping cocktails amid eclectic design at bar TATA and people watching throughout, Sanders is a dapper addition fitting for one of Europe's most cosmopolitan capitals.