With brands including The Line, NoMad, and Freehand in their portfolio, hotel-creating gurus Sydell Group turn their attention to Penny, a property located in the heart of Williamsburg named in honour of a small dog with a big personality.
Softly opened in August 2022, the new hospitality concept is a first of its kind hybrid of hotel and housing for graduate students of Bard College. With 118 guest rooms offering residential views of the neighbourhood, the hotel is situated on a quiet block with quick access to the eclectic bars, restaurants, shops and bookstores that locals and travellers alike adore about this hip Brooklyn community.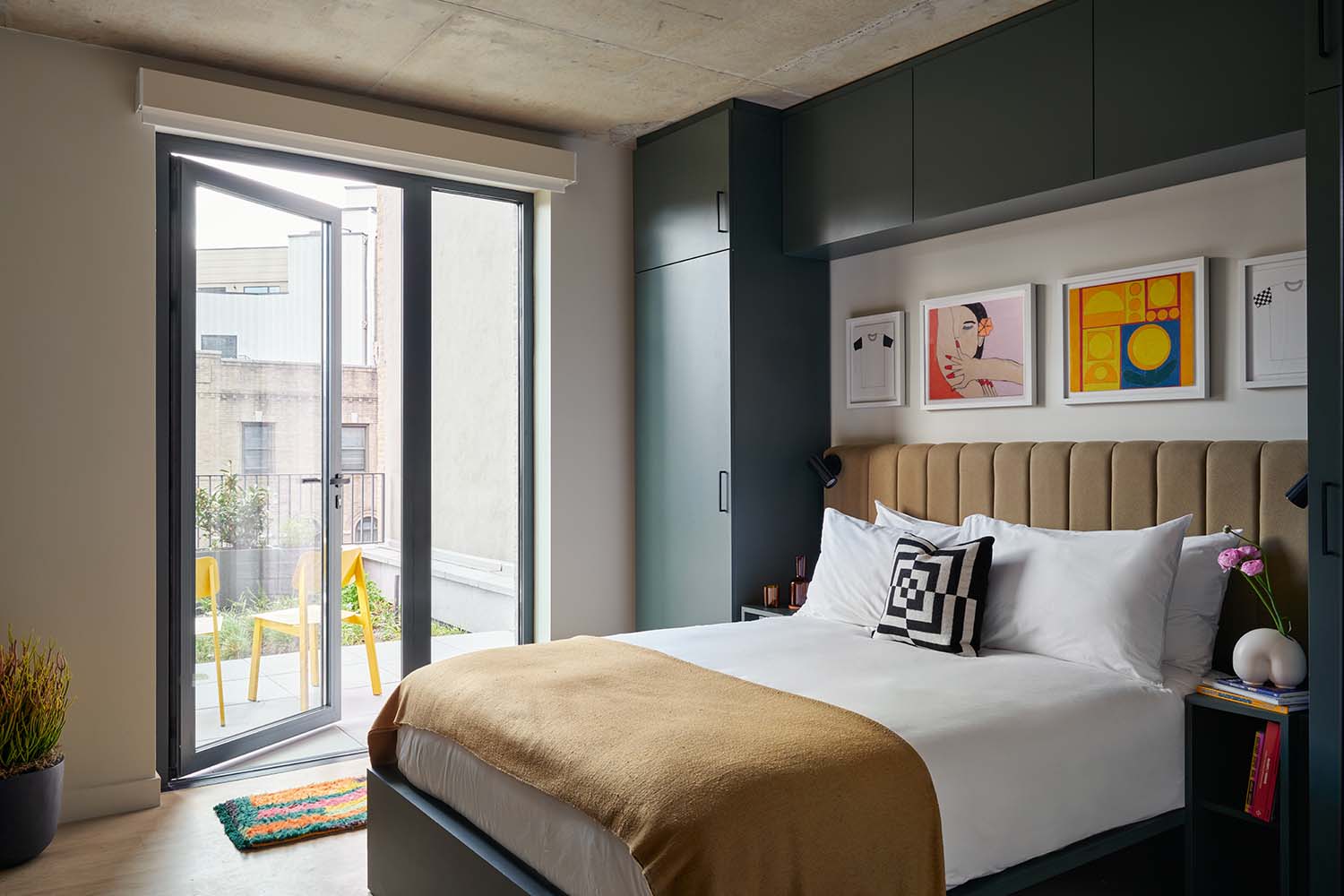 Collaborating with NYC-based architecture and design firm Stonehill Taylor to bring the concept to life, Penny's ethos is rooted in an intimate, residential sensibility; an in-room and public space art programme involving a collaboration with two local, non-profit community arts organisations one of the initiatives central to this.
Guest rooms are thoughtfully designed with dwellers able to choose from a selection of sizes and layouts including a Queen room, a Supreme Queen room and a spacious Suite sprawling 660 square-feet with two Queen bedrooms, living and dining areas, a kitchen and a large private terrace. Rooms feature hardwood floors, a seating/dining area, a collection of books curated by local indie bookstore The Strand, and a highly functional kitchenette and bathroom. A courtyard and patio on the ground level offers guests the space to meet with other souls to work, play and lounge.
Up on the roof, elNico serves imaginative Mexican food and drinks alongside views of the Brooklyn and Manhattan skyline. Chef Fer Serrano has created a menu based on her experience growing up in Mexico and working in some of the finest kitchens in the world, offering diners authentic dishes including tacos, tamales and tostadas, while Sydell Group partner Leo Robitschek — creator and leader of the award-winning NoMad bar program and former bar director at Eleven Madison Park — has put together a craft cocktail programme made up of with fresh, seasonal flavours and locally sourced ingredients with a focus on agave-based spirits.
Equally suited for short term visits as it is longer term stays, Penny Williamsburg is another new concept from Sydell that looks set to be every bit as successful as their other game-changing design hotel brands.
@pennyhotel
@elnicorooftop
@sydellgroup