A social business that champions people by reinvesting profits to help them realise their potential, Good Hotel works by the motto "Sleep good. Do good," and as such has contributed to a host of charitable causes including sending children to school who would otherwise not get an education. A socially conscious community with hotels as far and wide as Amsterdam and Antigua, they've recently opened in Guatemala City, with the project set to support Niños de Guatemala, a foundation that was co-founded in 2007 by Good Hotel's founder, Marten Dresen.
While guest rooms are meant to be a private oasis, the purpose of the Good Hotel living room is the complete opposite, the heart of the hotel it's a social hub that welcomes all and accommodates a multitude of different functions throughout the day. Part of a mixed-use development that also houses residential and co-working functions, an artisan food market, and a nightclub, the lobby provides a transition zone, a place where guests swap the hustle and bustle of the city for the Good Hotel experience.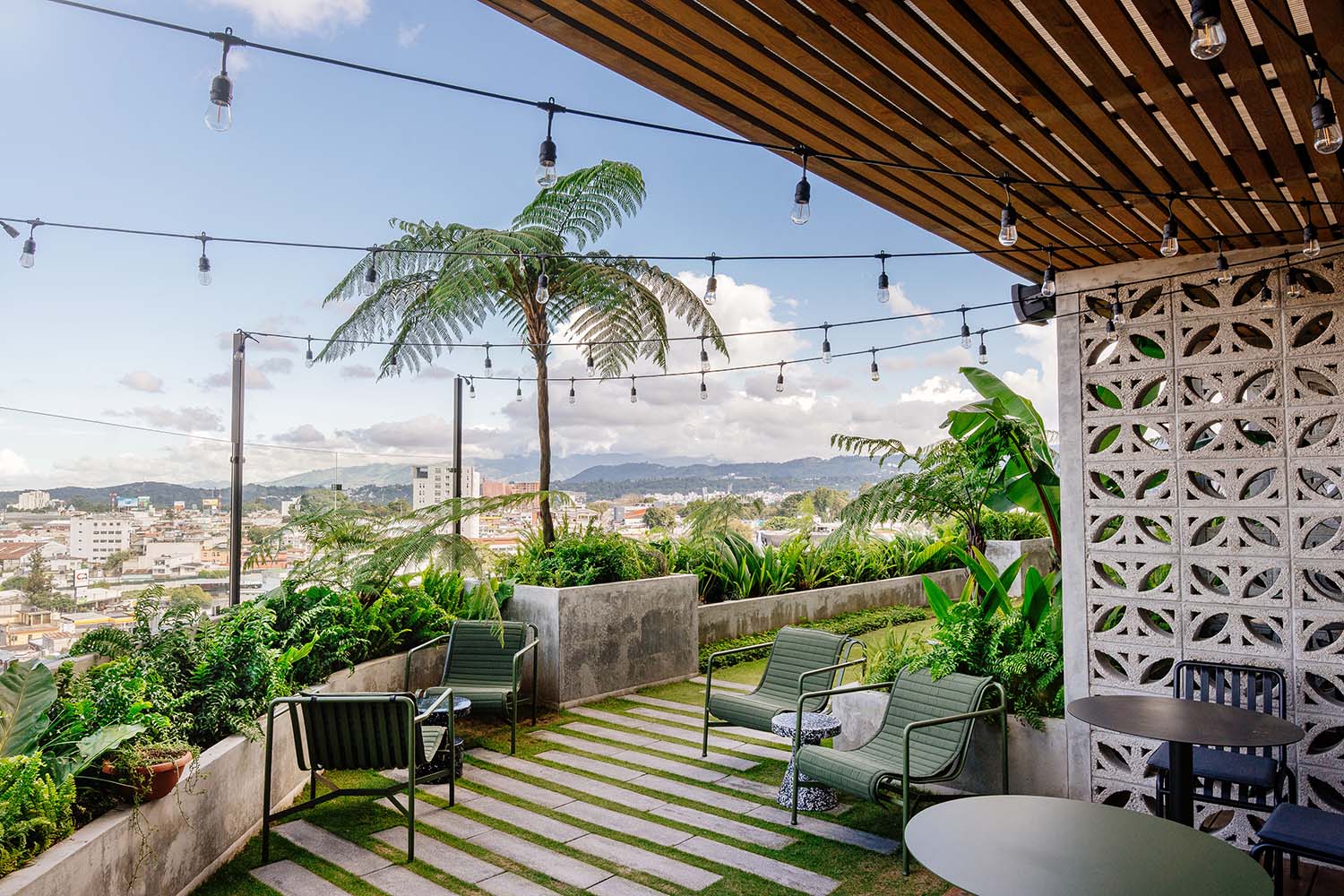 Located on the 7th floor, on the north-east corner of the building, with indoor and outdoor spaces, and a direct connection to the roof garden, the living room invites guests and locals to hang out, whether working, collaborating, socialising or eating. Designed by Amsterdam-based studio ninetynine, the outdoor and indoors are blurred via an elevated wooden podium that creates a transition from the bar area to the roof terrace. The bar is the only fixed design element, the remainder of the space equipped with a variety of loose furniture pieces, including a communal table and bistro-style high seating.
Inspired by the surrounding neighbourhood, guest rooms might be on the small size, but boast smart design (think built-in storage and beds), an abundance of light, and a private outdoor terrace which enabled the designers to extend the 'living space' of the room to the outside; perfect for this tropical climate. Shunning the traditional hotel room archetype, the spatial concept of the room is a so called room-in-room concept, creating an inner façade made of ribbed glass in the front part of the room that separates the private core, while letting natural light from the outside pass through.
Doing real good with great design and consideration, Good Hotel Guatemala City joins a growing roster of international design hotels with a drive to better the world at its core.
@goodhotel.co
@ninetynine_amsterdam