Guatemala City is home to Mercadito La Esquina , a collaborative market in the 4º Grados Norte neighbourhood that combines traditions and culture with the contemporary; it's a riot of colour and cooly chaotic, a space adorned with hand painted tiles, regional embroidered upholstery and furniture crafted by local artisans.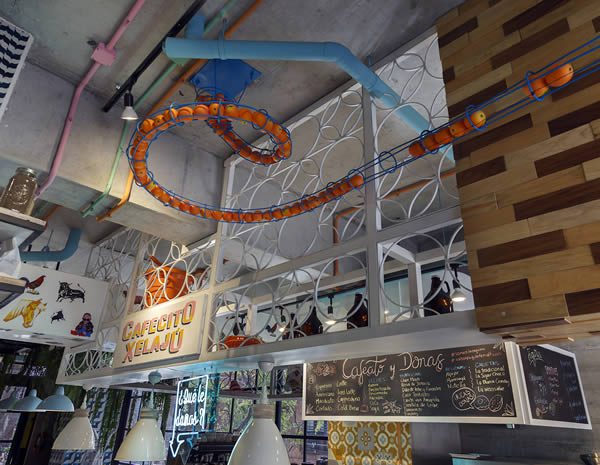 In fact, strengthening the local economy is a priority here at La Esquina. By working with small Guatemalan businesses — those artisans, farmers, tea growers, and so on — the end goal is to highlight the quality of produce in this Central American city. Brimming with the essence of Guatemala, El Mercadito de La Esquina is stocked with a selection of gastronomic stations, each serving up different flavours and regional specialities.
La Figura focuses on low fat fare, whilst Doña Josefina creates wood oven pizza and pastas. Those cursed with a sweet tooth are catered for courtesy of Cafecito Xelaju, and outside on the terrace diners can feast on a sweeping spectrum of tacos and Guatemalan drinks. The open plan market, designed by Olivero & Bland Studio for 'people of all ages and personalities', also houses a small store where visitors can swing by and take home a selection of handmade organic produce and design-minded goodies for the home. Guatemala's buoyant diversity distilled into an eclectic splash of extravagance.
@mercaditolaesquina
@oliveroblandstudio