TOG (The Office Group), Waugh Thistleton Architects, and Daytrip Studio combined forces and expertise working alongside another to create Central London's tallest mass timber office building; a sustainable, boundary-pushing work space that is set over seven floors and includes a 60-person capacity roof terrace alongside its 28 offices, 520 desks and six meeting rooms that accommodate up to twelve people.
Located at 74 Rivington Street, close to Shoreditch High Street Overground station, The Black & White Building marks the first work space to be built from the ground up by TOG after almost 20 years of retrofitting existing buildings, and with 37% less embodied carbon than comparable structures, is also powered by 100% renewable energy sources. Selecting Shoreditch for its link to London's creative community and its proximity to seven other work spaces all within walking distance, TOG remains committed to the East London neighbourhood and all it has to offer.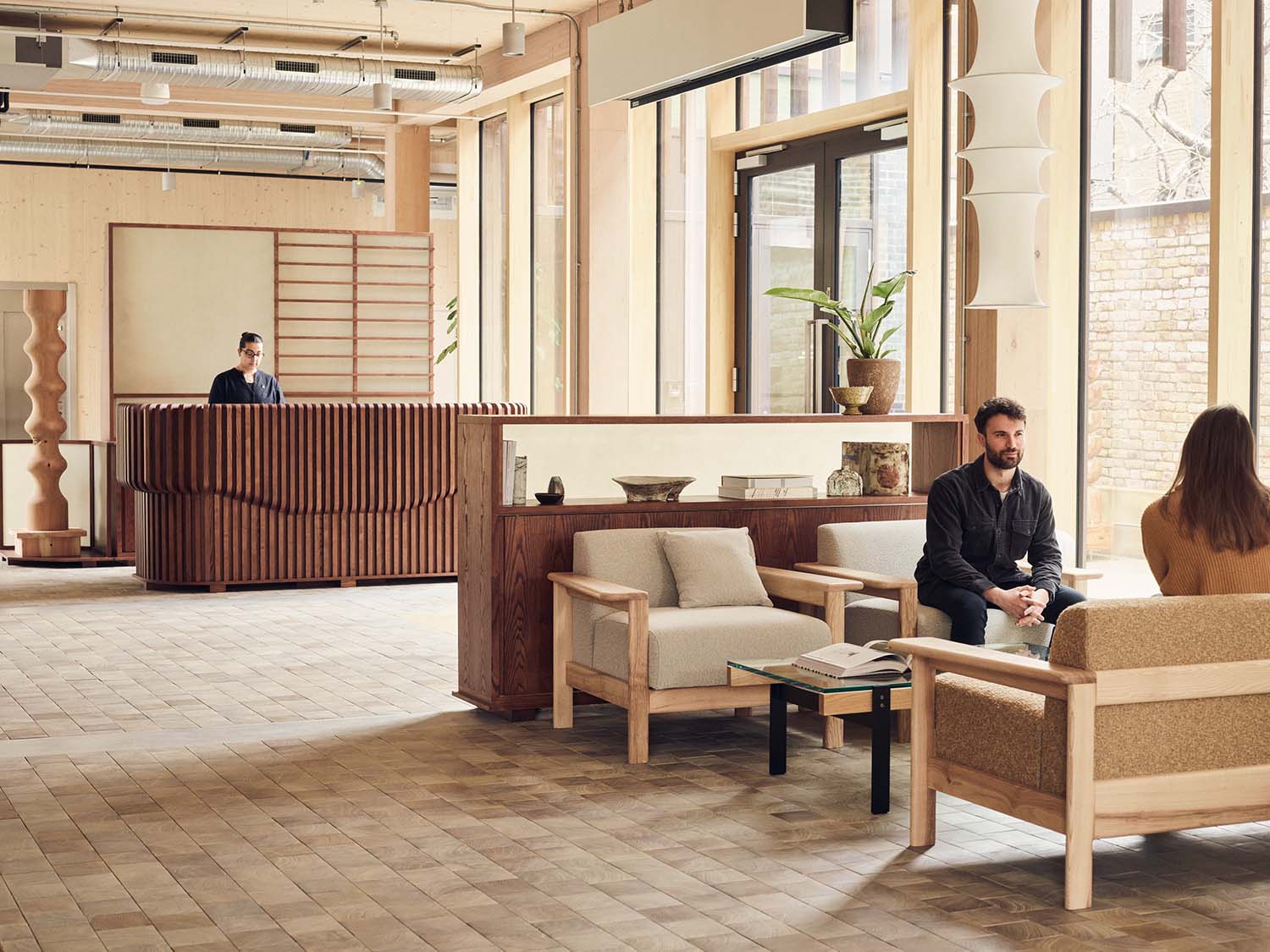 Waugh Thistleton were enlisted for the exterior construction, the locally based architects renowned for their proven expertise in the zero-carbon architecture and mass-timber construction. Constructed of mass-timber, not only is it at the forefront of design, as a material it has significant advantages including being easily recyclable, highly durable and less wasteful than conventional construction materials such as iron, steel and cement.
TOG teamed up with Iwan Halstead and Emily Potter's design studio, Daytrip, on the interiors, creating a space that celebrates what is compelling about the exterior and fabricating a harmonious working environment through the used of exposed timber, mostly recycled materials, and a warm colour palette that brings cool and calm to the space.
Whilst the building offers multiple lounges and break-out areas that encourage social connectivity, the rooftop terrace provides inspiring views of the city and is filled with the organic, natural materials used inside.
A yoga and barre studio, and storage for 94 bikes is also on offer to members, making this new East London coworking space an attractive proposition for more than just its dashing looks.
@theofficegroup
@waughthistletonarchitects
@daytripstudio