Eduard Eremchuk has seen off typical associations with florists and floristry with a minimalist flower shop in the Russian city of Rostov-on-Don. Moving away from a familiar abundance of flowers and natural tones, the architect instead concentrates on allowing the viewer to focus on the product without being overwhelmed by choice and style; ensuring they take in shape, colour, and smell in all their glory.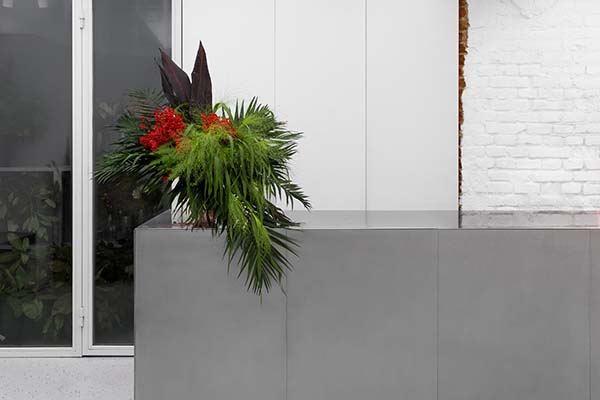 Located inside a 1928 Constructivist building in the port city, Guapa has just one window, monochrome interiors, and a ceiling that acts as a full lightning surface—inspired by Kubrick's ice-cool aesthetic for A Space Odyssey—whilst a small room with modernist neon juxtaposes against a main area filled with a four-metre stainless steel table and stark white walls that evoke the essence of an art gallery.
Curved walls echo the building's façade and soften the edges of an otherwise uncompromising space; the contemporary leanings further enhanced by art books and magazines designed to be read whilst visitors wait for their extravagant bouquets to be put together.
Recalling the avant garde essence of his hyper-colour fashion store in the same city, Like Shop Showroom, Eremchuk leads the march in a new wave of Russian design; Guapa an unconventional treat that slaughters expectations. Bold and brilliant, the architect is transforming Rostov-on-Don into a global design destination one project at a time.