Let yourself feel at home in consciously designed co-living spaces in the heart of London, as new co-living brand ARK open in Wembley Park this month, the 300-room establishment, designed by interior architects Holloway Li, a community-centric rental concept that offers the opportunity to live in the UK's capital, minus the eye-watering costs.
With flexible stays from two nights up to one year, and bills calculated in the upfront cost, as well as access to their own private, fully-furnished studio, guests will benefit from access to design-led amenities including coworking spaces, communal living and dining areas, a gym, yoga room, Peloton spin studio, and a daily cultural events programme. The 300 bedrooms have been reimagined into a new urban retreat by ARK in collaboration with Holloway Li, who took a low impact approach to the building's design, retaining or modifying elements from the existing space to minimise waste.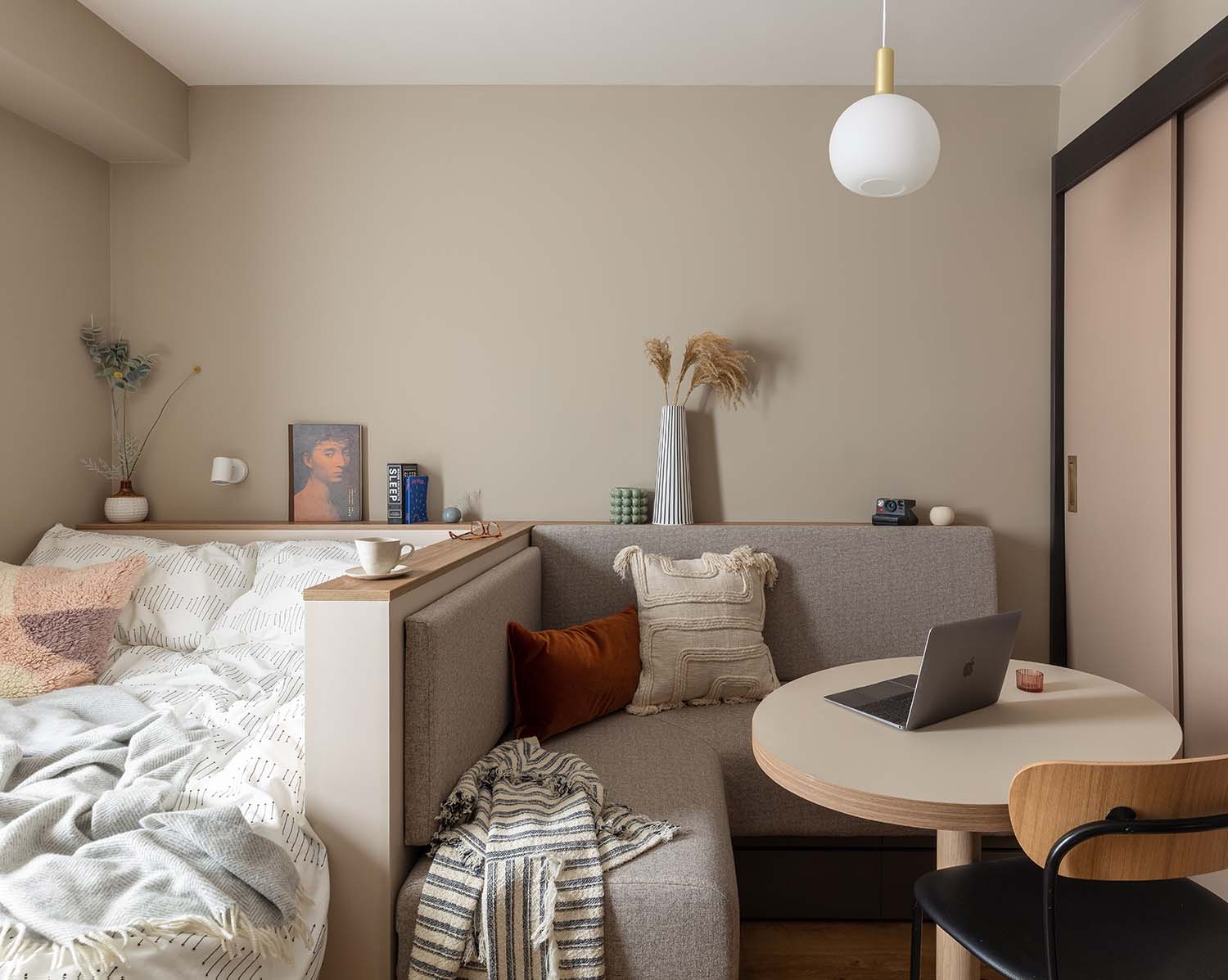 A place of calm, the private studios include a functional kitchenette with hob, microwave oven and dishwasher, smart storage solutions, a bespoke table and corner sofa, double bed, 49-inch UHD Samsung TV, and air conditioning. Floor-to-ceiling windows allow the natural light to enter, highlighting the subtle colour palette of sage, sand and taro.
ARK offers a fixed, all-inclusive bill to provide financial certainty, removing the stress out of staying and living in London, and helping those who stay with them——both short term and long term——to focus their attentions on innovation and collaboration.
A series of design-led indoor and outdoor amenity spaces were designed to encourage connection between neighbours, the spaces which span multiple levels, including a top floor, high specification communal kitchen, multimedia room, laundry room, and wellbeing space, whilst a 3,500 square foot landscaped open air rooftop terrace with panoramic views of central London will be host to BBQs, music events, wellness activities and become a hub for guests to enjoy 360-degree vistas of the capital.
Creating ARK to directly respond to the shift in working patterns in a post-pandemic world, co-founder Charlie Gayner tells us: "In its most simplistic form, an 'Ark' is a safe vessel which houses a community of diverse individuals that are going on a journey, with all the provisions needed under one roof. The design concept we've created with Holloway Li perfectly captures our ambition to build a brand around community and social interaction."
A thriving and connected destination set to create a positive impact in the local community, ARK hopes to reset how we live and stay in London by creating living and social spaces designed to connect people whilst inspiring personal growth.