M.A.D. Collectif (Mode, Arts et Divertissements) is a Montreal-based group of creatives formerly known as Groupe Sensation Mode, and they have recently moved to a new 3,600 square foot space in the city's lively Village district, partnering with architectural designers, IVY studio, who transformed the precursory print shop into new office spaces for the team's new artistic vision.
Located on the ground floor of a two-storey building, the objective for the new premises was to be a flexible space, a place for focus on creativity and collaboration which would be used not only by the M.A.D. team, but by their multiple partners and collaborators. Wanting to celebrate local artists and artisans, IVY Studio were tasked with creating "more than a simple office space and photo studio," the new spot having to be able to host pop-up events, exhibits and shops.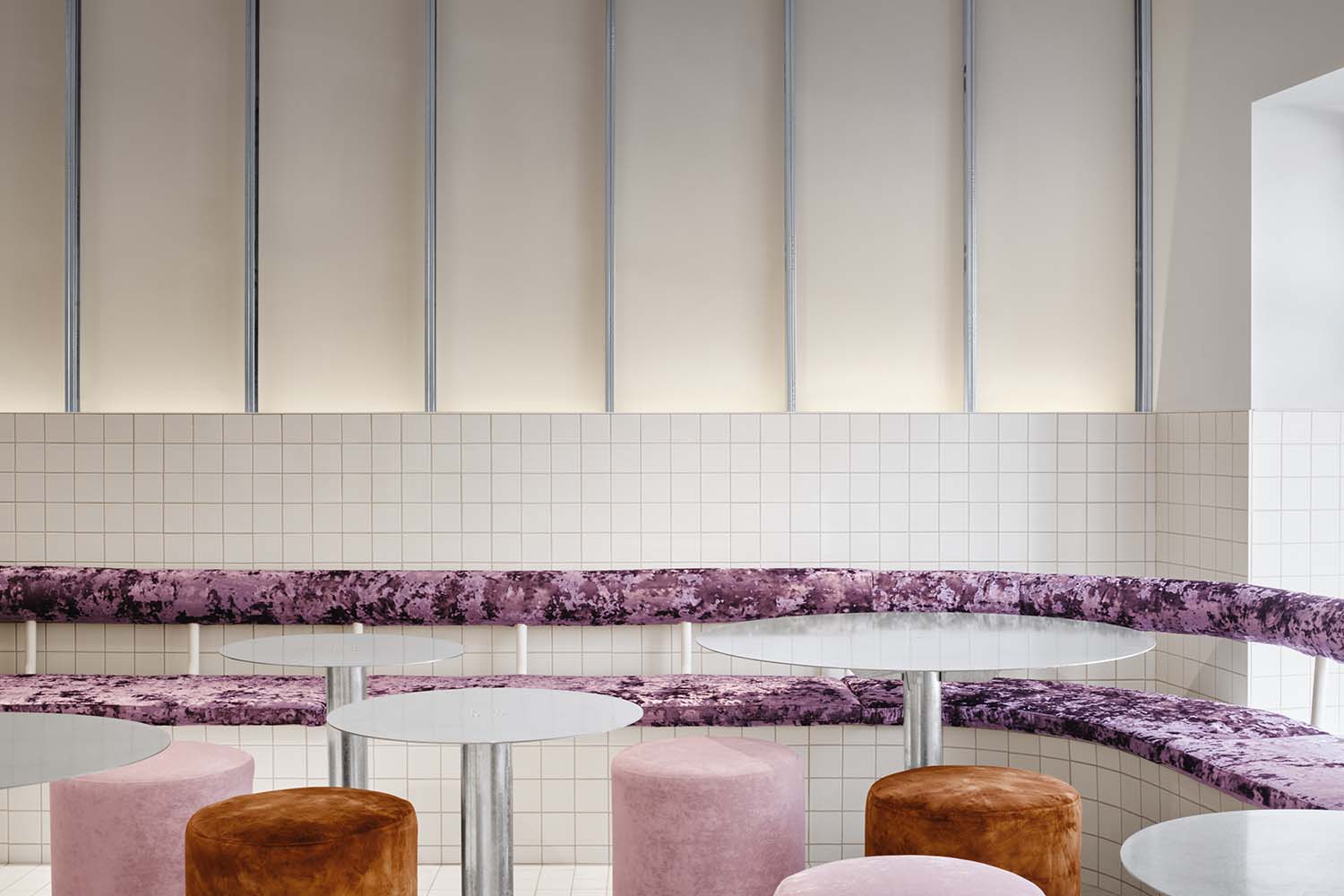 The long space only had windows on the front façade, presenting a challenge to the designers. Built in 1939 and used as a print shop since then, the premises were dark and uninspiring; something IVY Studio sought to change starting with painting the existing walls, plumbing and ventilation equipment all in a stark white.
The sunken front portion of the space has been covered with white ceramic tiles, from the floor to four feet high, with exposed metal studs going up to the ceiling. This backlit system spans almost the entire space and is used to display art, posters, and other graphic elements relative to M.A.D. events. For the lighting, a series of long linear tracks with projectors were installed on the ceiling and go all the way to the back of the office space, similar to that of an art gallery.
Today, you enter the space via the café, with its grandiose bar that doubles as a kitchen area for the staff during the day and serving bar for events come evening. A long banquette follows the peripheral walls and is used for dining, working or informal meetings; whilst beyond the closed central block is a flexible open space and lounge used for photo shoots, videos and other types of content creation.
Inspired by M.A.D.'s own forward thinking, IVY Studio combined a mix of raw unfinished elements in typically luxurious materials to butt heads against conventional design to create an aesthetic unique to the brand's new identity. A stark canvas brought to life through considered design interventions and inspired furnishings and materials, M.A.D. Collectif's new Montreal space is a creative inspiration in itself.