Run by brothers Marc-Antoine and Alexandre, Montréal's Le Décapsuleur is a craft beer store in the city's creative Griffintown neighbourhood; an eco-friendly spot with a goal to help shoppers choose the right beer in sustainable surroundings.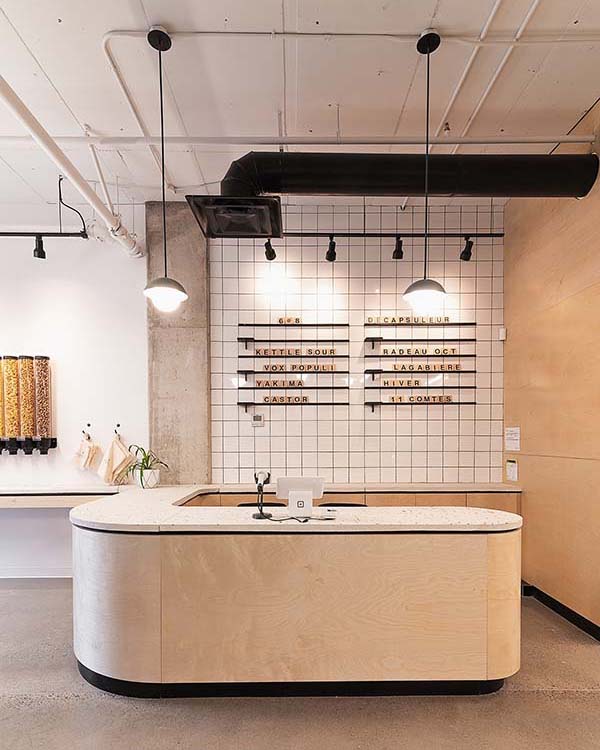 Packsac Studio were in charge of the design, developing a store that is not only aesthetically pleasing, but functional too; the myriad of creative labels from microbreweries displayed in such a way that they're easier for beer aficionados to quickly spot.
A neutral tone of Russian birch plywood and concrete is quite the contrary to the colourful labels of the craft beers showcased across shelving units and in large glass-fronted coolers; whilst a geometric paying station adds curvature to an otherwise structured premises.
The back storeroom is hidden by a sliding display shelf, access to the mechanical room concealed by a swivelling presentation shelf, as Packsac Studio fully optimise the space at this boutique shop. In keeping with the brothers' eco-friendly ethos, receipts from Le Décapsuleur are sent via email or SMS; there's no distribution of printed advertising; the shop is located within a LEED Platinum building; and you'll find no plastic bags on the premises.
For those unable to make it to the physical store, the 'décapsuleur' has an online version of their craft beer bottle shop, broken into sections according to your preferred style. After all, staying in really is the new going out.
@decapsuleur.mtl
@packsacstudio