The World Cup is in full swing, and as such, the fun and games are just beginning.
Mr Play Sport has launched an exclusive World Cup predictor where if you correctly guess the winner of upcoming fixtures, you can bag yourself cashback on all your World Cup wagers – amongst other goodies. Note that the full T&Cs apply.
In this article, we'll be examining Mr Play's World Cup Predictor, breaking down exactly how it works and what you can win. Furthermore, we'll be drafting some tips from our resident football betting experts just to give you a little inspiration.
>> Click here to visit Mr Play Sport and discover the World Cup Predictor
How Does the World Cup Predictor Work for UK Bettors?
To access the World Cup predictor, you must register an account at Mr Play Sport.
Once you've done that, you need to navigate to a section called the 'World Cup Lobby', where you will find a list of upcoming games. As the group stage is already underway, you will be making predictions on potentially qualified teams in the knockout stage.
This promotion is valid until December 2nd. You are free to change your mind as much as you want until then. Just log in, go to the predictor, and make sure all your correct choices are locked in – this is an amazing feature, and you can apply the ongoing events at the World Cup on your bets!
What Can I Win Using Mr Play's World Cup Predictor in the UK?
World Cup Predictor at Mr Play Sports is really exciting. But what exactly can you win using it? Well, there are quite a few things, actually.
Let's find out more about it:
Bonus Spins:
The first prize up for grabs is a set of 10 bonus spins eligible for Big Bass Bonanza. There are no wagering requirements attached! Whatever you win is yours to keep – however, there's a full T&Cs applied to the bonus, so make sure to check it out.
Cashback on Knockout Stage Betting Losses:
If you manage to correctly predict more than five wins correctly, you'll be eligible for cashback on all net losses made on World Cup knockout games. Note that the full T&Cs apply.
Here's the full breakdown of what's available:
– 8 Predictions Correct = 20% Cash Back up to £200.
– 7 Predictions Correct = 15% Cash Back up to £200.
– 6 Predictions Correct = 10% Cash Back up to £200.
– 5 Predictions Correct = 5% Cash Back up to £200.
World Cup Predictor Tips for Bettors in the UK: Knockout Stage
The World Cup knockout stage will begin on the 3rd of December and will end on December 18th – the World Cup final.
Round of 16 World Cup Predictions:
– Senegal vs USA
Senegal to win: This could potentially be a huge game for team USA, but we're not sure they've got enough to topple the strong spine of Senegal. It'll be a great contest, regardless.
– Argentina vs Denmark
Argentina to win: Denmark is a lot of people's dark horse for this competition, and although they are a resilient and tricky side to play on their day, we can't see them getting one over on tournament co-favourites Argentina. Plus, they need to make up for the loss against Saudi Arabia.
– France vs Mexico
France to win: Another tasty match-up between two teams who are capable of playing beautiful football. Unfortunately for Mexico, France should have too much for them to overcome here.
– England vs Netherlands
England to win: This will arguably be England's stiffest test of the competition so far. We think they're able to overcome it, but it'll be a close-fought game.
– Spain vs Croatia
Croatia to win: Spain is a young nation still finding its identity, while Croatia is experienced and was a strong finalist last time. We think they'll be too good for La Furia Roja here.
– Brazil vs Portugal
Brazil to win: This could be one of the biggest games of the knockout stage if it materialises. Despite Portugal's emerging talent and, of course, Cristiano Ronaldo – we think Brazil will win comfortably.
– Belgium vs Germany
Belgium to win: Another potential round of 16 blockbusters here. Germany is still going through a transitional period as a team, whereas Belgium looks more like a complete outfit despite its shortcomings. It'll be close, but the Red Devils will prevail.
– Uruguay vs Serbia
Uruguay to win: This will be a match-up for the purists. Both teams have excellent players with exceptional talent, but it's Uruguay who we think will tip the scale here.
Find out more about the World Cup Predictor by clicking here.
FIFA World Cup Quarter-Final Predictions
– Croatia vs Brazil
Brazil to win: It will be a close tie between two storied nations, but we imagine Brazil should end up taking this tie quite comfortably.
– Senegal vs Argentina
Argentina to win: This is where we start to separate the serious from the daytrippers. Senegal is a formidable side, but they won't have enough to overcome Leo Messi and co.
– Belgium vs Uruguay
Uruguay to win: On paper, this is a contest Belgium should be winning, but it's also the type of match they've not been able to overcome during their golden era. We suspect Uruguay will be the one to win here!
– England vs France
England to win: Two similarly matched teams that will have to work hard to overcome each other. It'll be close, but we expect England to take advantage of France's off-the-field issues and come up with the W where it matters.
FIFA World Cup Semi-Final Predictions for UK Punters
– Argentina vs Brazil
Argentina to win: Call it destiny. Call it whatever you want! We just think Messi will find a way to do it. Argentina to the finals.
– Uruguay vs England
England to win: Uruguay will have every chance of toppling England, and the Three Lions will have to be on their absolute A-game to bring down this South American powerhouse. But we think England has the talent to do it.
Click here to Visit Mr Play and learn more about the World Cup Predictor.
FIFA World Cup Final Predictions:
– England vs Argentina
England to win: Ah, yes, the ghosts of football past have brought us to this point. The hand of God? Beckham's red card? Messi's final chance to secure the one trophy that's eluded him? This is a final heavy on drama and history! It'll come down to whoever can shoulder the immense expectation. We're putting our money on Harry Kane and England to triumph.
Related Articles:
– New Betting Sites in the UK
– Bet on England to win the World Cup
– Premier League betting
Mr Play's World Cup Predictor & Review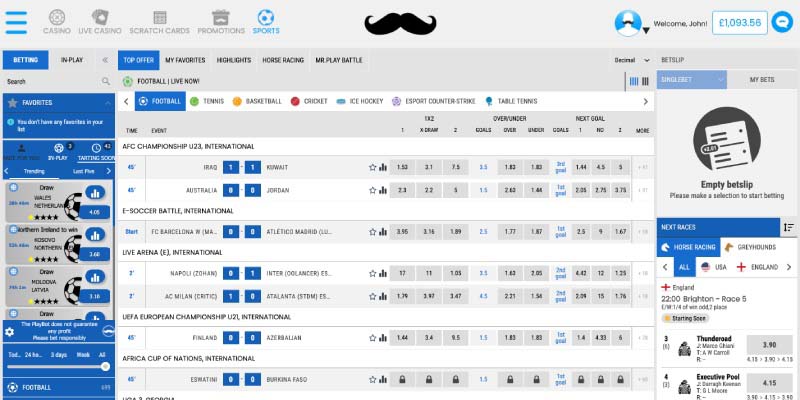 Pros:
– £10 free bet token
– High reputation ownership
– Excellent mobile optimisation
– Vast World Cup markets
– World Cup predictor game
Cons:
-Design needs updating
Mr Play Sport originally was just Mr Play – a humble casino from the gambling capital of Europe, Malta. These days, it has expanded into the UK markets and become a fully licensed and regulated sports bookie as well.
It's the latter of which we will be focusing on here. Mr Play has a wide range of World Cup markets to choose from, including its fun World Cup predictor game that we've already covered above.
You'll find competitive odds across the board here, as well as a dedicated live betting component that'll allow you to make in-game wagers as and when you see fit.
Overall, it's an excellent choice for any upcoming World Cup bets and beyond.
It's not just Mr Play's World Cup predictor that provides all the fun and rewards here. New users signing up for accounts can also opt-in to a welcome bonus that gives you a £10 free bet. More details are below:
To qualify for a £10 free bet, simply deposit £10 and then bet £10 on minimum odds of 2.0. Win or lose, your account will be credited with an extra £10 free bet. No wagering requirements apply, but the free bet does expire after 14 days.
Related Post: Best Betting Sites in Ireland
Other Sites with World Cup Predictor Promos & Odds
Grosvenor – Most Generous Welcome Bonus for FIFA World Cup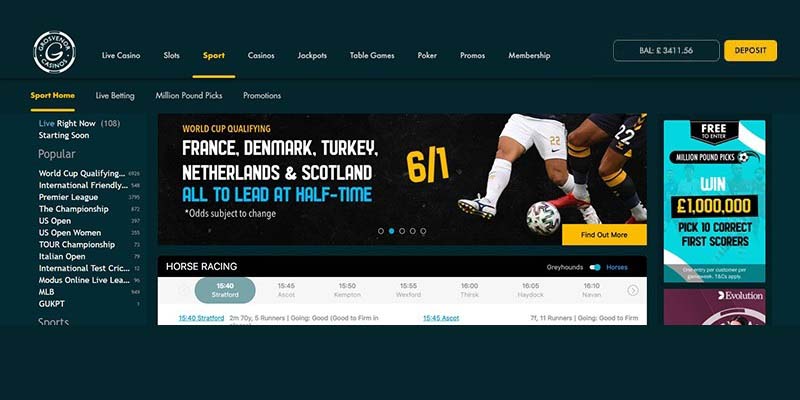 Pros:
– Double the Odds welcome offer
– Safe and secure betting platform
– Highly reputable company
– Competitive World Cup odds
Cons:
– Interface can be slightly glitchy
Grosvenor's roots within the betting industry stretch back to the 1970s when it was famous for running a chain of brick-and-mortar casinos in the UK.
These days it's modernised and moved online, opening up an excellent sportsbook that's well worth your time. Today, it is one of the best betting sites in the UK.
Double the Odds Welcome Promotion:
Double the Odds gives new players the opportunity to get the odds of their first bet doubled. The maximum bet you can make is £10, or £5 each way.
Check out the latest casino bonuses available at Grosvenor by clicking here.
SportsBet.IO – Best Variety of Betting Markets for UK World Cup Bettors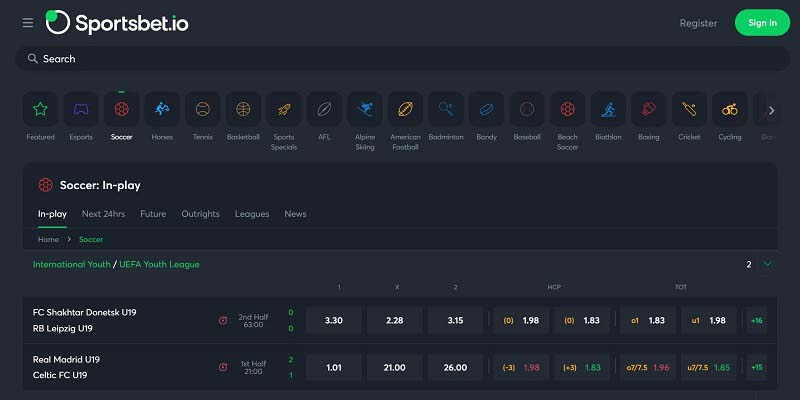 Pros:
– Acca Boost
– Regular social media competitions
– Extensive World Cup markets
– Official partnerships with Arsenal FC and Southampton
Cons:
– Limited promotions
Boosted payouts on all accumulator bets that win with five selections or more. The maximum extra percentage added to winnings is 20%.
Follow this link to learn more about SportsBet.IO and its promos.
Luckland – Cool World Cup Predictor Tournament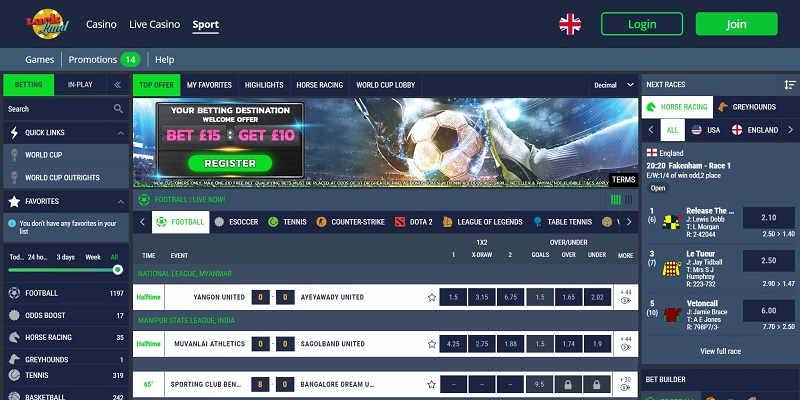 Pros:
– Alternative World Cup predictor tournament
– Licensed and regulated in the UK
– World Cup bingo cards
– Latest secure encryption technology
Cons:
– Relative industry newcomer
Sign-up and win a share of a £5,000 prize pool for the World Cup tournament. A minimum of a £5 opt-in is required, with a minimum of five bets per tournament.
Visit Luckland and find out more about what it has in store.
Related Post: Champions League Betting
Guide to the World Cup 2022 Predictor: FAQs
Is It Safe to Bet on the World Cup 2022?
Yes, it's completely safe to be at the World Cup 2022 and make your predictions. Just make sure you're only signing up at legitimate online betting sites, such as Mr Play Sports.
Can I Win Real Money on World Cup Predictions?
Although Mr Play's World Cup Predictor game doesn't offer any cash winnings as such, it's still possible to make real money on your World Cup predictions. After all, there are a number of different ways to make a bet on the website outside of the predictor game if you wish.
How Easy Is It to Predict the World Cup Tournament?
We wouldn't describe it as easy! There will always be shocks, surprises, twists, and turns. But that's the fun of the game! We recommend going out there and being bold. But not too bold, mind.
Are There Any Potential Surprises at the World Cup 2022?
There are always potential surprises at any major soccer competition. It's too early to call any at the moment. But not all the biggest nations will be successful, and not all of the smaller ones will fail.
Where Can I Find the best World Cup Predictions?
We don't want to brag, but we're pretty proud of our track record of expert tipping and predictions. We've laid out a bunch of fantastic tips for you in this article, so make sure you go and check them out.
What Sorts of Things Can I Predict for the World Cup 2022?
Outside of just straight-up betting on the winner of games, you can also make predictions and bets on who will have the most assists, who will score the most goals, who will qualify from their group, and so on and so forth.
Where's the Best Site to Make My World Cup 2022 Predictions?
Although Mr Play has a perfectly awesome World Cup predictor built-in and is ready for your use, it's far from the only place you can make predictions online.
We've listed three other alternatives for you to look at in terms of placing bets and winning cash. If you join Luckland, they're even running their very own World Cup predictor competition.
The truth is, there's no limit on the number of websites you can join. In fact, we recommend you give all of the bookies featured in this article a go. Those bonuses won't use themselves!
Related Post: World Cup 2022 Predictions
Ready to Make Your World Cup 2022 Predictions?
We hope you feel better, ready, and equipped to take on Mr Play's predictors game now. Even if you don't fancy playing the predictions game, there are a ton of other top World Cup markets available ready and waiting for you and your bets.
Whether you decide to sign up at one site or four, or perhaps you just want to stick exclusively with Mr Play's predictor game, we hope this guide has helped you beef up your knowledge of the Word Cup, including the best places to bet on it.
Just remember our golden rules – have fun, and gamble responsibly!
Related Post: Best Slots Sites in the UK
DISCLAIMER: The information on this site is for entertainment purposes only. Gambling comes with its fair share of risks, and it's important to recognise that when using online gambling sites.
While we review different gambling sites, you should check with local laws in your area before gambling online. Also, all gambling sites and our guides are rated 18+ only.
If you have a gambling addiction problem or anyone you know does call the National Gambling Helpline at 0808-8020-133. In addition, the following gambling addiction resources can be of help:
https://www.gamstop.co.uk/
https://www.gamcare.org.uk/
https://www.begambleaware.org/