The final round of 16 for the Champions League has just been drawn, and we've got all the info you need on where to find the best Champions League betting odds and bookies.
Best Champions League Betting Sites in the UK
– Grosvenor: Best champions league betting site overall
– SportsBetio: Most competitive odds
– BetUK: Diverse betting markets
– Mr. Play Sport: Ideal for live betting
– Kwiff: No.1 for In-play betting
– 888 Sport: Best design
– Luckster: Best for horse racing
– Britain Bet: Most exciting promotions
Don't waste your time scouring the internet only to end up at terrible gambling websites with poor odds and terrible customer service.
Stick with us, and we'll tell you exactly where you need to go to get the best online betting experience for this year's Champions League.
Ready to dive in? Let's go!
>> Check out the latest Champions League odds available.
UEFA Champions League Odds and Tips for UK Bettors
Manchester City to Win the Champions League (Odds at Grosvenor: 7/4)
Okay, this tip is hardly going to set the world on fire. We're not dealing with the 'hottest' take here. We're not going to offer you the insightful, cutting-edge analysis that TalkSport may give you. We're simpler than that.
So why not keep it simple? Manchester City is a favourite for a reason. They have the best coach in the world. They have the best young striker in the world. (Haaland). Their squad features one of the best full-backs in the world, (Cancelo), and to top it all off – they've got Kevin De Bruyne pulling the strings in midfield.
Yes, the Champions League title has eluded City before and continues to frustrate them year in and year out. But this is the year it all ends. Haaland was the final piece, and even at short odds of 7/4, we can't not recommend this bet.
Erling Haaland to be Champions League Top Goal Scorer (Odds at SportsBetio: 7/4)
Moving swiftly on from one blistering hot take to another. It couldn't be that the tournament's best team, which features arguably the best striker, could be the team that produces the Champions League's top goal scorer.
Yes, 7/4 odds reflect our sarcasm pretty well – if you didn't manage to catch that yourself. The Norwegian anomaly is currently on five goals, which is two behind Mo Salah and Kylian Mbappe.
So why Haaland instead of those two? Well, for one – he's Erling Haaland. But perhaps more importantly, Salah and Mbappe have tough fixtures in the next round against Real Madrid and Bayern Munich, respectively. Manchester City comes up against Leipzig, which they should make mince meat of rather easily.
Kevin De Bruyne to Register Most Assists (BetUK Odds: 6/1)
Okay, so perhaps we are owed a little bit more credit for this one. We're ever so slightly putting our necks on the line here. Maybe. We're not brave enough to move away from Manchester City, but we do think backing Kevin De Bruyne is slightly braver than some other options.
He's only at 6/1, so it's hardly eye-popping odds, but good value nonetheless. He currently has notched up three assists and is one off the leaders Messi and Jota. If we envision Manchester City going deep in this tournament (we do), then we'd have to wager that Kevin De Bruyne will be racking up a lot more assists. It's what he does, after all.
Messi is the immediate threat here, with Ivan Perišić close behind as a dark horse punt with Tottenham Hotspur. But overall, the odds of 6/1 are too good value to pass up for somebody who's essentially one of the best in the world right now.
A Brief Overview of Champions League Betting (UK)
While Champions League betting can seem intimidating on the face of it, it's actually a lot of fun and something that people all across the globe enjoy every year, win or lose.
When it comes to betting on the Champions League, the main difference is structure. While domestic leagues are played out through fixtures in which every team plays each other twice, the Champions League is set up as a knock-out competition once the group stage is over.
That means your bets should be measured carefully on upcoming opponents and how long you expect a certain player and his team to last in a competition. For example, Mohamed Simakan of Leipzig has three assists to his name already – but he's unlikely to last much longer in the competition, dramatically cutting down on his chances of notching up any more assists.
It's key insights like this that will shape and inform your thinking and hopefully turn your wagers into winners. But just remember to ensure you're taking in all the information you need and not just getting blinded by some pretty Champions League odds.
>> Click here to bet on the Champions League
Champions League 22-23 Key Facts and Information
When and Where Is the Champions League Final Taking Place?
This year's Champions League final will take place at Istanbul's Atatürk Olympic Stadium on the 10th of June, 2023.
When Is the Champions League Back?

The Champions League starts again on February 14th, 2023, with the round of 16.
Where Can I Watch the Champions League?
The Champions League is available to watch in the UK exclusively on BT Sport.
Who Are the Current Champions League Favourites?
The current favourites to win the Champions League are Man City. Most odds are around 7/4.
Who Was the Champions League Winner Last Time Out?
Real Madrid is the current reigning holder of the Champions League trophy, having run out as 1-0 winners against Liverpool last year.
>> Latest Champions League odds
How to Bet on the Champions League Online as a UK Bettor
Moneyline: This bet is sometimes also known as a 'straight win' bet and is the most popular bet for online sports around the globe. You are putting on fixed odds for your selection to win the contest.
Wagering Requirements: This is more for players who enjoy using bonuses. If you don't use bonuses, then you can keep reading; we promise you won't miss anything. For those who do, the term wagering requirements refers to the amount you have to play through bonus funds before they become eligible for cash out.
Prop Bet: A prop bet is a wager independent of the outcome of the event it takes place. Most prop bets are based on player statistics. For example, you might bet on Bernado Silva to grab an assist.
Accumulator: Place a series of bets together in one slip, and what do you get? An accumulator. The only catch is all the bets must come in for the wager to be settled as a winner. For example, you might bet on Tottenham to beat AC Milan, Paris Saint Germain to beat Bayern Munich, and Benfica to beat Club Brugge.
All fixtures will combine to create greater odds for a more interesting payout.
Bet Builder: A bet builder is another name for a special type of accumulator. Whereas the bet explained before is made up of selections from different games, this particular one has to be built around bets from one game.
Punters usually pick between several different props and a money line match result. For example, you may want to bet on Harry Kane to score, Ivan Perišić to register an assist, and Tottenham to beat AC Milan. The bet only wins if all these instances occur.
>> Latest Champions League odds
Related: How to Bet on England
Best Champions League Betting Sites in the UK
1. Grosvenor – Best Champions League UK Betting Site Overall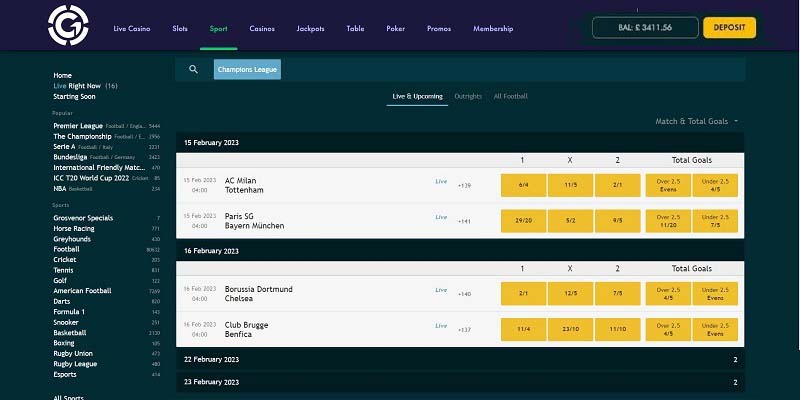 Pros
– Double the Odds promo
– Top Champions League markets
– Cashback bonuses
– Great sports betting markets
Cons
– Live streaming component needs improvement
The Grosvenor brand is no stranger to the world of sports betting, having established itself as a brick-and-mortar casino in the 1970s. These days they have expanded online and opened up a sportsbook that is packed full of features and top markets for this season's Champions League.
Bonuses & Promotions:
Double The Odds
After registering a new account, you'll be given the opportunity to double your odds when you make your first bet. The maximum stake allowed for this bet is £10, or £5 each way. A perfect way to use one of our Champions League betting tips in this article. Full T&Cs apply.
>> Join Grosvenor casino today!
Related Post: New UK Betting Sites
2. SportsBetio – Most Competitive Odds of Any UK Champions League Betting Site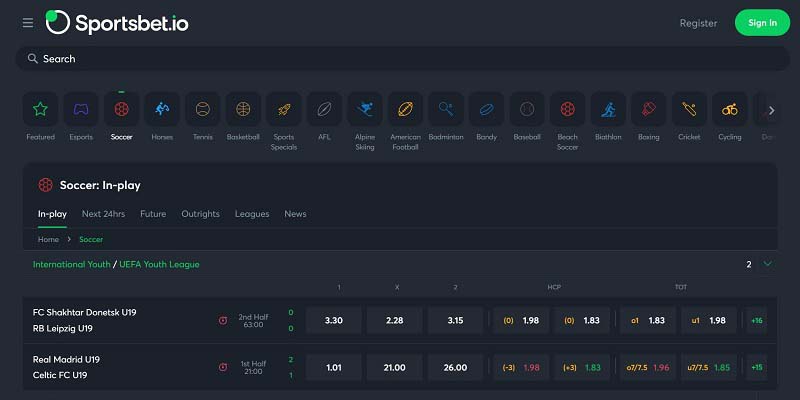 Pros:
– Acca Boost offer
– Competitions on social media
– Secure encryption technology
– Excellent Champions League betting coverage
Cons:
– Limited promotions in general
SportsBetio originally started out as a more niche crypto sportsbook, being established in 2016 amongst many other competitors. Since then, it has grown into a fully regulated and operational UK sportsbook – with a top selection of Champions League markets available. It's also considered one of the best mobile casino sites for sports bettors in the UK.
Bonuses & Promotions
SportsBetIO's Acca Boost:
Boosted payouts on all accumulator bets that win with five selections or more. The maximum extra percentage added to winnings is 20%. Minimum selection odds 1/5 (1.2). Full T&Cs apply.
>> Register for an account at Sportsbetio and get a boost on your ACCA now!
3. BetUK – Top Champions League Betting Platform with Diverse UK Sportsbetting Markets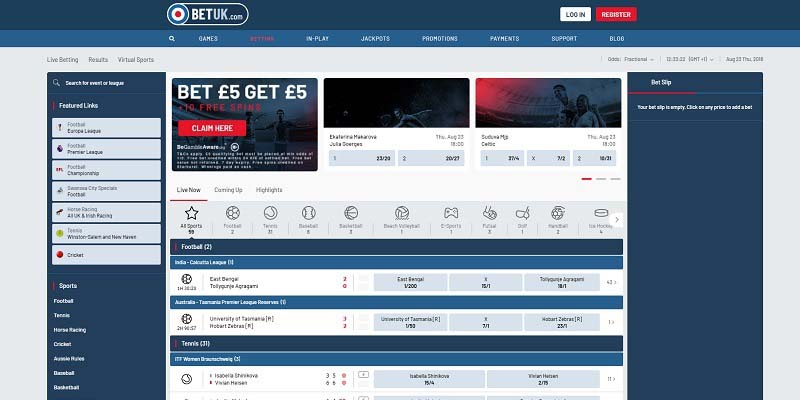 Pros
– Professional tips
– Excellent in-play betting system
– £30 bonus bets
– BetUK 'specials'
Cons
– Limited payment methods available
If you're familiar with the world of online gambling, then you'll have heard the name of LeoVegas. That's exactly where BetUK comes from, sharing the same ownership and similar features. In fact, BetUK is largely just a British localised version of the LeoVegas sportsbook – complete with sponsorship by Tottenham Hotspur legend Teddy Sheringham.
Bonuses & Promotions:
£30 in bonus bets
Get up to £30 in bonus bets after making a deposit of £10 and a bet on odds of at least 1.5. You have seven days maximum to use this promotion before it expires, and it can only be used on accumulator bets made up of 4 legs or more. Full T&Cs apply.
>> Sign up for a BetUK account today!
4. Mr. Play Sport – No.1 UK In-Play Betting Site for Champions League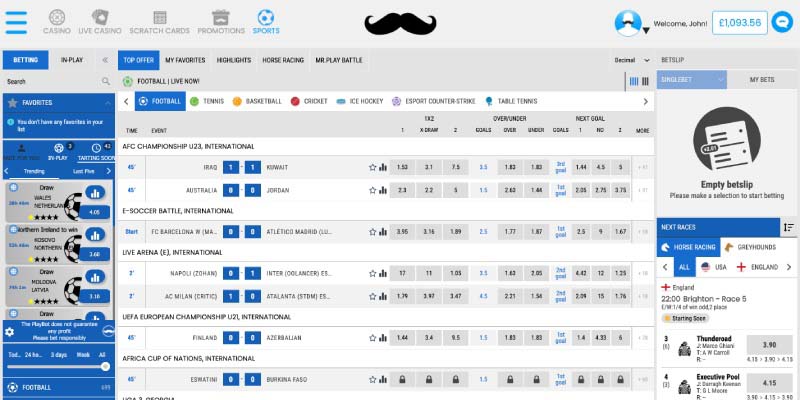 Pros
– Competitive Champions League odds
– Fully licensed and regulated
– £10 bonus bets
– Regular tournaments
Cons
– Could do with more specific sports betting bonuses
Originally starting out as a casino from Malta, Mr. Play has evolved and expanded into a multi-platform gambling site. These days it has its very own UK sportsbook that's fully licensed and regulated by the UK gambling commission and bursting to the brim with Champions League betting opportunities.
Bonuses & Promotions:
£10 bet token
Deposit £10, then bet £10 on minimum odds of 2.0. Whether you win or lose, your account will be awarded with a £10 free bet token. There is a 14 day expiry on the free bet, but zero wagering requirements attached. Full T&Cs apply.
>> Visit Mr.Play Sport today and sign up for an account!
5. Kwiff – Best UK In-play Betting Site for the Champions League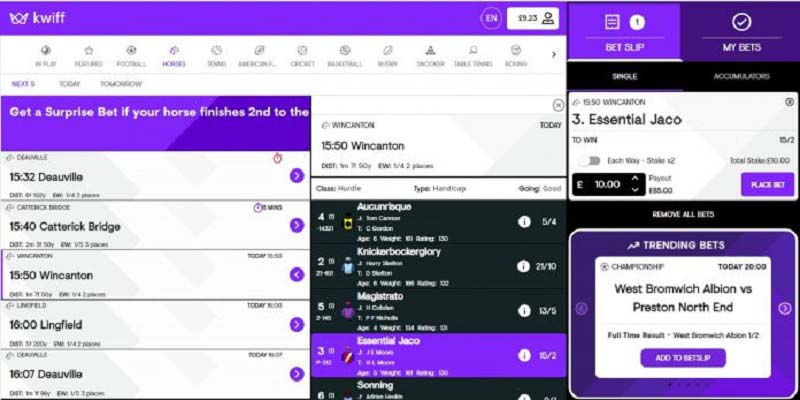 Pros
– Unique in-play betting features
– Cutting edge design
– Excellent mobile app
– £20 surprise bet
Cons
– Limited number of sports categories
Ever heard of UniBet? If you've got any knowledge of the gambling scene, you almost definitely have. The same minds behind that European juggernaut now bring to the market Kwiff, a unique and bold new way to bet online. Aside from a legit sportsbook, it also hosts the best online slots in the UK.
Bonuses & Promotions:
£20 Surprise Bet
Make a £10 bet on any market with odds equal to or greater than 1.50, and your account will be credited with a special 'surprise' bet. This bet is a special bet valued at up to £20 that is randomly generated by Kwiff. If the bet wins, you keep the winnings. If it doesn't, then hey – no harm, no foul. Right? Full T&Cs apply.
>> Join Kwiff today and take advantage of the surprise bet!
Best Bonuses to Use for Betting on the UEFA Champions League 22/23
Grosvenor's Double The Odds: Boost your odds up to double your first deposit. The maximum stake allowed is £10, or £5 each way. This will be eligible for use on upcoming Champions League fixtures. Note that full T&Cs apply.
SportsBetIO's Acca Boost: Accumulator bets that win with five selections or more are eligible for boosted payouts. The maximum extra percentage added to winnings is 20%. All bets must have a minimum selection odds of 1/5 (1.2). Note that full T&Cs apply.
BetUK's £30 in Bonus Bets: Earn £30 in bonus bets after making a deposit of £10, and then a bet with odds of at least 1.5. The bets expire after seven days and can only be used on accumulators made up of 4 or more legs. Note that full T&Cs apply.
Mr. Play's £10 Bet Token: Deposit £10 and then place a bet of the same value at minimum odds of 2.0. The £10 bet token will be credited to your account. No wagering requirements. 14 day expiry applies. Note that full T&Cs apply.
Kwiff's £20 Surprise Bet: Bet £10 on any market with odds greater equal or greater than 1.50 as your first bet, and your account will be credited with a 'surprise bet.' A surprise bet is a randomly generated bet assigned to your account to the value of £20. If it settles as a win, you keep all the funds. Note that full T&Cs apply.
Related Post: Best Betting Sites in Ireland
Guide to Champions League Betting in the UK: FAQs
Is It Safe To Bet on the Champions League in the UK?
Yes, it's entirely safe to bet on the Champions League. Hundreds and thousands of people bet on the Champions League every year, as well as other major sporting events.
>> Click here to bet on the Champions League
Can I Win Real Money Betting on the Champions League?
Yes, you can win real money betting on the Champions League. All of the websites featured in this article are licensed and regulated by the UK gambling commission, and pay out real money taken against real money wagers.
Can I Use Bonuses To Bet on the Champions League?
Yes, there are plenty of bonuses available that can be used on the Champions League. Make sure to check out what's available in this article from the various sportsbooks we recommend.
Suggested Reading: Best Casino Bonuses in the UK
Can I Partake in Champions League Correct Score Betting?
Yes, most, if not all online bookmakers will offer the chance to bet on the correct score of a Champions League game.
Which Sportsbook Has the Most Champions League Betting Options?
Most sportsbooks share the same Champions League betting options across the board. That means similar markets, including competition outrights. You may find that some sportsbooks like Grosvenor have better in-game better in game props or markets, it all depends.
Who Were the Champions League Group Winners From Group D?
Tottenham Hotspur were the eventual Group D winners after an eventful final night in which at one point, every team was able to qualify in first place. Still, at least Spurs were able to win – it wouldn't have been so long ago that they'd have gone out in a blaze of glory due to the 'Spursy' gene.
What Teams Have Made the Champions League Knockout Stage?
These are the teams that have made it into the Champions League round of 16, also known as the first knockout stage.
– Leipzig
– Manchester City
– Frankfurt
– Napoli
– Dortmund
– Chelsea
– Club Brugge
– Benfica
– Liverpool
– Real Madrid
– Inter
– Porto
– Milan
– Tottenham
– Paris Saint Germain
– Bayern Munich
Notable teams that didn't make it:
Juventus and Atletico Madrid, two Champions League giants, both failed to make it to the next round of the Champions League this year.
>> Latest UEFA Champions League odds
Where's the Best Place To Bet on the Champions League in the UK?
According to our research, Grosvenor is the best place to make your wagers on the Champions League this year. But the truth is, this is subjective. What works for us may not work for you, and we respect that.
The best piece of advice we can give is that you try out all of the sportsbooks we've recommended. After all, those bonuses aren't going to use themselves, and you'll never know what suits you best until you try.
>> Click here to bet on the Champions League <<
How to Sign Up at a Top Champions League Sportsbook
If you're excited to place a Champions League bet, we're here to walk you through how you can set up and account at one of the best gambling sites in the UK.
Step 1: Register a New Betting Account
– Log on to Grosvenor and click the green 'Join' button
– Fill out your details
– Wait for a validation link to arrive
Step 2: Validate Your Account
– Check your email inbox for the validation link
– If it's not there, check your spam box
– Once you've located it, click the link to complete the account validation
Step 3: Deposit and Play
– Deposit using your chosen payment method
– Use a bonus if you wish
– Navigate to the Champions League section and place your bets
Ready to Bet on the UEFA Champions League Matches in the UK?
Betting on the Champions League can seem like an intimidating prospect at first. That's why we put together this article to give you some confidence to approach your wagers with more conviction and rigour!
We hope we helped in some way. Even if it was just by giving you some inspiration on who to bet on. Although, who are we kidding – Manchester City winning a trophy is hardly the most inspiring tip of all time, no matter how elusive that Champions League trophy is for Pep and Co.
If you're ready to place a bet, don't skip on our top pick – Grosvenor. The rest of the list are great betting platforms worth checking out as well.
Wherever you decide to place your Champions League wagers, just remember our two golden rules – have fun, and gamble responsibly.
Read more about the Best Champions League Odds.
DISCLAIMER: You probably don't need us to tell you that any form of gambling comes with risks and should not be undertaken as a solution to solve your financial troubles. It's worth remembering the phrase…the house always wins!
If you suffer from a gambling problem or suspect somebody you know does, then we strongly suggest that you call the National Gambling Helpline at 0808-8020-133 to talk with an advisor for help and to make gambling safer for you or your loved ones. Remember all gambling sites and guides are 18+ only.
Casino sites listed on our site may not be available in your region. Check your local laws to ensure online gambling is available and legal where you live.
Visit these free gambling addiction resources:
https://www.gamstop.co.uk/
https://www.gamcare.org.uk/
https://www.begambleaware.org/