Legend has it that a ship carrying two princesses sank during a great storm, on a full moon, off the Phra Nang headland. The princess' spirits came to reside in these caves and, on each full moon, locals offer gifts to the spirits which are said to keep them safe from harm.
Feeling very important we arrived at the sublime Rayavadee resort in a private speed boat – this we later discovered is the standard that all guests are to expect. Greeted with bowed welcomes and ice-cold cocktails in their lavish arrival pagoda, we were surrounded by sheer beauty. With 360 degrees of lush tropical forest, scaling limestone cliffs and the crystal clear waters of the Andaman Sea our heads began to spin.
Nestled in the Krabi National Marine Park, across 26 acres of the protected Phranang Peninsular, our two-storey pavilion had a Southern Thai village vibe. Think rich dark wood, low lighting and high ceilings all pieced together with colourful fabrics twined with gold. Colonial ceiling fans spun above us while we lazed on comfortable fabrics set against hand weaved accessories – to say our surroundings were luxurious is a tad of an understatement!
Our in-door sofa swing was a treat, as was the contemporary bathroom – fully equipped with natural lotions and potions, which I loved. Creatively directed by Bangkok designer Vichada Sitakalin, the 'fusion-design' pioneer – who trained in textiles at Rhode Island School of Art and Design – has certainly made her mark on the comfortable yet opulent pavilions.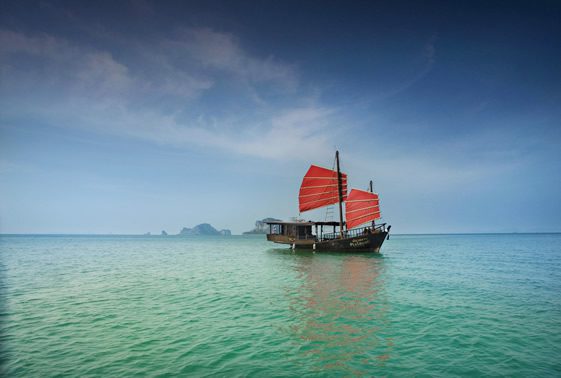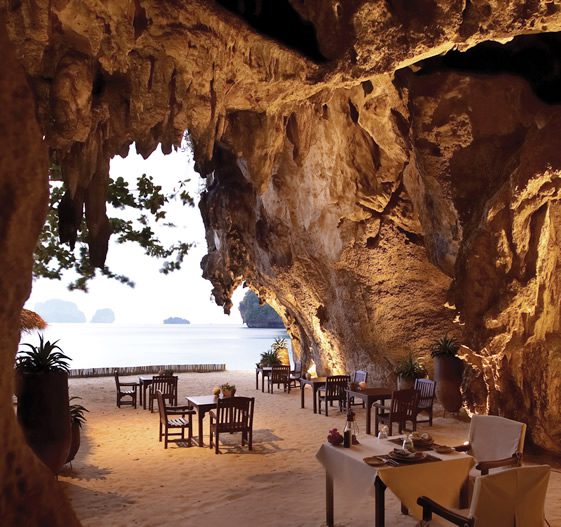 Blessed with three beaches, Rayavadee has something for everyone, Nam Mao Beach (where you'll find your East Railay climbing crowd with buckets-on-decks party scene, designer sunglasses and linen shirts from Khao San Road (side note: these guys have fab deals on the former)), Railay Beach (perfect for island hopping to Chicken Island, Poda Island and Koh Phi Phi) and the stunning Phra Nang Beach. Open to day tripping scuba divers, rock climbers and residents, you'll find some of the best sunsets in Southern Thailand here.
Many flock just to sit on the beach gazing at the amber soaked limestone karsts and the hypnotic pink and indigo colours of the skies. Exceptionally, during the early mornings as the sun rises and late evenings as it sets, you can find yourself in total isolation; carelessly gazing out into the ocean thinking of nothing more than what your next meal might be.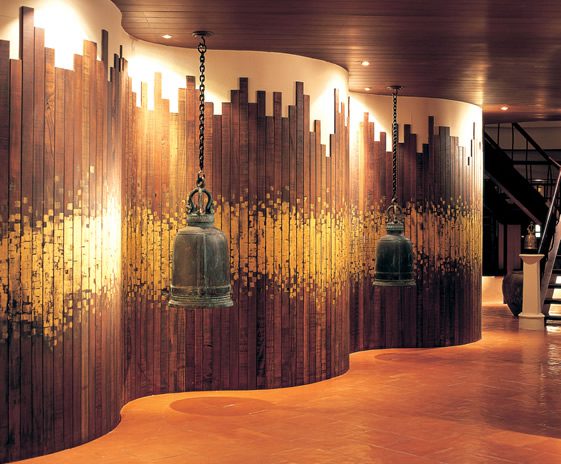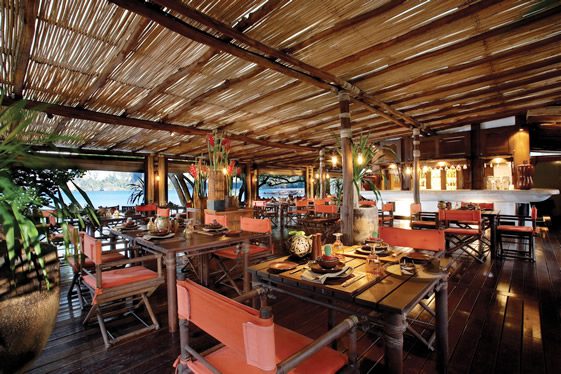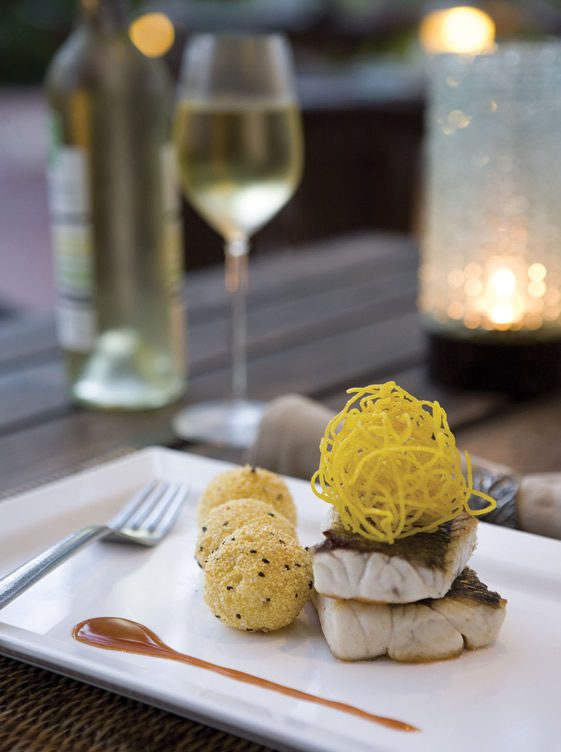 Having explored every inch of the area we couldn't resist an evening at their Krua Phranang restaurant located on Phra Nang beach. Under starry skies we went all out on their locally sourced classic Thai menu. The smells and sights of the open kitchen were intoxicating, with chefs cooking freshly caught fish, noodles or meats to your requirements.
Our two favourite dishes had to be the 'Bur Thod' – fried king prawn wrapped in crispy chrysanthemum leaf, which was amazingly light and crunchy but succulently juicy, and the 'Larb Pla Muek Hoy Shell' – spicy minced squid and scallop with green herbs and roasted ground rice chilli dressing, which packed a welcome punch! Their use of traditional decoration was in keeping with the rest of the resort, with bamboo bird-cage style lanterns, hammered brass decoration and domed ceilings the restaurant had to be one of the most romantic settings of our mini-tour of Southern Thailand.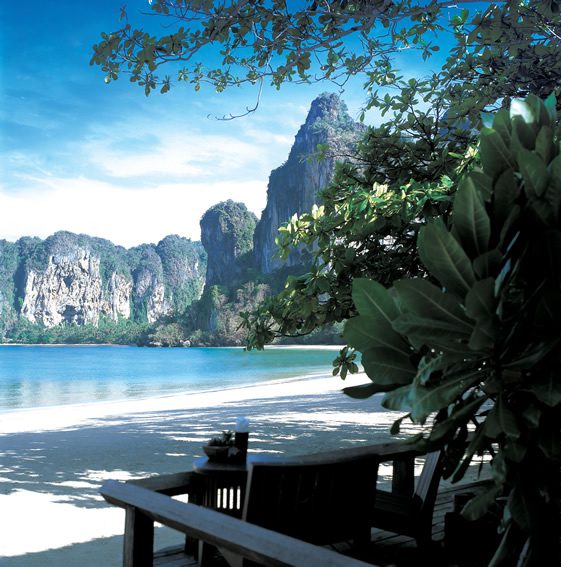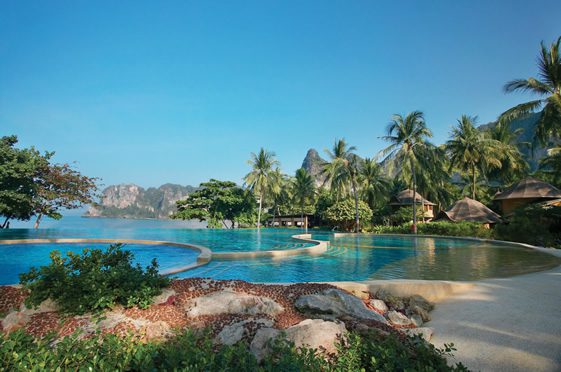 Luxury and beauty aside, Rayavadee is strongly devoted to sustainability; an award winning eco-resort and a member of the 'Leading Hotels of the World'. It shares the land with its native wildlife including playful monkeys, tropical birds and bats. Lucky to grab a quick chat with the General Manager, Veerasak Sibunruang he explained the importance of maintaining this resort's natural surroundings. "The wildlife was here before us and our aim is to preserve that, our 400 strong team are here not only for our guests, but also to keep this outstanding landscape with minimal impact on the environment" he explained with lighthearted authority.
"Amazingly the seventeen years old site only added electricity power lines two years ago, and we recycle what we can and nothing goes to waste". This level of luxury does come at a price but not at the cost of the natural habitat – and with minimal guilt factor.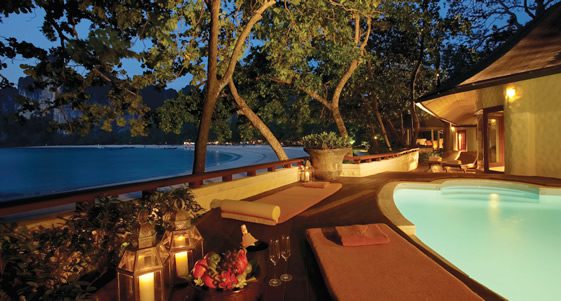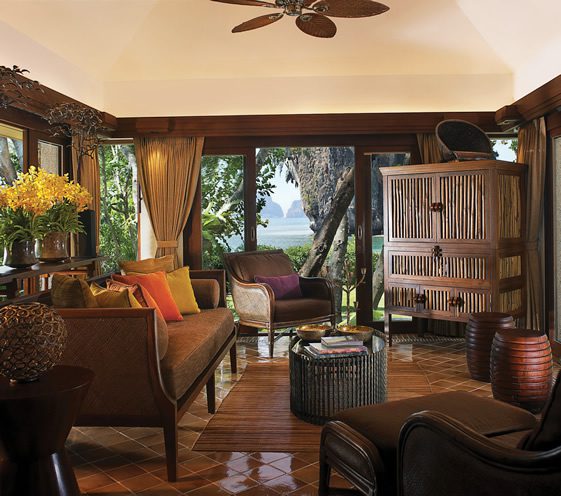 Rayavadee oozes quality with a rooted philosophy and legend, it's tropical and majestic, which on all accounts demands ultimate respect. With dedicated, warm and gracious staff our experience was made that little bit more perfect. If you want both privacy and a choice of atmosphere, relaxation and exploration then this is the place for you. Green-fingered, luxuriant and idyllic – Rayavadee will tick all the boxes for both the intrepid and lethargic of travellers.