Bold and modern, club-restaurant Frankie is a rather fancy 'one-stop' drinking, dining and socialising venue located on Galataport, a 400,000 square metre waterfront development in the Karaköy neighbourhood of Istanbul.
Interdisciplinary design studio Geo_ID have created a contemporary hybrid restaurant where revellers can connect at a multipurpose bar that serves quality drinks and flavoursome fare; the contemporary space also home to a formidable sound system and enviable views of Turkey's impressive Bosphorus Strait, which divides Europe and Asia.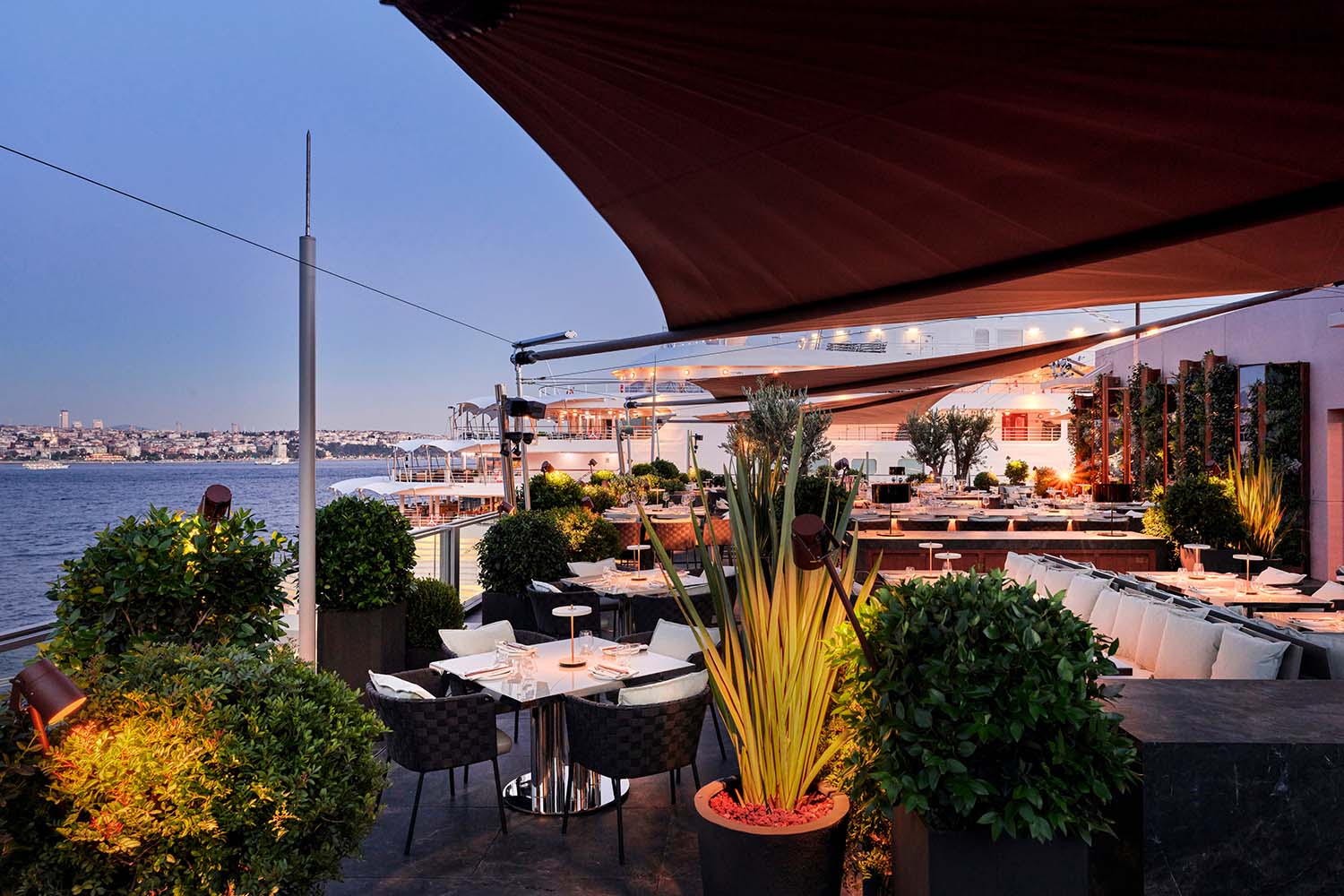 A striking all-red lobby greets guests, the red cube-shaped space featuring a Fenix sculpture by Seda Gazioglu, and offering partygoers a glimpse of what's to come. In the restaurant space, the colours form a dark brown and black palette, the two-storey space divided into three themes: the one-stop bar, the tables, and the outdoor upper terrace. An L-shaped plan scheme gave direction to the spatial organisation, centring the bar connecting two table sitting wings, while the expansive outdoor terrace's design upstairs focusses on the stunning views over the Bosphorus and its boating activity.
Whilst the interior deign is made up of darker colours and elements (think brown lacquered wood panels and soft lighting that amplifies the hanging artwork) it's the upper terrace that provides Frankie its wow factor. Here, high and low tables, lighter colours, materials and textures radiate against the natural backdrop and sunsets. Vertical gardens framed like artworks cover up the walls together with mirror panels reflecting the view and the sunlight; all of this providing diners not only an elevated dining experience, but vistas that will remain long after the last morsel has been eaten and the booty has begun shaking.
Working with local creators and artists, in Frankie, GEO_ID have created not just a foodie and nightlife destination, rather a space where locality, music, cuisine and good times can come together in sophisticated but convivial surrounds.