A beautiful country house built in 1855 is the site for several modernist annexes that began at the end of the 1950s. Looking over the sea to Sweden on the coast of North Zeeland, Denmark, it sits amid fancy housing estates 30 kilometres north of Copenhagen. Works from the greats of modern art, a lush sculpture garden, eye-watering architecture and views. The Louisiana Museum of Modern Art is quite a draw in itself, Denmark's most visited art museum at that. Until 8 January 2023, though, it has additional allure.
Mr. Remember is a very special exhibition indeed. It views like an explosion of one's mind, except that it is the explosion of a quite incredible mind. Alex Da Corte is a Venezuelan-American conceptual artist who, at just over 40 years of age, is finding himself among the art world elite.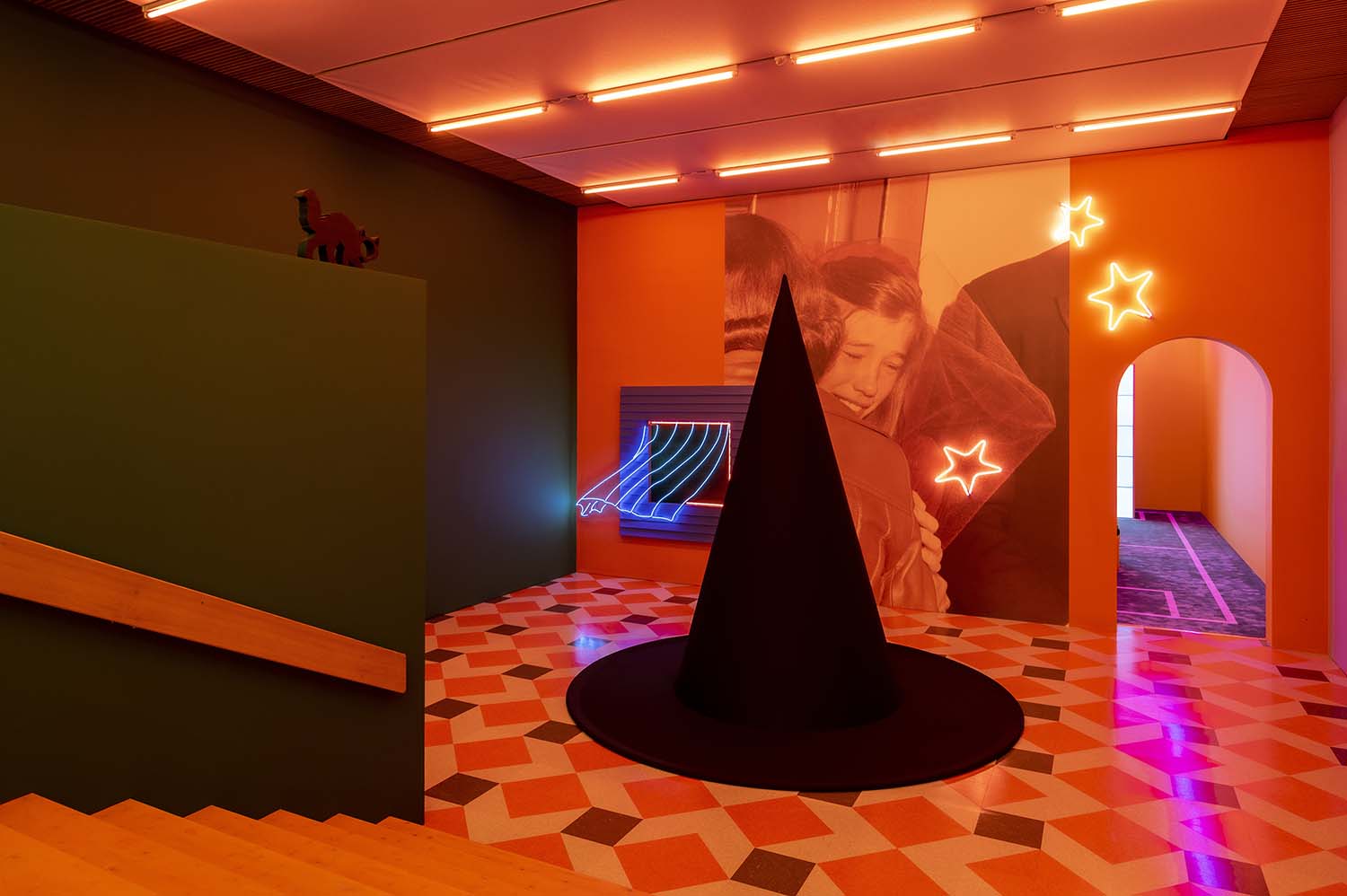 Born in New Jersey before moving back to Venezuela, going on to study at the prestigious University of the Arts in Philadelphia, Da Corte is a sponge sucking up both art history and contemporary popular culture in equal parts. He is a veritable next-in-line for your Warhols or Harings, an artist set to be revered long after his death. At The Louisiana, he currently presents perhaps the most complete and captivating show by a living artist I have ever had the pleasure to witness. And I do not mean that lightly.
The first room of Da Corte's mixed-media masterpiece is an assault on the senses that should carry a life sentence. Having worked with the gallery to conceive a space complete with specially designed flooring, lighting, walls and even scents, the artist welcomes us into his world with an ambush of pop and playfulness that is at first hard to process. There are tables, and tables on top of tables, a giant lemon on a chair, a giant broken egg, a crashed out man in a tyre with wild ducks roaming below, exquisite prints such as his triptych, November 23, 1963 (JFK Goes to Hell), and Americana paraphernalia; all soaked in a bright pink hue from the candy coloured neon above. And this is just the amuse-bouche.

What follows is a sequence of rooms, spaces and installations set over two floors, and encompasses Louisiana's new acquisition, Rubber Pencil Devil, an almost three hour long film composed of 57 shorts screened in a space with sculptural furniture and set on a football pitch rug; Mouse Museum (Van Gogh Ear), a work made specially for this exhibition that is based on a work by Claes Oldenburg and stars objects from a Garfield phone to a knitted bouquet of flowers, a miniature disco ball to halloween hands and a myriad more; THE SUPƎRMAN, an installation that comprises four videos of Da Corte as Eminem, tooting on a bong, dying his hair with yellow mustard, untangling PlayStation controller cords and eating cereal; and Hell Hole, another work made for Mr. Remember that features a log cabin on neon fire, an old man inside pondering a table full of blue objects.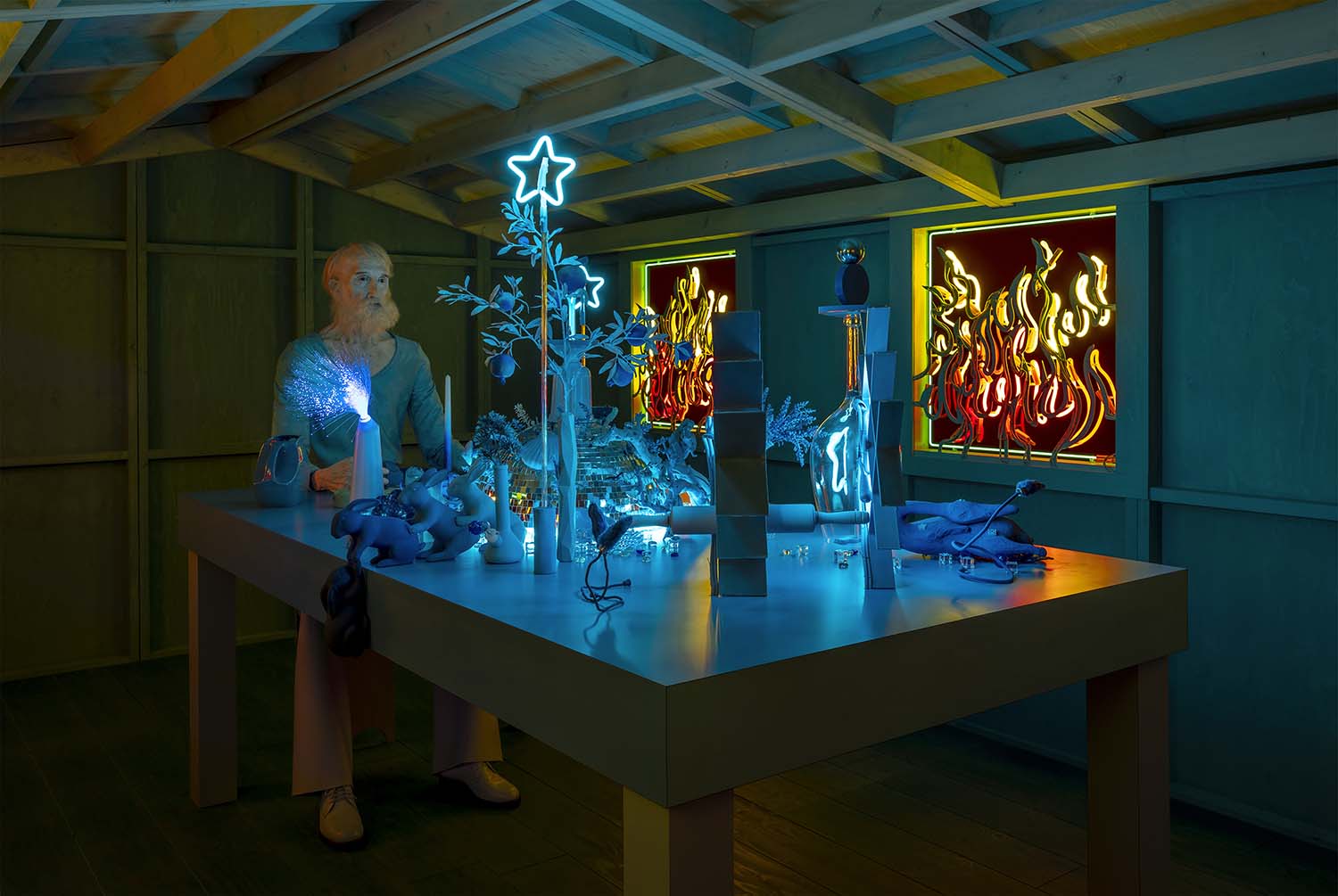 Elsewhere, viewers must navigate a giant witches hat, several cut away rooms of video installations, carpets, canvasses, a wishing well and so much more. Outside on one of the museum's beautiful kept lawns is As Long as the Sun Lasts, a work commissioned for the Metropolitan Museum of Art roof that sees a replica of an Alexander Calder mobile adorned with a giant blue version of Big Bird. It sits in place of an actual Calder mobile that is a permanent part of Louisiana's collection.
A riot of colour, neon, pop art, memorabilia, homages to horror, wry comments on late-stage capitalism and celebrations of Americana melancholy, Da Corte's meticulously crafted Louisiana exhibition, his largest in Europe to date, is truly remarkable viewing; a masterclass in conceptual vision.
Running till 8 January, 2023, if you find yourself anywhere near the quaint Danish town of Humlebaek, a detour to this mesmerising show is an absolute must.