With a distinctive visual language that included signs, symbology and wording, Keith Haring and Jean-Michel Basquiat changed the art world forever. The artists, two of the the very best to emerge from New York City in the 1980s, being able to convey social and political messages in an unconventional manner, their idiosyncratic imagery and radical ideas cementing a legacy that makes them not only two of the most influential artists of the '80s, but of all time.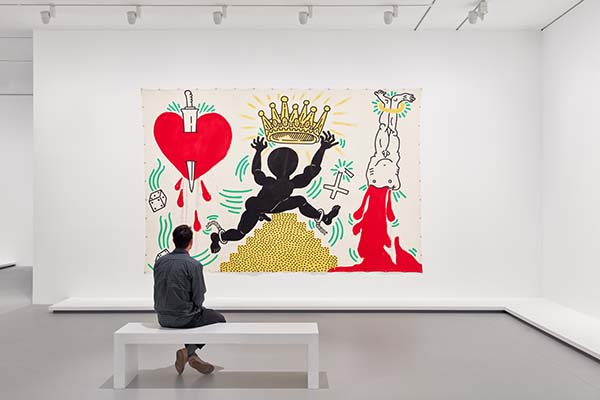 Profiling their short yet fruitful careers, this exhaustive exhibition at Melbourne's National Gallery of Victoria—Keith Haring | Jean-Michel Basquiat: Crossing Lines—features in excess of 200 artworks, including works created in public spaces; painting; sculpture; objects and ephemera; works on paper; and photographs. The unprecedented, world premiere exhibition offering a staggering new insight into the duo's unique aesthetics and the intersections between both their personal lives and artistic practices.
Curated by art historian Dr Dieter Buchhart, the exhibition is on show until 13 April 2020, and begins with examples of Haring's and Basquiat's work from the streets and subway stations of New York City; highlighting early collaborations and documenting each artist's breakthrough gallery shows, alongside their most acclaimed works, such as Haring's iconic 'radiant baby' and dancing figures, alongside Basquiat's inimitable crown and head motifs.
"While Basquiat anticipated today's 'always-on' culture of communication and contemporary knowledge spaces, Haring foreshadowed emojis with his image-word alphabet," explains Buchhart. "This universal system of communication remains a positive, humanistic meme in the collective struggle against ignorance, fear and silence."
More relevant today than ever, particularly so given the pair's powerful battles against prejudice and oppression, Keith Haring | Jean-Michel Basquiat: Crossing Lines collates the work of, and portrays the effervescent personalities of two of the art world's all time greats; a monumental exhibition testament to monumental legacies.