"If you go down to the woods today…" You're in for a very different kind of surprise.
Ensconced in some 30 acres with not one neighbour in sight, Lokal Chalet is a three-bedroom, two-bathroom A-frame style cabin, ideal for friends and families looking to disconnect from the outside world and reconnect with one another.
Located 50 minutes by car from Philadelphia, the project (from the discerning hospitality team behind Lokal Hotel) was set to be a "quick pandemic cabin renovation", enabling those looking to flee city life a respite in nature. Due to its location and the labour required for what would be an extensive refurb, COVID prevailed and Lokal Chalet was put on temporary hold.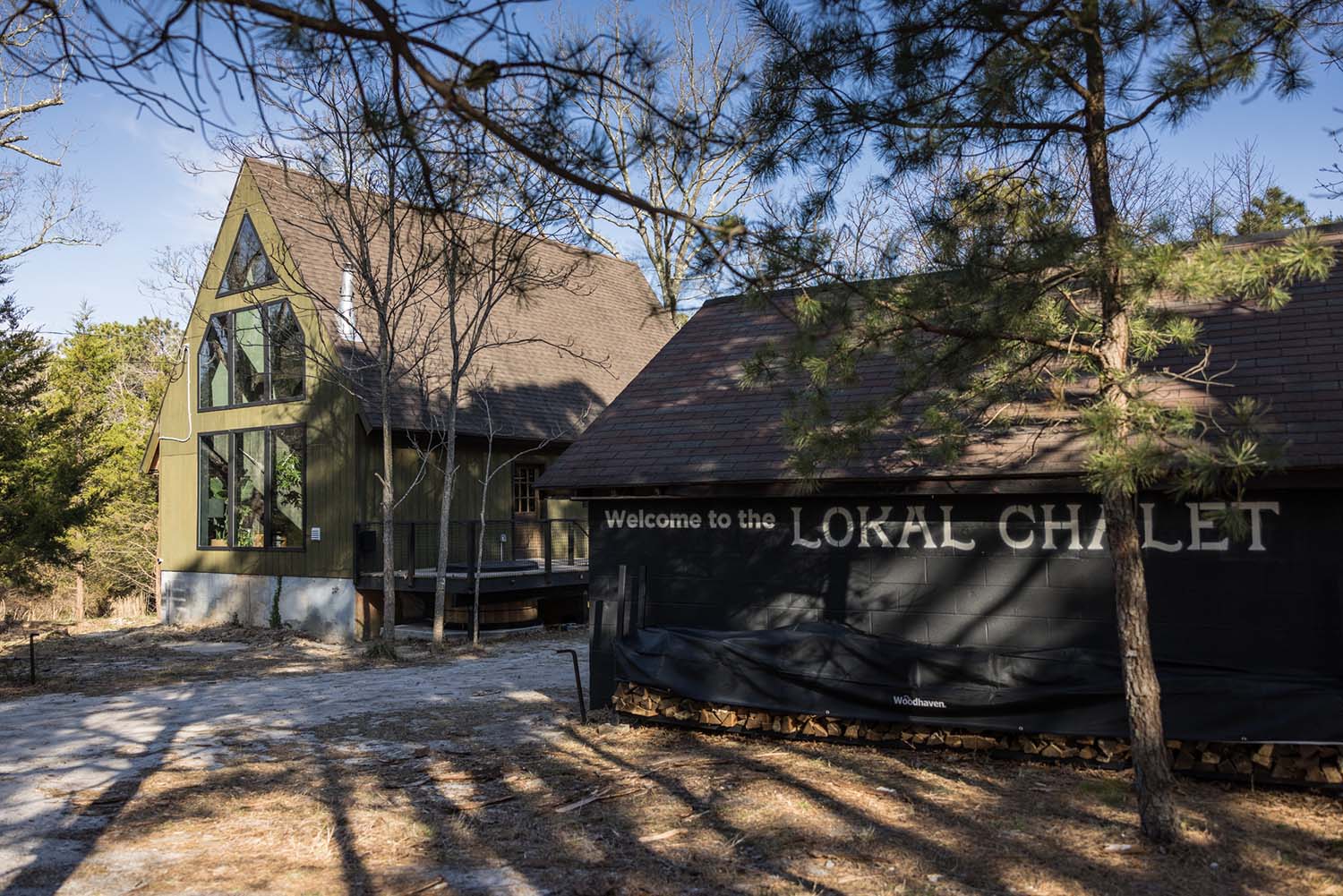 Finally ready to welcome urbanites and explorers, the stunning cabin comfortably houses six, with the maximum number of guests stated as eight. The focus here is very much on unplugging from modern life. There are, for example, no screens here.
"We wanted this cabin to be about disconnecting from technology and having fun with friends," explains co-owner, Chad Ludeman. "To that end, we did not put a TV in this property. There is strong WiFi and a killer sound system inside and out, but no screens to be found. Instead, we renovated an old garage into a 'game garage' with a ping-pong table, dartboard and mini-basketball hoop".
A cedar hot tub adds a touch of luxury, whilst two fire pits and a Big Green Egg (the crème de la crème of barbecues) allow guests to hang out in nature cooking, eating, drinking and enjoying life well into the early hours. With nobody else within a mile, that 'killer sound system' can be cranked up while you lose yourselves around the flames. Philly landscape lighting supplier, Green Foundry Co., designed a lit path for chefs to find the fire pit located in the middle of the woods, whilst additional lighting strategically light up surrounding trees creating a glowing landscape at night.
Dark interiors give this inspired chalet in the woods a dark cave-like feeling, Ludeman commenting that "having seen a lot of whitewashed cabins hitting the market lately, we really wanted to create something opposite that would stand out." All of the furniture on the first floor is indoor/outdoor in case folk want to spend their time on the huge deck when the weather permits. A custom octagon dining/game table was made by New Jersey manufacturer, ZaveMade, and a custom cedar coffee table comes from Delaware's Challenge Program Furniture, both 'Lokal Makers'.
Offering an authentic slice of Americana with all the contemporary touches of city living, team Lokal once more tick all the boxes for those who love great design, a homely experience and 'invisible service'. Deep in the evocative woodlands of South Jersey, yet just a short drive from the heart of the city, Lokal Chalet is quite the spot for your Teddy Bears' picnic.