Serving authentic Indian food the way it should be, Asma Khan's Darjeeling Express restaurants have been profiled on documentary series Chef's Table, she's been named Business Insider's number one '100 Coolest People in Food and Drink,' and her all-women team of housewives continue to guide diners on a journey of taste, cooking up home-style food created with passion and an aim to nourish the body and soul.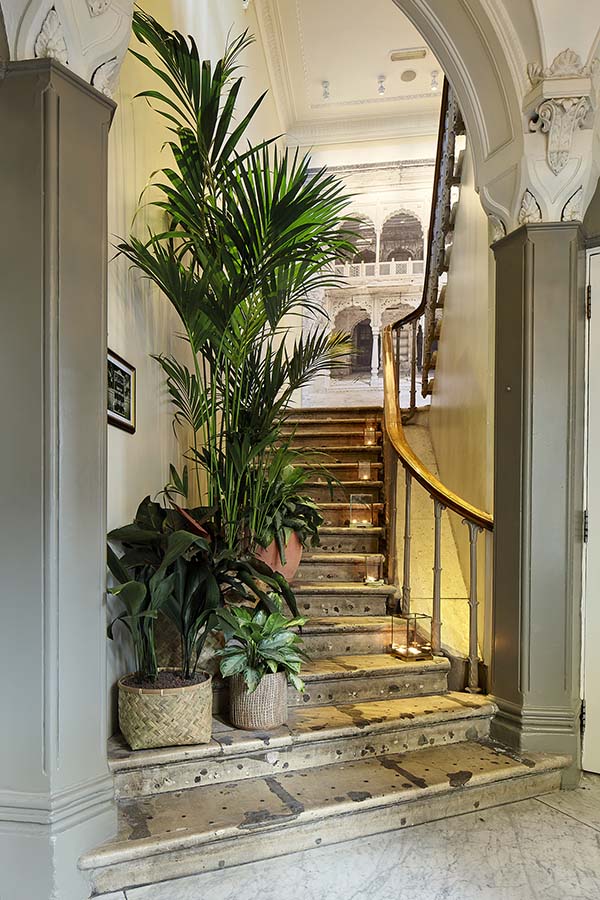 Her latest restaurant in the heart of Covent Garden is situated in a two-storey grade II listed building, with a 90-seater main dining room and adjacent all-day deli. Collaborating once again with A-nrd studio (founded by Milanese designer, Alessio Nardi), Darjeeling Express Covent Garden features a warm colour palette inspired by the golden hour scenery of Kolkata and lifted by tropical greenery and artwork of Asma's ancestral home. To further create an authentic experience, Alessio, along with Lukas Persakovas, looked to Asma's photobooks that pictured her travels through India and childhood places.
The stunning façade and staircase sets a regal tone from the off, whilst tan lime-wash walls and terracotta accents are complimented with the textured cerulean blue of Indian train stations and Darjeeling Express's namesake train. Table settings include hand-made ceramics upon reclaimed table tops made in polished dyed concrete, whilst bespoke upholstered settees and up-cycled slatted wood benches are adorned with mismatched textiles representing the richness of patterns found in India.
Reclaimed mosaic floors can be found in the deli with its feature bar in dark oak and blue polished plaster, a further nod to heritage Indian carriages. From chaats and sweets in the deli to a feast for the senses and stomachs in the main dining room, Covent Garden is swinging to the beat of Asma Khan's unfolding chain of deliciousness.
@darjeelingldn
@asmakhanlondon
@a_nrdstudio