Although we are still very much embroiled in the world of COVID-19, Christmas 2021 again difficult for families kept apart by the exponential spread of Omicron, it does feel as though there is 'a light at the end of the tunnel,' with much talk focussing on 'normalising' the virus now that the vaccines are pulling their weight and keeping the masses from hospitalisation.
Forced to overcome an abundance of challenges——collectively yet sometimes more alone than we have ever been——the beginning of the pandemic changed life as we knew it. It turned us, social creatures of habits, into morose individuals wondering when we'd next interact, hug or kiss another person again. The freedom we had always taken for granted was suddenly swiped away, and sometimes it's difficult to remember just how dark those early days of the pandemic were.
It is March 2020, and on her one-hour permitted walks in west London, fine-art photographer Julia Fullerton-Batten began to notice people looking forlornly out of their windows onto the empty streets of Chiswick. Compelled to capture such remarkable times, Fullerton-Batten decided to document the secluded lives behind the windows; each inhabitant having their own tale to tell through the power of dress, expressions and emotions.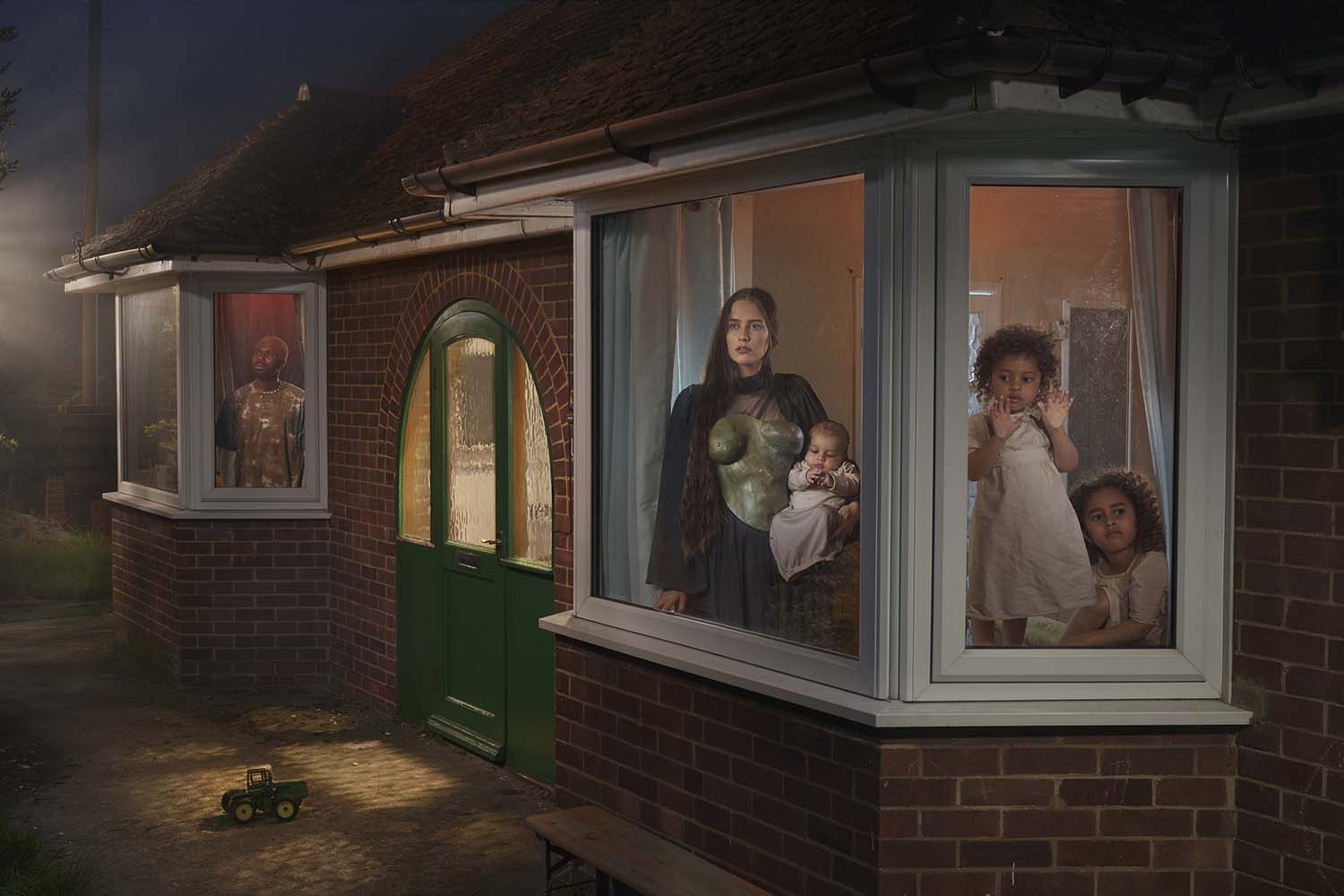 Reaching out on social media, as well as posting letters through the doors of houses that intrigued her, the response was so large that she was reluctantly forced to be selective in her choice of subjects; finally contacting the chosen few by phone and email to arrange details of the setting. Inviting them to dress up and use props to share their narratives, also adding to the poignancy of their situation by answering a few informal questions about their lockdown experience, Julia set about capturing a truly singular body of portraits.
With the subject's home as her temporary studio, Fullerton-Batten would turn up in a car stuffed with lighting gear and potential props; twilight hour marking the beginning of her shoots. "I've always found a surreal magic in that short space of time between the conflicting worlds of day and night. A no man's land held between two states of existence and perfectly reflecting this liminal lockdown life in which the pandemic was unapologetically holding so many nations captive."
The project resulted in a series now titled, Looking Out From Within, from which Fullerton-Batten has produced a limited edition publication of 1,000 signed copies with photography and stories set over 80 pages, images that provide a magnifying glass to reflect upon what the pandemic and lockdown meant to us all; the extended isolation from our families, the huge sacrifices many have made, and the loved ones that were lost.
A record for posterity, these beautifully haunting images have won global attention and acclaim, Julia's series providing an insight into not only the people featured in the book, but into the lives of others throughout the world. Aimed to honour and remember the ones we lost and challenges we endured, this book marks a moment in history and will enable us to look back upon these times, remembering how by looking out from within, we somehow managed to cling onto connections.
Priced at £45, Looking Out From Within is available from: juliafullerton-batten.com