208 rooms and 17 suites set over 11 floors feature a mix of weathered wood, glass and marble, making the Thompson Washington DC a sophisticated choice when arriving in the United States capital.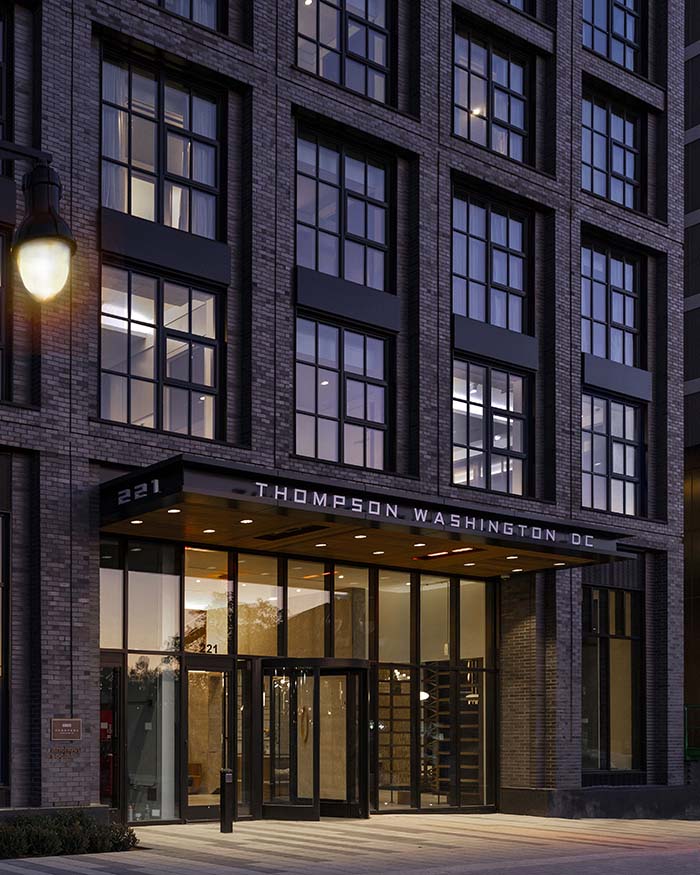 An upscale luxury hotel for the city's Navy Yard neighbourhood——a riverfront spot serving as a haven for sports fans, nature lovers and foodies——Thompson Washington D.C. is also home to restaurateur Danny Meyer's first full-service restaurant in the capital; offering award-winning and locally sourced fare to the city's gourmands (although the ongoing situation means that both Roman-style trattoria, Maialino Mare, and rooftop bar and restaurant, Anchovy Social, remain closed for the time being).
With echoes of the neighbourhood's colonial past, interiors are a blend of soft curves, rigid symmetrical lines and splashes of rich emerald and ivory tones; this property proudly standing at the intersection of nautical history and industrial sophistication. Once able to reopen, Anchovy Social is the perfect place for classic cocktails with views of the Anacostia River, their sharable snacks making for a sociable night out with friends and loved ones in what Forbes declared in 2018 as one of the '12 coolest neighbourhoods in the world'.
Another sensorial delight from Hyatt, Thompson Washington D.C. combines urbane sophistication with a sprinkling of contemporary design amid notably hip surrounds.