The New Orleans spirit is alive and well at new hotel, The Chloe, which is situated in a renovated 19th century mansion close to the city's charming Garden District. Offering 14 well-appointed rooms designed to perfection by local decorator and designer Sara Ruffin Costello, a restaurant rooted in regional tradition with a modern Creole flair, and a bar that promises 'libations for every occasion', the resplendent design hotel delivers big on bolts of wanderlust.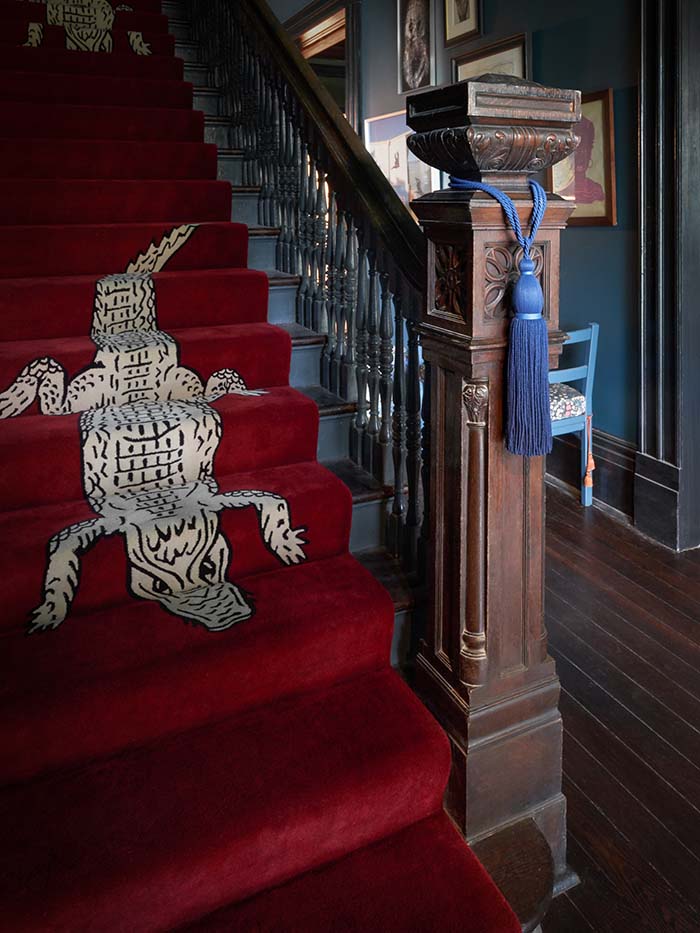 The first hotel from restaurateur Robert LeBlanc of ​LeBLANC + SMITH​, guests enter the palatial spaces within through wrought iron gates, onto the Victorian-era mansion's expansive brick patio and front porch, before arriving at the lobby; where they're greeted with an abundance of Southern hospitality and a signature cocktail before checking into their room.
Combining moodier themes signature to New Orleans—such as mysticism and the natural world—with distinctive and decadent design touches, at The Chloe, dim lighting, dark hues, winding spaces and hidden rooms are de rigueur; adding a true of excitement and mystery to an overwhelmingly luxuriant experience.
Climb the red carpeted staircase with its characterful 'gator to the first floor, where the 14 rooms—complete with essence of whimsy and wonder—are all decorated and furnished independently, highlights including modern soaking tubs, four-poster beds, and photography and artwork. Generally speaking, the rooms are light and elegant with fabrics from​ ​House of Hackney​, lighting fixtures from​ ​Urban Electric, and hand-thrown toiletry holders by Baton Rouge-born ceramicist, Demetria Chappo. Vinyls from famed local record store and neighbour,​ ​Peaches Records,​ await each guest, all based on local legends such as Louis Armstrong, Lil Wayne and the musicians they've influenced.
Outside, an inviting pool and herb garden run adjacent to the outdoor bar area, the perfect space to enjoy the Louisiana sunshine and a cocktail before freshening up and enjoying New Orleans classics at the hotel's impressive restaurant. A beguiling boutique hotel with charm, sophistication and a touch of the unknown, The Chloe is a stirring project as captivating as its surrounds.