Sophie Cochevelou is a frighteningly-talented French performance artist, fashion and costume designer. After gaining her BA in French literature and drama, followed by an MA in performance design and practice from Central Saint Martins, Cochevelou established a studio in East London.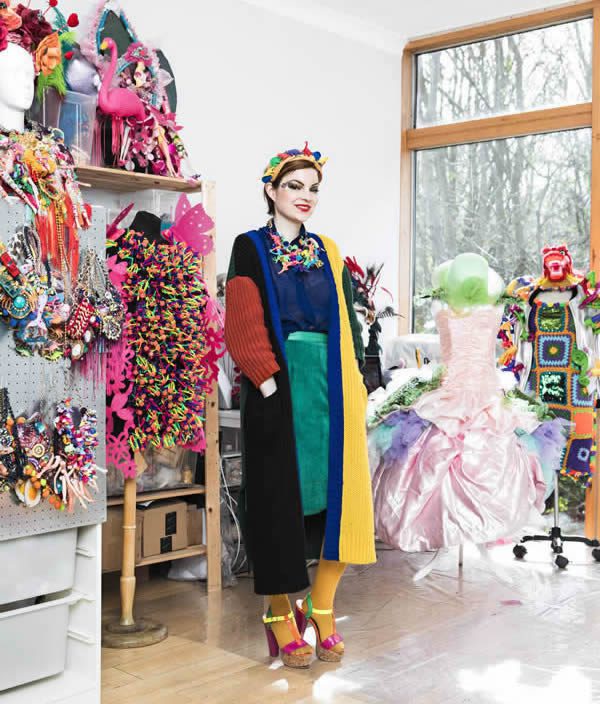 Having performed at the Barbican, Battersea Art Centre, at Brighton Fringe Festival, and the Camden People's Theatre — presenting herself as the canvas for her creations — the artist's work as a walking, talking installation, a human gallery if you will, aims to engage with her audience as an interactive, imaginative and playful exhibition. By presenting her work outside the traditional gallery setting, there is something fundamentally human to her approach; with a hint of otherworldliness.
Sophie Cochevelou's practice is one that appears time-consuming, obsessive and painstaking; her fanciful pieces busy and abundant, but not chaotic. Each individual element — whether it Lego, My Little Ponies, or plastic crocodiles — are hand-stitched or attached, layer upon layer, side-to-side, building colour and shape to create her wild compositions. Unlike plenty of designers, here is an artist who works in reverse, starting with an object to create a design rather than starting with a design to create an object.
We caught up with Sophie, amid a great big new commission, to find out more about her wearable art, performance, and costumes; as well as some of her more colourful clients …
Where and when did your passion for costumes and performance come from?
As far as I can remember, I have always being making stuff: my own puppet shows, paintings, and crafty objects. As a teenager I didn't really feel confident, and dressing up for themed parties, becoming someone else, made me feel fabulous, so I wanted to inspire people to do the same. I also did a lot of drama at school in order to build my confidence.
How would you describe your work?
Life is a performance and performance is life. I would say my creations are in between costume and fashion. They have this performative element, they always tell a story, but at the same time I would like to think they have a fashion twist, a certain sense of style and poetic elegance.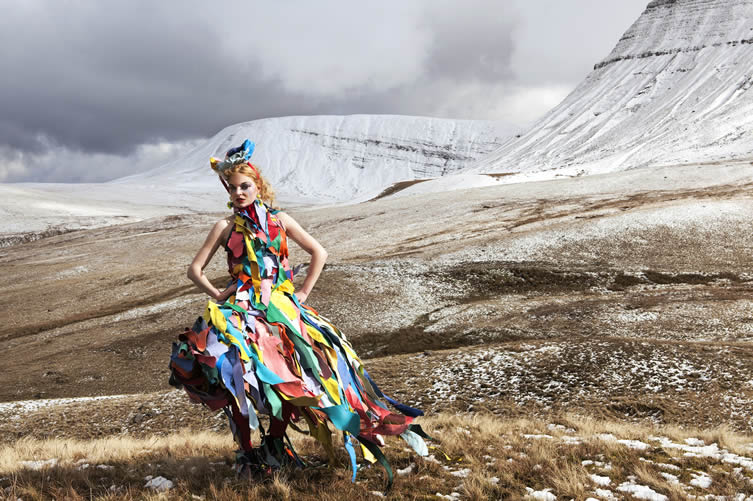 What is significant about wearable art, rather than 'behind a red rope in a gallery art'?
I like art that conveys a physical reaction, more of a 'whaouh' effect than a profound reflection. Conceptual is not my cup of tea. I like art to be accessible, colourful, fun; and not only for the elite. Something that inspires people to reveal the artists within themselves.
You have also designed unique pieces for various clients, from private collectors to store windows. Can you tell us about some of your clients in theatre land?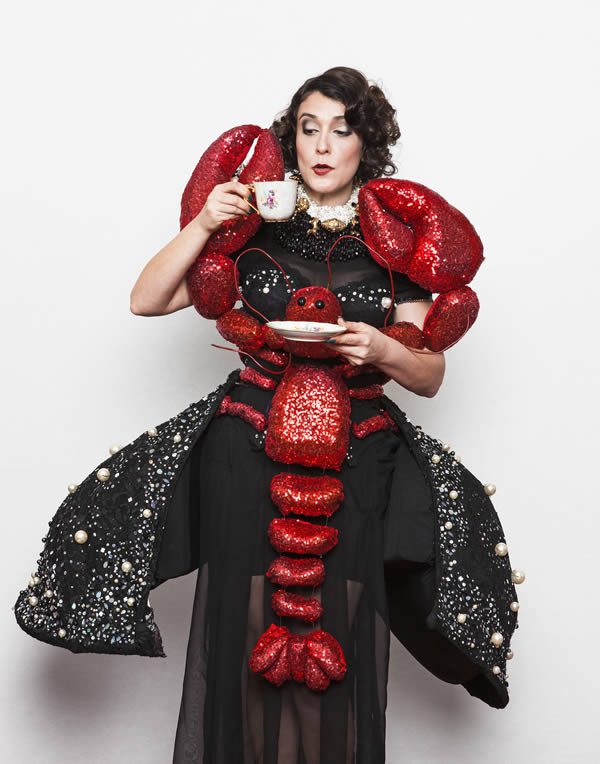 One of my best experiences in theatre was working for The Barbican, designing costumes for their charity Halloween ball with the company Unattended Item. For me, it was more for the wonderful team spirit than the designs themselves. I also designed a lobster dress for the play Dressed for Breakfast, commissioned by the fabulous performer Rachel May Snider, which was an amazing project.
For your wearable art, why do you work less in fabric and more with objects like Lego or plastic alligators? Is giving 'second lives' to objects a part of what you do?
I love going to charity shops or flea markets and seeing the creative potential of everyday objects. I have always created costume from nothing, or things I found in the street. I like to give second life to old objects and divert them from their original function. For a lot of my pieces, I don't have a pre-existing design in mind. Everything comes from necessity — I start from what I have, and what I find. Half my time is spent obsessively trawling for junk, and the other half obsessively putting it all together.
What is your favourite design project to date?
I have a couple: a Lego dress I made for London Fashion Week with more than 5,000 Lego bricks, which was featured in Vogue, and a 200-Barbie-body-parts dress for my solo exhibition at Isabelle Gounod Gallery.
Do you like to collaborate with others?
Yes of course, costume doesn't exist in itself; it is part and parcel of a show or a performance involving designer, technicians, performers and so on. But as an Aries, I am very independent and I like to work on my own. I would find it difficult to do devised theatre and co-create everything. I much rather be a piece of a puzzle, work on my own on the costume which will form part of a bigger picture.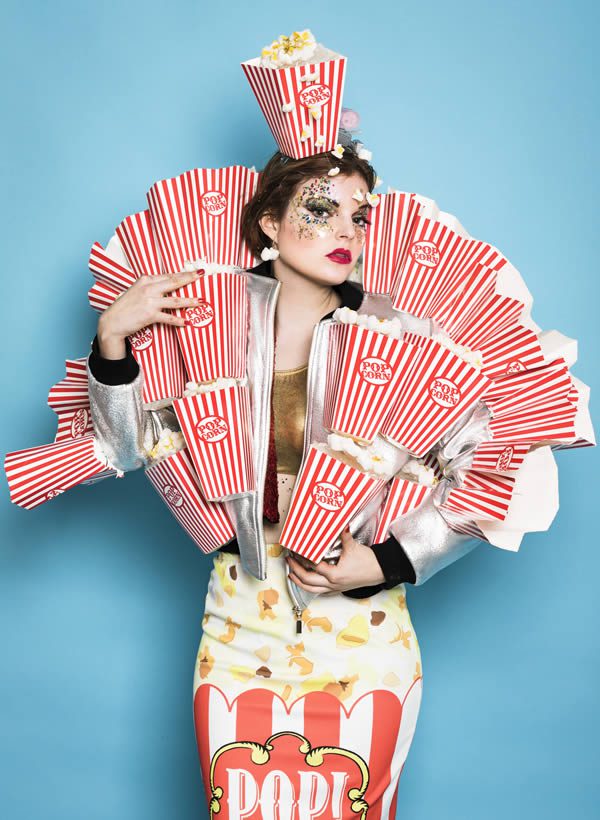 Who out there in the world of art, costume, and design is inspiring you right now?
A lot of my creations are inspired by childhood and extensively by common culture of collective imagery; conscious or unconscious. More generally, I think that artists see the world differently, or, more precisely as a material for art — we see the potential of creativity in the everyday life and every single object, which makes life more exiting.
I'm convinced that reality is not fixed; it can be turned into something completely different at any moment. With this is mind, many artists inspire me like my friend Sue Kreitzman; Grayson Perry; Grace Jones; Björk; and designers like Alexander McQueen, Vivian Westwood and Pam Hogg.
What are you working on at the moment?
I am working on a massive project for a chocolate company (I can't say which one yet), making a collection of bespoke dresses that use the packaging and plastic chocolates for their duty free in Asia.
Your studio is based in East London; can you tell us about life there and where your favourite hangouts are?
To be honest I don't go out at all, I just work all day and sleep the rest of the time; sounds a bit ascetic but I love it. I would say my favourite hangout is the Stoke Newington car boot sale on a Sunday mornings; great for finding bargains.