Manhattan meets Tokyo at Kimpton Shinjuku, the new 160-room hotel inspired by the New York art and fashion scene; yet imbibed in the spirit from the city's iconic Shinjuku district. With interiors imagined and designed by interdisciplinary design studio, Rockwell Group, the overall style combines eclectic styles and patterns with layers of fabric, furniture, and art.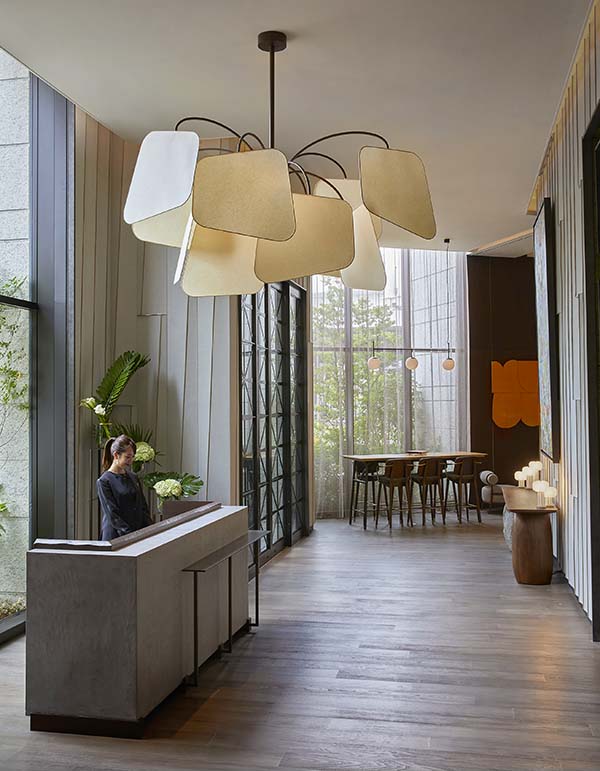 Based upon the Japanese concept of Okaeri, meaning 'welcome home', local artisanal traditions and a well-worn, relaxed New York vibe evoke a calm and restorative feeling in the guest rooms, Rockwell Group opting for clean lines and Japanese woodwork to sit alongside tasteful touches such as intricate floral metal accents and bold pops of colour; including a striped fabric sofa intended to capture the chaos of Tokyo's Shibuya crossing.
The hotel has two dining options, The Jones Café on the first floor and District, the second floor restaurant open from brunch to dinner with a bar lounge allowing patrons to continue the fun into the small hours. Upon entering the cafe – a relaxed space serving coffees, craft beers, and sweet and savoury treats against a backdrop of indie music, lacquer tables, and reclaimed material turned art pieces. An 'oh TOKYO' sign recalls the signature glowing lights of the Shinjuku district, whilst oversized sofas welcome workers and friends looking to find a comfortable space amongst special surroundings.
As much a destination for locals looking for delicious food and great vibes as like-minded travellers needing a sophiticated spot to rest their heads, Kimpton Shinjuku (complete with a functioning Chapel on floor 16, and Rooftop Ballroom on 17) offers a bold, fashion-forward design within a classic Art Deco package, accentuated with the occasional touch of whimsy in an iconic part of an iconic city.
@rockwellgroup
@kimptonshinjukutokyo